2011 NFL Predictions: Guessing the Texans' Final 53-Man Roster & Practice Squad
September 2, 2011
Hannah Foslien/Getty Images
When you watch every single snap of all four preseason games, you can tell a lot about a team. For every guy who is a lock to make the team, there is another "bubble guy" who might never put on pads for the National Football League again.
To watch the drumming that the Texans reserves were given by the guys on the end of the Vikings bench last night was very telling regarding who does and probably doesn't have a future in this league. At least not in 2011, anyways. With that said, it is time for my annual prediction of the final 53-man roster for the Houston Texans.
Quarterbacks (3)
Matt Schaub
Matt Leinart
T.J. Yates
Of course, Schaub is the starter, so I won't even touch on that one. But Matt Leinart looked pretty good last night, especially in the two minute drill before the half. While I still don't think he has starter stuff right now, he can be a viable backup. Yates will start the year as the clipboard guy who is just here to learn. He will likely be placed as inactive as long as Schaub and Leinart are healthy.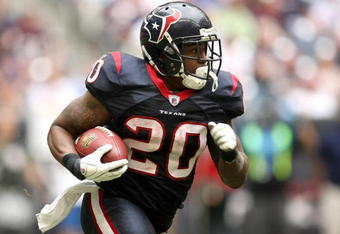 Stephen Dunn/Getty Images
Running Backs (4) 
Arian Foster
Derrick Ward
Ben Tate
Steve Slaton
The reason I am keeping four running backs here is because of the durability concerns. Both Foster and Tate have been nicked up all preseason and Ward has fought off a concussion. The reason I chose Slaton over Ogbannaya is because I believe the team wants to wait until he's healthy to see if they can get any kind of compensation for him rather than release him outright.
Fullbacks (2) 
James Casey
Lawrence Vickers
I will admit that I have been wrong about James Casey being able to pull this position off thus far. He has blocked well and added a new dimension to the passing game that Vonta Leach didn't. I thought this was Vickers' spot from day one, but he hasn't impressed in camp up to this point. He still makes the final roster, though.
Wide Receivers (5) 
Andre Johnson
Kevin Walter
Jacoby Jones
Bryant Johnson
Dorin Dickerson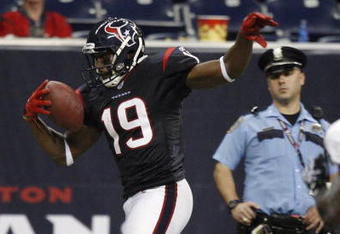 Bob Levey/Getty Images
That Andre guy is pretty good and while Walter isn't a flashy guy, he's solid. The team seems enamored with Jacoby Jones while fans are growing impatient. Meanwhile, Bryant Johnson was one of the few bright spots in last night's debacle. Even though he has struggled with drops in the past, he had good hands last night and made the team.
Dorin Dickerson had the fourth spot locked up, many believed. But it was his to lose and I believe he did in his lackluster preseason performance. To everyone saying that they aren't throwing to him, look at the tape. He isn't getting open and when he does get the ball in his hands he is running terribly. However, I think he makes the team by default. What was once considered a position of great depth is now looking quite shoddy.
Tight Ends (3) 
Owen Daniels
Joel Dreessen
Garrett Graham
Owen Daniels appears to be back to his old self and that is nothing but great news to Matt Schaub. Dreessen showed in the past season and a half that he can fill in nicely if Daniels misses time. Graham was on the bubble but had a terrific showing in the final preseason game last night so I expect him to get the nod over Anthony Hill.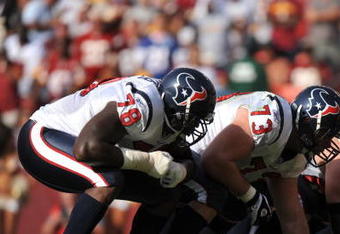 Larry French/Getty Images
Offensive Tackles (3)
Duane Brown
Eric Winston
Rashad Butler
Same as last year; if it isn't broke, don't fix it.
Offensive Guards (3) 
Mike Brisiel
Antoine Caldwell
Wade Smith
Same thing here as for the position above. The team's return of the exact same offensive line speaks worlds for the continuity they will achieve. The running game will continue to excel with this group and Matt Schaub will continue to buy them dinner after the games for keeping his uniform clean. 
Centers (2) 
Myers had a Pro Bowl-caliber season in 2010 and Wallace got his big break the day that Kasey Studdard's ankle did the same.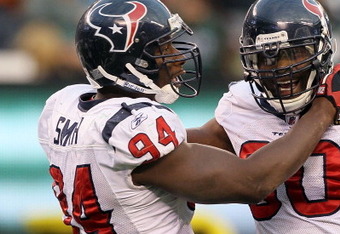 Jim McIsaac/Getty Images
Defensive Ends (3) 
J.J. Watt
Antonio Smith
Tim Jamison
Watt has exceeded all expectations up to this point and Antonio looks to be in love with the new scheme. Tim Jamison was a hell raiser all preseason and he will be rewarded with a roster spot here. But if the Cowboys cut Igor Olshansky, I truly believe Wade will get him here in place of Jamison. 
Defensive/Nose Tackles (3) 
Shaun Cody
Earl Mitchell
Damione Lewis
As much as fans want a huge 350-pounder at the nose, it's time to give it up. It is beyond obvious that this regime isn't looking for that type of guy for their scheme, so they're rolling with what they have here. 
Outside Linebackers (4) 
Mario Williams
Connor Barwin
Brooks Reed
Jesse Nading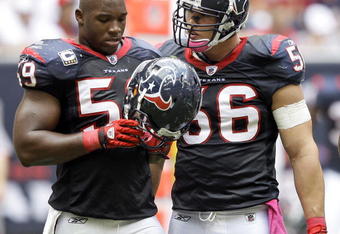 Bob Levey/Getty Images
As much complaining as there has been about Mario this preseason, I still think he'll do fine here. Barwin I'm still not sold on, especially with Brooks Reed pushing him for the starting spot. Meanwhile, the team seems to like Nading enough to keep him around another year. 
Inside Linebackers (5) 
DeMeco Ryans
Brian Cushing
Darryl Sharpton
Tim Dobbins
Xavier Adibi 
This is a position that has generated a lot of debate between fans during camp. For a team thinking it needs to win now, I see them going with veterans and experience over guys with "upside." Therefore I'm taking Dobbins and Adibi over Bryan Braman, whom a lot of Texans fans seem to have championed during the preseason. Ryans, Cush and Sharpton are locks, obviously.
Cornerbacks (6) 
Johnathan Joseph
Jason Allen
Kareem Jackson
Brandon Harris
Brice McCain
Rashad Carmichael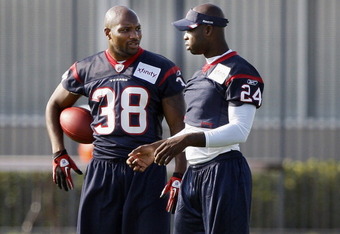 Bob Levey/Getty Images
I know this looks like a lot of corners to keep, but the team still has a lot of questions at the position. Joseph and Allen are the likely starters with Kareem in the nickel. Harris will be brought along slowly while I think McManis and McCain showed enough in preseason to be given another shot, but Sherrick is a victim of the numbers game. Carmichael, who has yet to play, was never in the plans for this season but the team doesn't want to lose him. Like Harris, they want to take their time with him.
Safeties (4) 
Danieal Manning
Glover Quin
Dominique Barber
Troy Nolan 
Since Wade Phillips uses what he calls "Twin" safeties, I won't separate between free and strong. Manning and Quin are the starters and Troy Nolan earned a spot with his performance against the Niners. The reason I'm going with Barber over Keo or Demps is because his special teams play has been terrific. Coaches love having guys like him on the roster.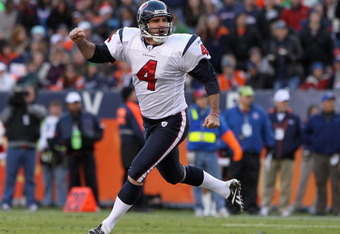 Doug Pensinger/Getty Images
Special Teams (3) 
Neil Rackers
Brad Maynard
Jon Weeks 
I hate keeping a guy on the roster just to be a long snapper, especially when it is said that both Dreessen and Casey can long snap. Rackers was solid in 2010 but has missed two field goals in the last two preseason games. Maynard has been atrocious, but Kubiak feels more confident with a veteran over the rookie Hartman. 
Practice Squad (8)
Chris Ogbannaya
Andrew Gardner
Jeff Maehl
Sherrick McManis
Tim Bulman
Bryan Braman
Shiloh Keo
Cole Pemberton 
Guessing the practice squad is always a crap shoot since we don't know if anyone else will claim the players on waivers and since we don't know who else out there the Texans might claim. But going off of just our guys, and assuming they clear the waiver wire, these are the eight I'd pick.
There you have my guesses. Feel free to complain, agree or disagree below. We should know the real roster for the team by the end of this weekend.