NFL: Broncos vs Cardinals, Dismal Display by Denver in 26-7 Loss
September 2, 2011
Christian Petersen/Getty Images
The Denver Broncos began their fourth preseason outing against the Arizona Cardinals with an abysmal first half.
Brady Quinn showed some serious inconsistency as the cool and collected quarterback we're used to during this year's preseason, and became a different player altogether.
At first it was only dropped balls as Britt Davis failed to make a catch on third down early in the first quarter. Later, it turned into errant passes and eventually an interception. Quinn lost a lot of confidence from the fans and coaching staff with a game that can be described as less than satisfactory.
One promising note for Quinn is that he did display an ability to avoid sacks and continue plays, although he had trouble finding receivers after leaving the pocket. This display ended in the second quarter, however, as Quinn completely missed a free safety blitz and was sacked, and consequently fumbled the ball (originally ruled as an incomplete pass).
To add a side note here: Can football announcers ever make a call on a challenge? Are they paid not to make a decision? Why is it when the call is so obvious that even Tom Brady would say "that's definitely not a tuck," the announcers still spit out "well, this is certainly a tough one?"
The first half disappointment was not just Quinn's, however, as Lance Ball did nothing to impress anyone. The Broncos, while attempting to pass and run, failed to convert on third downs six times in a row into the second quarter. Three-and-outs were plentiful for this second-team Broncos offense.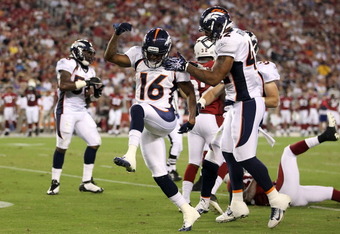 Christian Petersen/Getty Images
The Broncos defensive squad did no better.
Perrish Cox, doing his best to make a splash in his last ditch effort to convince Denver to keep him on the field, missed coverages consistently. He also had a great idea to return a kickoff from nine yards deep in the end zone, only to return it to the 13.
I don't blame him for trying, the guy has to do a lot to convince the coaching staff that he's more than just a distraction, but he didn't make the plays he needed to when the team needed him to.
One bright point for the Denver defense was linebacker Mike Mohamed. The rookie out of California was constantly in the backfield, and helped to keep the Arizona Cardinals' halftime lead to only 20 points. He was also brilliant in helping Denver's second-team defense keep Arizona's starters from making any real impact on the game.
It was clear that players were striving for a paycheck on special teams. D'Andre Goodwin, not to be confused with Andre Goodman, made a stifling hit against former Denver Broncos' safety Hamza Abdullah during a very short-lived punt return. Fair catch anyone?
The backup tight end position continues to confuse us as Julius Thomas didn't make any real plays during the first half. But then again, neither did Virgil Green.
As good as he is as blocking, Green just can't catch balls. He could be kept for his ability to step in as fullback when necessary, but it would be great to see the rookie Julius Thomas have a bigger effect in this offense.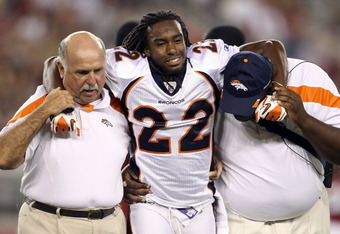 Christian Petersen/Getty Images
Nothing described above is the worst news for Denver.
The Broncos suffered multiple injuries during the first half. Britt Davis (head), Syd'quan Thompson (Achilles) and Nate Irving (chest) all left the game; the last two on stretchers. Matt Willis also left the lineup, staying on the sidelines and favoring his right leg.
Could the Denver Broncos improve in the second half? Was it Tebow Time in Arizona?
Sort of.
Tim Tebow came out very slow in the second half. It was the same old story for Tebow as he continued to run too quickly, not make his reads and actually decided to run directly into a wall of linemen only two seconds after the snap of the ball on a third and short.
Tebow used his legs well to run laterally, and a few times back-and-forth, but hardly ever vertically down the field.
The biggest surprise of the second half was Brandon Minor. Minor received most of the second half reps from the backfield and took advantage of them. Jeremiah Johnson rarely saw the field, and when he did, he didn't capitalize.
Was Thursday's game enough to push Minor ahead of Johnson in the depth chart? Did Johnson lose his job? I'm not sure it means he's out, but Minor could have pulled the upset.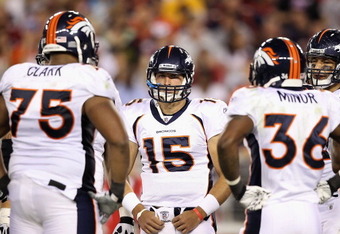 Christian Petersen/Getty Images
On the defensive side early in the half, it was evident that there were men playing for their jobs. Jason Hunter certainly earned a spot as a linebacker. Hunter's play was inspired, ferocious and effective.
Cassius Vaughn also had another decent game for Denver. He did miss a play where he opted to go for an interception during perfect coverage and missed the ball; resulting in a great conversion for Brodie Croyle.
Tim Tebow did eventually pick up his game, and made fast friends with wide receivers D'Andre Goodwin and Eron Riley. Goodwin made some tremendous catches and big gains, helping Tebow to make something of his night. Tebow's final drive resulted in something positive, and it was about time; ending with a long touchdown pass to Riley.
Riley followed this up by catching a pass from Adam Weber and running from one end zone to the other, barely missing a score by only four yards. However, the drive stalled after two penalties, and the game ended with fourth-string quarterback Weber diving one half-yard away from the goal line.
Does this all mean the backup quarterback controversy begins again in Denver? Let's hope not.
John Fox announced immediately following the game that he will not be listing a second- and third-team quarterback during the season. Most likely, in hopes of bringing Tebow in for some special short-yardage situations.
Overall, the Denver Broncos' backups get a D in their effort for employment on Thursday night. I would like to give them a better grade, but there just wasn't enough quality play, and more than enough slop.
Next up, the return of the starters on September 12 when the Broncos face the Raiders on Monday Night Football.
A final note: Let us all thank the people in charge of moving the ball five yards forward on kickoffs. Thank you for ruining the most exciting play in football.