Fantasy Football Sleepers: Top 10 All-Exclusive Super Sleeper List
September 2, 2011
Hannah Foslien/Getty Images
This is the all-exclusive top 10 NFL sleeper list that you do not want to miss, especially if you are serious about winning your fantasy league.
For weeks, we here at Bleacher Report have been compiling lists of fantasy players that we are sure will break out this year and be the best sleeper picks you could want to draft.
We all know that the key to a sleeper pick is making sure that you have all the inside information, intuition and knowledge that you can possess.
Take a look at the list of some of the best sleepers 2011 has to offer:
James Starks, RB Packers:
Starks should push to be a starter for the Packers, and if he isn't, I would be sorely surprised. He makes the Packers offense run a lot smoother, and he is a threat out of the backfield and as a runner. He should bring in a majority of the points for the Packers in the running game.
Tim Hightower, RB Redskins:
Hightower is another guy in a fight for the starting job, and I think he will eventually take it. He is a huge threat out of the backfield as a pass catcher, and I think that's going to be a huge selling point for the 'Skins coaching staff, especially with the two quarterbacks most likely looking to check down.
Jordy Nelson, WR Packers:
Nelson is technically the third option for the Packers, but we all know that Aaron Rodgers loves tossing the ball around to different receivers. The Packers use a lot of multiple-receiver sets, and whenever Nelson is out there he creates mismatches.
Ronnie Brown, RB Eagles:
Brown is probably going to get a lot of looks near the end zone, and that's what makes him such a good sleeper pick, especially if you are feeling the pressure in the later rounds. He should be able to get a good amount of carries, especially if LeSean McCoy goes down.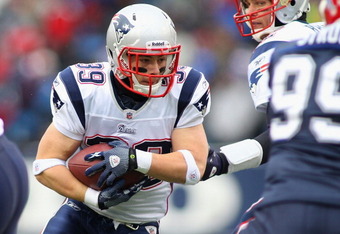 Rick Stewart/Getty Images
Donovan McNabb, QB Vikings:
Many people are picking the Vikings as the sleeper team in the NFC North, but that means McNabb will have to be the sleeper QB of the year.
He is only two years removed from the vintage McNabb we have grown used to seeing, so it's not that far-fetched to think he can go back to that form. Consider that he has Adrian Peterson running behind him, and that makes a lot more sense.
Jerome Harrison, RB Lions:
Jahvid Best isn't an every-down back, and I think eventually Detroit is going to figure that out. With that in mind, they will need to find someone they can pound down the middle of the line, and I think Harrison is going to end up being that guy, especially in goal-line scoring situations.
A.J. Green, WR Bengals:
Definitely consider Green as a sleeper, especially if you are in a keeper or dynasty league. He may not have the best season, but he's still the Bengals go-to guy. He's also going to develop into one of the best in the near future, so I suggest you take a look at him.
Titus Young, WR Lions:
Young hasn't played much during the preseason, so there is a good chance not everybody is thinking about him. The Lions have a chance to be a very explosive offense, though, and if Young can see the field, I think he has the speed to make things happen.
Danny Woodhead, RB Patriots:
Woodhead can score you points on the ground and by catching the ball. He's a good variety player who can do a lot of things for your team. Factor in Tom Brady throwing him the ball, and the Patriots offense, and we should see a lot of production out of Woodhead.
Matt Hasselbeck, QB Titans:
Hasselbeck probably has one or two good years left in him, and I think the change of scenery will do good for the veteran quarterback.
Chris Johnson just signed, which means his backfield will be set, and that makes life easier for any quarterback. I wouldn't be surprised to see Hasselbeck return to his old form.