NFL Fantasy Football 2011: Rating the Top 10 Quarterbacks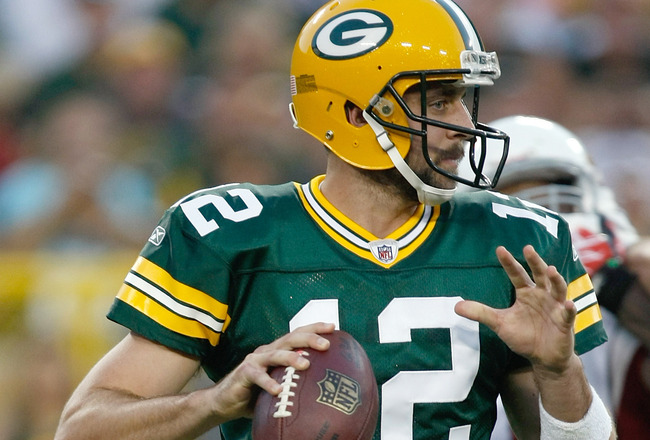 Scott Boehm/Getty Images
It is almost crunch time in NFL fantasy football leagues. The NFL season is right around the corner and many leagues will be holding drafts within the next week.
Whether you are in a league that plays for a money or a league that plays for bragging rights, you will need a comprehensive strategy in picking players to get the upper hand on your opponents.
Many people make the mistake of picking quarterbacks too soon. However, many also make the mistake of waiting too long. Quarterbacks are some of the most important players in fantasy leagues because of the large amounts of points they do score.
If you manage to land any of these quarterbacks in your league, you should be in good shape; That is, if you pick these quarterbacks in the right spot.
You can usually get a solid quarterback if you wait until your third pick in eight- or 10-player leagues. It is a little different if you are playing with 12 or more people though. In leagues with 12 players, you might not have a chance to draft a player for 20 picks.
Go with your gut. If you feel like your current pick is your last available opportunity to get a player, it should be a moderately safe pick.
Let's check out those rankings!
10. Ben Roethlisberger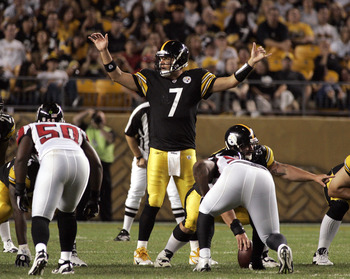 Justin K. Aller/Getty Images
"Big Ben" Roethlisberger comes in ranked 10th on this list. There is no denying that Ben is a great quarterback. Apart from his off-field troubles, he has had a very successful NFL career thus far.
Roethlisberger is expected to have a full season in 2011, with weapons like Hines Ward, Heath Miller and Mike Wallace.
Roethlisberger has a lot of weapons at his disposal, and he always does a nice job spreading the ball around.
Pittsburgh's offense is also a balanced attack, which means that some passing plays will catch the defense off guard. Roethlisberger is a good mid-round pick at quarterback.
9. Joe Flacco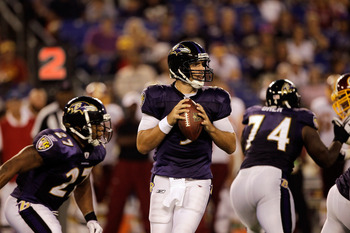 Rob Carr/Getty Images
Normally, Flacco isn't the most regarded fantasy option. However, Flacco is poised to have his best season yet.
Not only does Ray Rice impact both the running and passing game, the newly acquired receiver Lee Evans will be a great compliment to Anquan Boldin.
Evans gives Flacco the deep threat that he has been looking for, which will also help open up the middle of the field for the Ravens offense.
The 2011 season should be Flacco's best season statistically.
8. Matt Schaub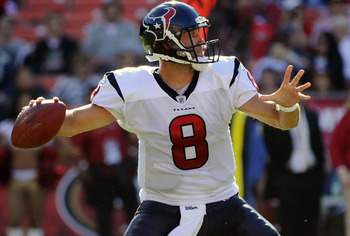 Thearon W. Henderson/Getty Images
It is hard to place Matt Schaub this far back, but he is behind some great quarterbacks. Schaub and Andre Johnson form a perfect quarterback-receiver pairing.
Schaub does his due diligence getting Johnson the ball, while the rest of the Texans receiving corps still benefits from Schaub's effective arm.
Arian Foster is also recovering from a hamstring injury. Hamstring injuries typically cause issues for an entire season, which means Houston's passing offense could be even more electric.
If you decide to draft running back and receiver heavy, Schaub is a great option to have after several rounds have passed.
7. Matt Ryan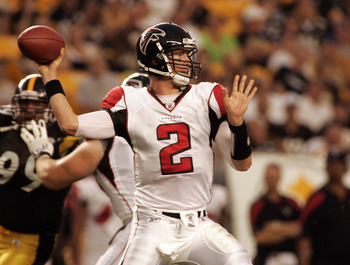 Justin K. Aller/Getty Images
Matt Ryan will soon be one of the best quarterbacks in the NFL. He has improved statistically every single year he has been in the league, and he has many weapons around him, including newcomer Julio Jones from Alabama.
Jones and Roddy White will be a very dangerous duo, while making Matt Ryan a very dangerous fantasy quarterback.
Given Atlanta's success running the football, the passing attack should benefit greatly.
While it may be a bit of a reach now, Ryan could be one of the best fantasy quarterbacks this season.
6. Peyton Manning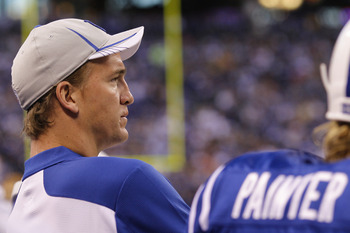 Joe Robbins/Getty Images
Even though Peyton Manning is injured, he will start Week 1. Manning does not miss games. Plain and simple.
Manning is also getting passed up for quarterbacks like Matt Ryan and Matt Schaub. While both of those quarterbacks are great options, Manning has been arguably the best quarterback in the NFL for the past decade.
Dallas Clark is healthy this season, while Reggie Wayne and Manning have incredible rapport.
Manning is still one of the better fantasy options at quarterback this season.
5. Tom Brady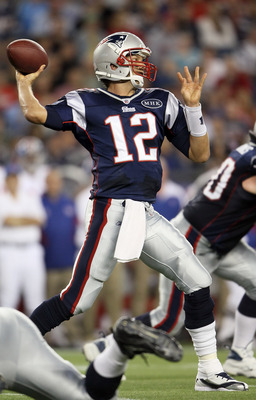 Elsa/Getty Images
It is hard to see Tom Brady having the season he did last year. His 36 touchdowns to just four interceptions was one of the best seasons ever for a quarterback.
Brady does have lots of weapons, including Chad Ochocinco and Wes Welker.
He is still a great option at quarterback, but he is sitting somewhere in the middle between Tier 1 and Tier 2.
Remember, this is a fantasy football ranking. Brady is still the best overall quarterback in the NFL.
4. Philip Rivers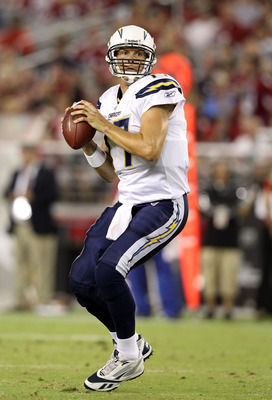 Christian Petersen/Getty Images
Philip Rivers is phenomenal. There really is no word that gives him justice.
Rivers did well in 2010, but with the addition of Vincent Jackson, Rivers will have an even better 2011 campaign.
With Ryan Mathews healthy, Rivers will have copious amounts of weapons to throw the ball to.
Rivers should be one of the first quarterbacks taken off the draft board.
3. Aaron Rodgers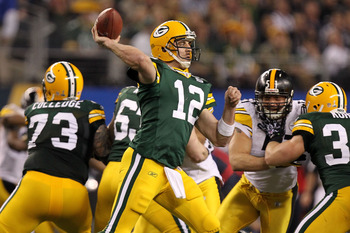 Ronald Martinez/Getty Images
Aaron Rodgers' legacy was propelled so much by the Packers Super Bowl victory in 2010.
Rodgers played brilliantly for his team and for fantasy owners. He is mobile and has incredible accuracy on the move.
He has many weapons and he gets his playmaking tight end, Jermichael Finley back from an injury in 2010.
There might not be any quarterback in the NFL that it as good as Rodgers is at running an offense and putting up huge numbers.
2. Drew Brees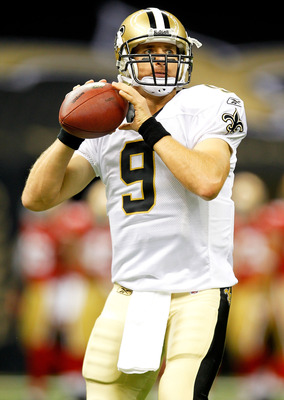 Sean Gardner/Getty Images
Brees did not play up to his own standards in 2010. He threw many interceptions which could have been the result in New Orleans' below-average running attack.
New Orleans drafted running back Mark Ingram in the 2011 draft and will get Pierre Thomas back from injury.
The Saints will still pass the ball more than they run it, but the success of their running game will help keep defenses honest.
Brees will have a great season in 2011.
1. Michael Vick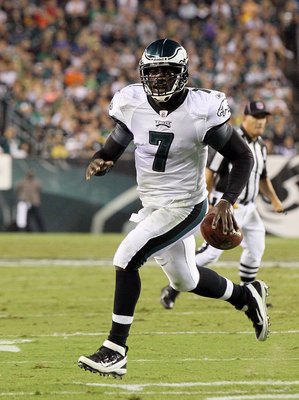 Jim McIsaac/Getty Images
Michael Vick can run and pass super effectively. This is no secret. It is so hard for defenses to stop Vick because of this element. Just when you think Vick will go down for a sack, he will escape and hit a receiver on the run or scramble for a big gain.
Vick's mobility also aids his receiving corps because it gives them more time to get open. The Eagles' weapons also suit Vick perfectly.
LeSean McCoy is a great pass-catching running back while Brent Celek, DeSean Jackson and Jeremy Maclin.
In some leagues, Vick will even go as the first pick. Though I don't suggest this, it won't be the worst move you see.
Keep Reading