Fantasy Players at Each Position Who Will Make or Break Your Season
September 1, 2011
SLEEPERS
Quarterbacks
What's not to love about this guy—except for the injuries of course.  Stafford has a strong arm that can make any throw on the field, which is nice because he also happens to have the most freakish wide receiver on the planet at his disposal in Calvin "Megatron " Johnson.  Jahvid Best, Nate Burleson and Brandon Pettigrew are great complements, but now Stafford has rookie WR Titus Young to open things up as well.  If Matty can finally stay healthy for an entire year, landing in the top 10 fantasy QBs wouldn't be surprising.
Watch out for the strong-armed Flacco this season.  Now that he has a full year playing with Anquan Boldin under his belt, along with the additions of speedsters WR Lee Evans, Torrey Smith and the dynamic WR Tandon Doss, Flacco should have a lot more room to gun it around in the secondary this season.  It's very possible he breaks into the 4,000-plus yards/30 TD range in 2011.
Bradford had himself a fine, if not spectacular rookie season in 2010.  However, Year 2 is always going to be a little different from Year 1, right?  Enter: offensive coordinator Josh McDaniels.  Hey, the guy may be a crappy head coach, but wow can that guy get the best out of his quarterback!  St. Louis may not be blessed with the finest wide receiving corps on the planet, but nobody thought the Broncos would do anything with what they had either.  Basically, bet on Bradford doing something special this year—and grab one of the Rams' WRs while you're at it.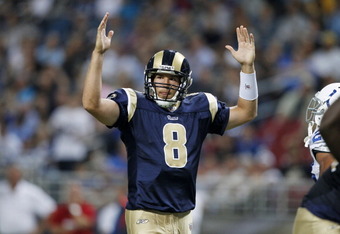 Joe Robbins/Getty Images
Other QB sleepers on our list:  Kevin Kolb, Colt McCoy, Colin Kaepernick
Running Backs
Blount is a freakin' wrecking ball who took the league by storm once he was given the starting gig last season.  He gained 1,007 yards in just 201 carries (5.0 yards per carry) while adding six TDs to his stats.  At 250 pounds, it's impossible for him to score just two TDs from inside the 5-yard line again (as he did in 2010), so expect that number to go way up.  With Tampa owning one of the easier schedules against the rush this year, Blount could be sitting with 1,200 yards and 10-plus TDs by season's end.
There's no doubt Jones had the most ability of the Cowboys' three-headed monster the past few years, and now he'll get the chance to prove it in full.  Yes, it's true, Jerry Jones and the 'Boys drafted yet another running back early in the draft this past year (DeMarco Murray, third round), but they also let go of goal-line vulture Marion Barber and declared Jones to be their definitive 2011 workhorse.  If Jones can stay healthy and put up even better numbers than he was accumulating under new head coach Jason Garrett last season, count on this electrifying runner paying out huge rewards as your fantasy RB2 in 2011.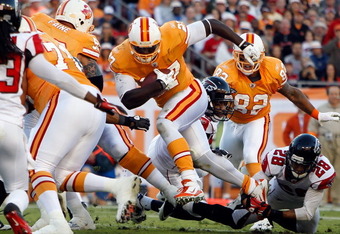 J. Meric/Getty Images
If Mathews can somehow make it through the entire 2011 season, this high-octane Chargers offense should be able to get his numbers to explode regardless of how much they end up using Mike Tolbert.  San Diego had the fourth most rushing TDs last season (18), of which Mathews only grabbed seven, partially because he was a rookie, partially due to injury.  If he can get to 225-250 carries this season, expect his overall numbers to look something like 1,000-1,100 rushing yards, 1,500 total yards and a good 10 TDs—numbers that would put him right around the top 10 fantasy RBs.
The Saints had a few holes they needed to fill in the draft, but running back wasn't really one of them.  However, New Orleans still thought enough of Ingram to grab him with one of its two first-round picks.  Basically, the Saints invested and they will undoubtedly use him accordingly.  With pretty much every other RB that's still on the roster (bye-bye, Reggie Bush!) injured in one way or another, Ingram will get the first shot to make an impression on the coaches this season—and impress he will.  The 2009 Heisman Trophy winner has zero holes in his game and it's very possible the rookie ends up with 1,000-plus yards and 10 TDs.
Other RB sleepers on our list:  Shonn Greene, Jahvid Best, Ben Tate
Wide Receivers
Thank goodness Harvin's supreme talents won't be wasted this season.  Though he likely would have put up above average stats had Christian Ponder or Joe Webb begun 2011 as the starting QB, with Donovan McNabb now the man under center, Percy has a chance to be outstanding.  Coach Leslie Frazier, OC Bill Musgrave and Percy Harvin himself are all determined to make him a top-of-the-league receiver this season, and if anybody has the skills to do it, it's Harvin.  Harvin also supposedly found a cure for his migraine problem, so it seems the 90-100 catches and 1,000-plus yards McNabb is predicting for him are truly within reach this season.
Despite playing in just the third 16-game season of his eight-year career in 2010, Boldin put up his second worst totals in both yards and receptions. However, there are reasons behind it. First off, WRs tend to take a big hit to their numbers whenever they switch teams. Now that he has a season under his belt with Flacco and Co., you can toss that out. Second, with only a couple of dinosaurs (Derrick Mason and TJ Houshmandzadeh) out there to take the heat off him, defenses saw no reason not to double-team him. The additions of speedster Lee Evans along with rookies Torrey Smith and Tandon Doss should solve that problem and get him back in the top 15.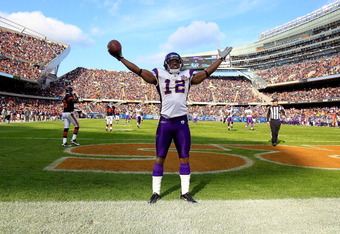 Jonathan Daniel/Getty Images
There's no question this kid has an obvious knack for the big play, but what impresses us even more is that despite his lofty 15.7 yards-per-catch in 2010 (15th in the NFL), he also caught nearly two-thirds of the balls thrown to him.  After being mired as the team's WR3 last year, Manningham is now a clear-cut starter for the G-Men with the gimped-out Steve Smith let go to play in Philadelphia.  Having Hakeem Nicks on the other side of the field will leave Manningham in single coverage each week, which could easily lead him to turn in very solid WR2 numbers this fantasy season.
His big-play ability is amongst the best in the game, partly due to his Chris Johnson-like 4.28-speed, partially because of his natural instincts.  Ford can pretty much do it all on the field, though he does have one big drawback: his size (5'9", 185 pounds).  Oakland doesn't have a standout WR to speak of, so it's possible Ford could take over the role and go off on a DeSean Jackson/Percy Harvin-esque type season.  At the very worst, he'll have a few gigantic games and be the most fun player to watch on your fantasy team.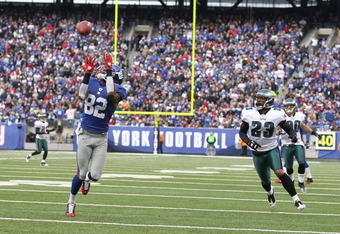 Al Bello/Getty Images
As much as we love Hines Ward and his overall game, we have to admit that he's pretty much got one foot on the field and one foot in the grave.  Enter: Emmanuel Sanders.  His speed/quickness is outstanding, and with Mike Wallace becoming one of the elite receivers in the game, Sanders is sure to see a bunch of single-coverage.  Pittsburgh may act like a running team, but Big Ben Roethlisberger loves to toss the pill around.  Foot problems or not, if Sanders takes on a bigger role with Ward in decline, expect some pretty nice stats from him this season in Steel-Town.
Other WR Sleepers on our list:  Robert Meachem, Danny Amendola, Greg Little
Tight Ends
The Saints think enough of Jimmy Graham that they had no problem letting Jeremy Shockey go.  Graham's athleticism is off the charts for a tight end as he actually played basketball for the University of Miami before football, and the Saints plan to exploit that.  Even though Drew Brees tends to spread the ball around, there are plenty of targets to be had as New Orleans has been amongst the top passing teams in the league for quite awhile now.  Graham is one of the few TEs that have a real chance of breaking into the top tier of Gates, Clark, Witten, Davis and Finley.
Olsen is one of the most gifted athletes at the tight end position in the entire league, but in Chicago, where Mike Martz runs a non-tight end friendly scheme, he was pretty much a wasted lump on a log.  Carolina hasn't been very tight end friendly since the days of Wesley Walls in the late-'90s either, but the Panthers haven't had someone like Olsen to toss the pill around to.  Whomever the Panthers go with under center, Jimmy Clausen or Cam Newton, you can bet they'll be using Olsen quite a bit in an effort to keep their passing percentage up.  Surpassing his career highs of 60 catches, 612 yards and eight TDs is certainly possible.
Cook is quite a physical specimen, to say the least.  He's 6'5", 248  pounds, has a wingspan that approaches seven feet, runs a 4.4 40-yard dash and can jump out of the gym with a 41-inch vertical.  WOWZA!  The Titans finally gave him a shot to start with two games remaining in 2010 to which Cook responded with 12 catches for 154 yards and a TD.  This season, with rookie Jake Locker likely running the show, Cook will be depended on quite a bit as rookie QBs tend to dump the ball off to tight ends much more than veterans do.  If the stars align, Cook could end up being really really special as soon as this season.
Other TE Sleepers on our list:  Todd Heap, Ed Dickson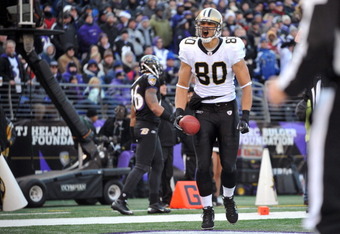 Larry French/Getty Images
BUSTS
Quarterbacks
We're not here to tell you that big Josh Freeman will be a full-blown bust this year, because he won't.  However, we are going to warn you not to expect too much because, frankly, he doesn't have a prayer of landing as high up the fantasy food chain as some are predicting.  The Bucs simply don't pass enough for it to happen.  In fact, Tampa threw the ball even less in Freeman's second season than it did in his first.  Another thing: Freeman didn't have a single 300-yard game last year and if he didn't toss up those five TDs in Week 16, he would have ended up outside the top 20 in fantasy points per game.  Don't overestimate his potential here.
Not only is Garrard void of a true WR1 to throw to now that  Mike Sims-Walker was sent packing (not that he was really a WR1 in the first place), but when the Jags find themselves at the bottom of the division with no chance of ascension by the time they hit their bye week (Week 9), Garrard will be pushed out of the starting slot by rookie Blaine Gabbert for the rest of the season.  The 33-year-old's up-side is so minimal, we'd have trouble telling you to draft him even if your roster was 40-plis players.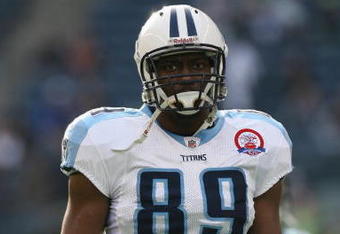 Otto Greule Jr/Getty Images
Other QB Busts on our list:  Jason Campbell, Alex Smith
Running Backs
Really?  Benson got himself arrested again?  Unreal.  Actually, not so unreal.  The guy is an absolute headcase in the strictest sense of the word and has always been on the edge of the pirate ship plank, ready to take a dive.  How he has continued to keep a job in the NFL is beyond me.  I mean, my goodness, the guy can probably sell snow to Santa Claus on Christmas Eve!  Whatever the case, even if he avoids a league-imposed suspension, he'll be faced with one of the tougher rushing schedules in the league this year along with a (probable) rookie starting QB to run behind.  Not a good situation.
Though we are extremely impressed with what the "Law Firm" did last season, there's no telling what the Patriots have in store for their backfield from year to year.  Green-Ellis basically came out of nowhere to take on the lead-back role in one of the more high-powered offenses in the league last season, but of course, in classic Bill Belichick fashion, the team decided to draft two running backs in the first three rounds this year.  Who knows what will happen in the New England backfield, so don't go putting too many eggs into a basket that has been made of one-ply toilet paper over the last decade.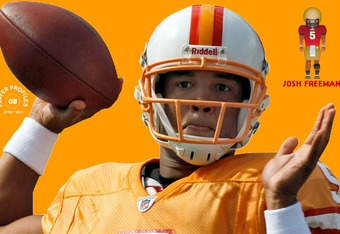 First off, the guy is about as injury-prone as it gets.  Always a red flag.  Second, oh my God, there he goes getting injured again in camp!  Third, the Redskins are looking to overhaul their offense at this point, hence their drafting of RBs Roy Helu and Evan Royster along with WRs Leonard Hankerson and Niles Paul.  Torain is in no way proven as a starting tailback, so with the 'Skins basically in a rebuilding mode, you have to wonder just how much playing time Ryan will get this season.  On top of that, Tim Hightower was just traded for and actually pinned down the starting job while Torain was out, but our guess is that Helu is starting by Week Six.
Other RB Busts on our list:  Jonathan Stewart, Pierre Thomas
Wide Receivers
Colston continues to be thought of as a solid, if not high-end fantasy WR2.  We think that label comes up short this season.  He won't fall off the face of the fantasy map by any means, but the fact that he had yet another (his fifth!) knee surgery this past offseason (on top of wrist surgery), we're not too confident he'll be able to keep up his level of play.  Even with 84 catches, 1,022 yards and seven TDs last season, he still came in just 19th on the WR fantasy list.  If his knees end up bothering him again in 2011 (which they already have in camp), those numbers will go down and possibly put Colston in the 25-30 range—and possibly much lower.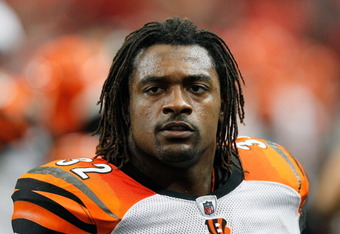 Kevin C. Cox/Getty Images
With Vincent Jackson missing the first 10 games of the season (11 overall), Floyd had every opportunity to turn in a WR1-type of season.  He didn't and ended up missing five games of his own in the process.  Were it not for a spectacular Week 5 performance against Oakland (eight receptions, 213 yards, one TD), Floyd would have put up a grand total of 29 catches for 504 yards and five TDs in 10 games.  Now that V-Jax is back, not to mention a healthy Antonio Gates, Floyd should return to his normal role of "weekly afterthought" in 2011.  The Chargers drafting of WR Vincent Brown in the third round doesn't show a lot of confidence in Floyd either.
As much as we love Ward's game, there's no doubt he's in the death rattle of his career.  Last season saw Hines put up the least amount of receptions and fantasy points and the second least amount of yards in a decade.  With up-and-comers Emmanuel Sanders and Antonio Brown hot on his tail for Pittsburgh's WR2 slot, we can almost guarantee his numbers of 59 catches, 755 yards and five TDs will fall even further in 2011.
Mike Williams may have been one of the feel-good stories of last season, but the key words there are "last season."  The first thing that concerns us is his QB has changed from a relatively steady Matt Hasselbeck to an erratic QB in Tarvaris Jackson.  Seattle also brought on a much better WR and familiar face for Jackson to throw to in Sidney Rice.  Third, he seems a bit injury prone (he was hurt again in camp).  To top it all off—and we're not saying that this will happen—it's possible either one of the much faster and more dynamic Ben Obomanu or Golden Tate eventually takes his spot in the lineup.  Basically, don't take too much of a risk here.
Other WR Busts on our list:  Nate Burleson, Anthony Armstrong
Tight Ends
Cooley is a gamer and accept for an injury-marred 2009 season, he's been one of the more consistent fantasy tight ends in the league since 2005.  That said, it looks like the torn meniscus he played on last season is starting to catch up to him.  The surgery he had in the offseason was supposed to clean it up, but he's been limping pretty bad around camp so it might not have gone as well as initially reported.  With a more than capable backup in Fred Davis doing well with Cooley on the sidelines, it wouldn't shock us to see a split-share of time for the two tight ends throughout the 2011 season.
A growing circle believes that Brent Celek will have a bounce-back season in 2011, but we're not among them.  Though we concede the possibility Celek could return to fantasy significance, we're looking at this from a more logical perspective.  The Eagles must know that if they want a Super Bowl ring, probably the biggest key to their success is a healthy Michael Vick.  That's where Celek comes in.  Celek has supposedly beefed up to more than 265 pounds (he played at about 250 in 2010) in order to improve his blocking, which indeed may help to keep Vick upright, but does not aid in improving his fantasy stats at all.  Take a chance on a TE elsewhere.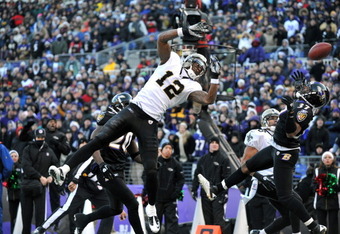 Larry French/Getty Images
Other TE Busts on our list:  Heath Miller
Follow Pyro® on Twitter:  https://twitter.com/pyroman1ac
Follow Pyro® on Facebook:  http://www.facebook.com/pyromaniac
Check out the 2011 Pyro® Draft Kit