Detroit Lions Report Cards: Complete Grades for Every Position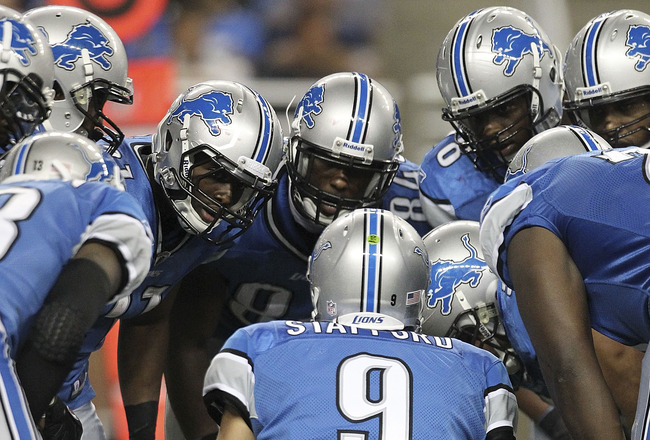 Leon Halip/Getty Images
I'm not saying the fourth preseason game is worthless, a waste of time, devoid of meaning or otherwise completely stupid. Definitely not saying that.
But if the Lions sent the CMU football team out to Buffalo to play against Syracuse at Ralph Wilson Stadium, I'm not sure anyone would notice the difference. Just loan them some jerseys.
Ultimately, the Lions saw everything they wanted out of their first-string unit against New England. Matthew Stafford might only complete 50 percent of his passes in this game, primarily because he might only throw two (and one might be to Derrick Williams).
So I'm doing positional grades for the preseason prior to the Lions' fourth preseason game, because I expect that game to have little-to-no impact on the result.
Granted, to Ricardo Silva and players like him, the fourth preseason game is not worthless. Rather, it's a last-ditch attempt to stay relevant and earn a spot on the team (or another team).
But his performance against the Bills is not going to compel me to change the entire safety position's grade.
So you're getting positional report cards today, pregame.
Next week, the roster will contain the final 53 players and I'll finally be ready to produce a relevant set of season predictions (relevance not guaranteed, although I did predict a 6-10 finish last year amidst getting everything else in that piece wrong).
Quarterbacks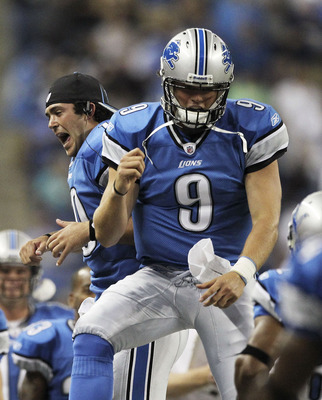 Leon Halip/Getty Images
Like many historically weak Lions positions this year, the quarterback position currently is faced with the good problem of having more talent than they have roster spots.
Matthew Stafford looks elite.
Shaun Hill was shaky in the preseason, but is backed up by a strong 2010 campaign.
Drew Stanton remains an enigma. As if channeling Wayne Fontes, he has huge success when everyone is ready to write him off and folds the moment he's given any expectations.
Zac Robinson is hoping to create as much film as possible for himself against Buffalo, with an eye towards sneaking on a team as a developmental third QB after Detroit cuts him.
Robinson would be a perfectly good developmental QB for Detroit, but Detroit already has Stanton, who at this rate might still be the Lions' "developmental third QB" at age 35.
Nobody is perfect in this bunch, but everybody has taken turns having a great preseason. The only thing left to be concerned about is health, but you can't give a preseason grade based on health concerns.
Grade: A-
Running Backs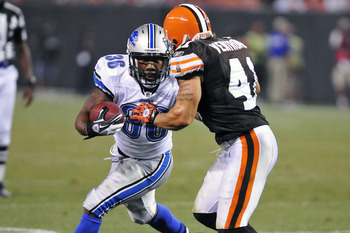 Jason Miller/Getty Images
I have long lamented the treatment of Maurice Morris in the Lions offense.
Morris' role generally consists of waiting until a couple of running backs have been injured, doing the job they were supposed to do better than they did while healthy then being re-buried on the depth chart with the return/arrival of other backs.
This preseason, Morris himself has been injured. Also add Mikel Leshoure and Jahvid Best to that list, and with that, the Lions' top three running backs have been out for almost the entire preseason (Best played the first game, and had two carries before leaving the second).
As a result, we've been looking at Ian Johnson and Jerome Harrison like saviors every time they break a four-yard gain.
This is not a good sign for the running game.
Now, Leshoure won't be the answer to the Lions running game issues for at least another year, and what we might learn in the meantime is why the Lions gave up a bunch to draft him.
Leshoure's was a controversial pick, both because the Lions traded up to get him in the second round, and because the Lions traded up to take Jahvid Best in the first round the year prior. Worse yet, he was selected to fill what was then perceived as a relatively minor need.
But if Leshoure filled only a minor need, why has his injury sparked such a scramble to replace him? Why does it feel so devastating?
You know the answer. Leshoure was going to be a huge part of the Lions offense, and now a huge part of the Lions offense has to be revamped.
Ultimately, we have no idea what the running backs are capable of, because most of them haven't been on the field. Harrison and Aaron Brown have looked good in spurts, but Morris and Best, who will actually get regular carries in the offense, have been nowhere to be seen.
Grade: Incomplete
Wide Receivers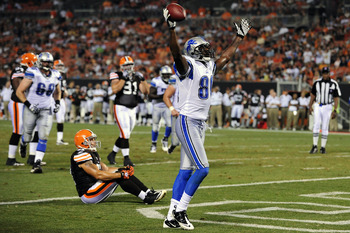 Jason Miller/Getty Images
It's a little-known fact that wide receivers face one of the steeper learning curves in the NFL.
They're not quite up there with quarterbacks, middle linebackers or corners, but they can't step in immediately like running backs, either.
For that reason, Titus Young, who has also spent most of the preseason injured, doesn't have a great deal to do with how good the Lions receiving corps is this year.
Will Young have a major role? Absolutely. Will he produce? Probably. Will that production make or break the position? Not hardly.
At this point, I would argue that the man most responsible for the receivers' success in 2011 (aside from Matt Stafford) is Nate Burleson.
Ultimately, we know what to expect from Johnson, Young will need some time to integrate and Maurice Stovall will be important but not a season-changing impact either way.
Burleson is the only guy other than Johnson with both a year's tenure with the team and the skills to be Stafford's legitimate second read. If he can hurt opposing defenses, it opens up the entire offense. Johnson will see less coverage, the run game will get less attention, the middle will open up for Brandon Pettigrew and Young and Stovall will get matchups against nickel or dime corners.
Burleson has been far and away the best receiver in the preseason, so it's a good start. He started slow last year, partially because of injuries to himself and Lions quarterbacks. He came on strong late in the season, and stepped up with over 100 yards receiving to finish the season with Calvin Johnson out.
Eliminating Bryant Johnson and Derrick Williams (pending transaction) is addition by subtraction, and the acquisitions of Titus Young and Maurice Stovall are addition by addition. If it all comes together, the wide receiver position may be the most improved on the entire team.
Grade: B+
Tight Ends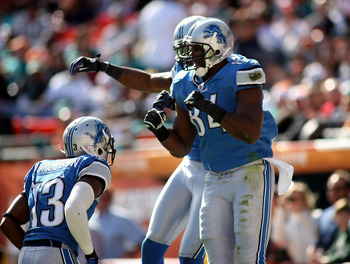 Marc Serota/Getty Images
One of the more quiet position groups the preseason, but that's mostly because of a lack of injuries.
The tight end position has picked up pretty much where it left off. Brandon Pettigrew is still a great all-around tight end (I've seen some particularly good pass-blocking from him this preseason), Tony Scheffler is still a good receiving tight end who will be solid but might struggle to put up big numbers and Will Heller will still drive a cornerback 30 yards down the field.
Heller is also starting to look like a Casey Fitzsimmons-like hybrid player, who might get the role previously filled by Jerome Felton in some packages. That might be the best way to increase his field time, especially considering the strength of the Pettigrew/Scheffler combo.
I predicted some time ago that the Lions tight ends would have a statistical drop-off given the improvement of the wide receiver corps.
Based on the preseason, that may not be true. It's a small sample size, but in three games, Tony Scheffler has the same number of catches as the leading receiver (Burleson), Will Heller has as many as the next guy (Maurice Stovall) and Brandon Pettigrew is tied with a bunch of guys for third.
Now, going back to that sample size thing, we're talking about six, five and four catches, respectively. And Aaron Brown has everybody beat with 10. These numbers are clearly not representative of what the regular season will look like, unless you think Joe Jon Finley will have more receptions than Calvin Johnson.
But the fact that Joe Jon Finley has a handful of receptions is a great indication that the tight end as a receiver is not being lost on the Lions quarterbacks, and said tight ends have not disappointed.
Grade: B+
Offensive Line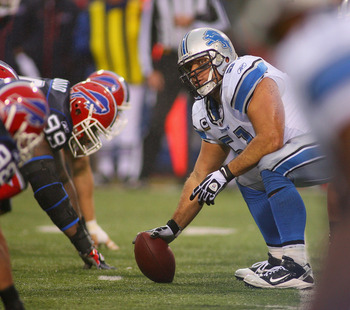 Rick Stewart/Getty Images
Anybody who has brought pessimism to the Lions' preseason party this year has brought a criticism related in some way to this unit.
The offensive line can't open holes for running backs. The offensive line will get Matthew Stafford injured again. Jeff Backus is a hack. Gosder Cherilus is a bust. Dominic Raiola is the worst center ever.
And so on and so forth.
There is an element of truth to most of this, and a historical context for the rest. The Lions haven't been able to generate any push in the run game, and Jeff Backus was responsible for Stafford's first injury in 2010.
The counter to those arguments as follows:
A) The Lions haven't had any running backs playing who actually look for holes before bouncing the run outside, and
B) Lions quarterbacks haven't even been so much as love-tapped for the most part this preseason, and half the offensive tackles have been out injured.
So basically, we've gotten some mixed signals from the much-maligned O-line. I still maintain that the line as a whole isn't as bad as its rep, but it hasn't been particularly easy to speak up in defense of the interior run-blocking.
And yet, Dominic Raiola, who is supposed to have a hard time blocking any defensive tackle of any notable size or strength, basically neutralized Pro Bowler Vince Wilfork, who looks to be playing at about 350 pounds. Though Raiola should have been completely outgunned in that matchup, he fought Wilfork to a stalemate. That's not all bad, right?
The offensive line definitely needs a couple of upgrades in the next offseason, but the doomsayers who claim the line is going to be the team's downfall this year might be just a tad overzealous. They've had their ups and downs, and they're not perfect, but they should do for now. Just barely a passing grade overall.
Grade: C-
Defensive Line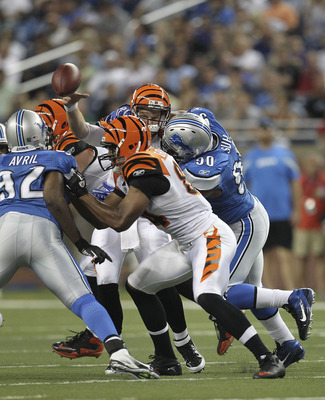 Leon Halip/Getty Images
I don't care where he was drafted—Nick Fairley is still a reserve when he gets healthy.
Corey Williams is just too good. He might be the most underrated defensive tackle in football, and is almost certainly the most under-appreciated Lions defender. At least once per game this preseason, Williams has stopped a run by being in the backfield the moment a running back gets the ball.
Ndamukong Suh has been his usual dominant self, and Sammie Hill continues to show growth into a player who could probably start on 31 NFL teams.
And I have no doubt Fairley will be great when his injury comes around. But until that time comes, give some respect to No. 99. If he cuts the offsides penalties back to fewer than one a game, I will have no complaints with him.
Defensive end has been a strange position. Cliff Avril is starting to get credit as one of the league's most underrated pass-rushers, Lawrence Jackson continues his solid play from last year, and Willie Young looks like the line's most improved player over last year.
His speed off the edge makes quarterbacks have to step up into the pocket, and with some combination of Suh, Williams, Hill or Fairley barging up the middle, that can be an impossible situation.
The line hasn't done a fantastic job overall of bottling up the run, but considering that their job in this scheme is "sack the quarterback, see if you can hit the running back on the way there," that's not necessarily all their fault (more on that on the next slide).
The defensive line impressed against Cincinnati, fell a bit flat against Cleveland and was lights-out against New England. Overall, I'd say they're picking right up from where they left off in 2011, and only stand to get better once Fairley and Kyle Vanden Bosch return from injury.
Grade: A
Linebackers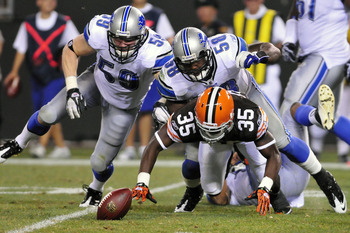 Jason Miller/Getty Images
After the big splash the Lions made signing Justin Durant and Stephen Tulloch in the whirlwind free-agency period we had in July, the talk of Detroit was how the linebackers had suddenly gone from hopeless weakness to strength.
Through three games, the linebacker unit has been all but invisible.
Wait, let me correct myself: Every linebacker not named Bobby Carpenter has been all but invisible.
Carpenter has been one of the biggest surprises of the preseason. After being drafted in the first round out of Ohio State in 2006, he fizzled out into a special-teamer. And he was even cut from the Miami Dolphins because of miscues on special teams.
If the Lions weren't dealing with injury issues at linebacker last year, Carpenter would likely not have gotten a look. But he did. The Lions signed him off waivers and he played some special teams and some reserve linebacker, and seemed to get stronger as the season went on. Eventually he got to start in a couple of games, and shocked everyone with a 10-tackle performance against Minnesota to close the season.
Fast-forward to today. Carpenter has 18 tackles through three preseason games.
The Lions' current starting lineup of Tulloch, Durant and DeAndre Levy? Eighteen tackles—combined.
It took a while, but it appears that Carpenter is growing into the sideline-to-sideline playmaker the Dallas Cowboys hoped he'd be in 2006. In the eyes of most, he's pushing for a starting role.
But is that more a factor of Carpenter's brilliance, or the relative ineffectiveness of Justin Durant? The fact remains, Carpenter is little more than a single bright spot in a unit that has been largely disappointing. With as talented as the defensive line is, and as much attention as they draw, it should be relatively easy for the linebackers to make plays.
So then, simply put, why aren't they?
Grade: D+
Cornerbacks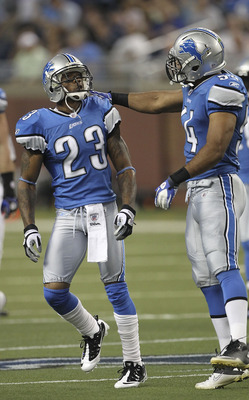 Leon Halip/Getty Images
They say cornerback is the most difficult position to project in the draft. I contend that it remains difficult for even a few years after the draft.
Last year, optimists were positive that the cornerback position would be just fine with the return of young studs Aaron Berry and Alphonso Smith.
At this point in the preseason, the winner of that battle is Brandon McDonald.
Aaron Berry still has potential, but he is, at best, in need of some more experience. At worst, he's completely lost.
Alphonso Smith is another setter of the new "foot injury in training camp" trend.
The starters are obviously Eric Wright and Chris Houston, and it's hard to get opinions to line up on whether those two are any good or not.
So let's try hitting the stats. In three preseason games, the Lions are the fifth-most passed on (by attempts) team in the NFL. However, they are ninth in passing yards allowed per game. That equates to the second-best yards-per-attempt ratio (5.3) in the league.
It's still preseason, so it's utterly impossible for us to tell how much of that we can equate to Houston and Wright, but it does seem to indicate that the corners are doing an adequate job of shutting down receivers.
Grade: B+
Safeties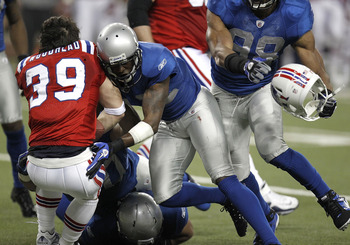 Gregory Shamus/Getty Images
Remember how the best we could hope for in 2010 was for C.C. Brown to not screw up too badly?
Welcome to 2011, where Amari Spievey (pictured here) turns Danny Woodhead into just Danny Wood.
Meanwhile, Louis Delmas is in a slump and nobody is taking much notice. And why? Because Spievey is the most improved player on the entire team, Erik Coleman is ready to step in at a moment's notice and Ricardo Silva is making the Lions seriously consider carrying five safeties into the season.
Somehow, the Lions ended up with three safeties better than Brown, all ready to take his spot a year later. John Wendling might not be a better safety, but nobody is better than him as a special-teamer, so he'll take a safety slot as well.
Spievey is flying so high right now, he drilled Chad Ochocinco on a jam and Ochocinco was flagged for offensive pass interference as he picked himself up off the turf.
Delmas, oddly enough, is the guy who brings this grade down. After sky-high expectations during the offseason, he seemed to be stagnating as a guy more interested in making a highlight-reel play than making the play at all. More than once, a ball-carrier has bounced off Delmas trying to lay the big hit.
Hopefully Delmas can right the ship (perhaps after a nice chew-out by Gunther Cunningham), but until he does, he brings his unit down as a disappointment so far amidst a cavalcade of pleasant surprises.
Grade: B
Special Teams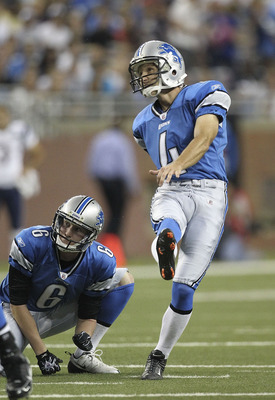 Leon Halip/Getty Images
This one is easy. Jason Hanson is still on the team, and he still has a leg capable of a 55-yard field goal at any moment. Check.
Nick Harris is a top-10 punter, and he is currently facing competition from Ryan Donahue, a UDFA out of Iowa. Jim Schwartz has said the camp battle is "going down to the wire." So the Lions have the awful problem of choosing which of two excellent punters they want to keep.
They recently fielded the same issue in placekicking with one Dave Rayner. Rayner was cut, and Jerry Jones sent his private jet to kidnap sign Rayner immediately before anyone else got a sniff.
And as far as special teams coverage? The New England Patriots started four drives inside their own 20-yard line last weekend. It's a microcosm of the Lions' overall special teams performance, but it's telling.
If there's a negative to special teams, Stefan Logan seems frustrated by kickoffs getting boomed over his head these days. But he's sufficiently shifty as a punt returner, and maybe the decreased workload as a kick returner will equal a bigger role in the offense.
Grade: A
Keep Reading

Detroit Lions: Like this team?