Why We Are Too Quick to Assume Peyton Manning's Career Is Finished
September 1, 2011
Andy Lyons/Getty Images
Bold predictions are a funny game. After college, I lived with six high school buddies in a massive house in Cambridge, Massachusetts, and each night, invariably, there'd be a [insert Boston sports team] game on the television. In addition, some combination of us was always involved in a few fantasy leagues, baseball, football, basketball, even golf. So predictions were always flying about the action and the future of the season.
But what was great was that you could always hold a guy accountable because you'd look him right in the eye as he made his call. Two months later you could slyly smile and say, "Heyyyyy, remember that time you said LenDale White was going to be a super stud?" And everyone would get a good laugh.
It doesn't work that way in today's sports media. Commentators or "analysts" make predictions and then are rarely ever held accountable for them. Take Peyton Manning and his unfortunate neck situation. Legions of football experts, talk radio hosts and fans are piled onto the "His Career Is Over" Bandwagon.
Really?
We're making that call despite the fact that people made similar ominous calls about Tom Brady when his knee exploded and Mike Vick when his morals exploded. We're making that call despite the fact the Colts just signed Manning to a new contract (I'm sure they didn't have a doctor, even one, look over his neck). We're making that call even though Peyton is perhaps one of the most dedicated and smartest football players in the history of the game (i.e., he'll do 110 percent of what the doctors tell him to). We're making that call because the Colts signed…Kerry Collins (so what?).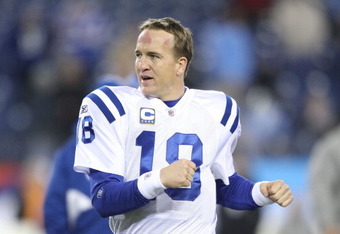 Andy Lyons/Getty Images
This is one of those situations where even if commentators get lucky and their predictions are right, they are still, in a way, wrong.
Pretend I told you that today, you will slip on a banana peel like a cartoon character. And then, on your way to work, you slip on a banana peel like a cartoon character. I may be right, but the prediction was still asinine. I made it in the face of insurmountable evidence. You've walked into work a thousand times without slipping on a banana peel like a cartoon character.
That example is, of course, hyperbole. The Manning example has a bit more supporting evidence. But the point is that in the end, the pundit world—for sports, politics, the stock market, anything—doesn't delineate between bold and stupid predictions.
Why? Because if they're right, they can always point to "When I told everyone that, despite the naysayers, Peyton Manning's career was over." And if you're wrong? No one cares. There is so much noise that bold/stupid predictors just file in with the rest of the crowd and go unnoticed.
Until there is a way to hold analysts and pundits (Mel Kiper!) accountable for their predictions (Grade the graders!), we'll keep living in a sports commentary atmosphere of hot air.