Philadelphia Eagles: Checking in on 10 Members of the 2010 Team Who Are Gone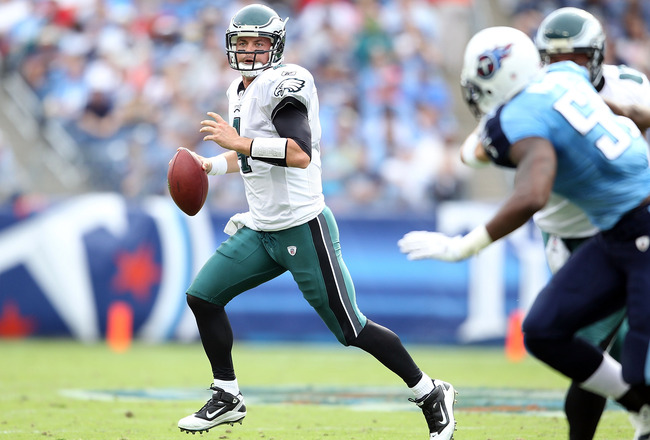 Andy Lyons/Getty Images
Anybody else had enough of all this "dream team" talk?
Before the Eagles went on their unprecedented shopping spree, the talk of the offseason was the team's decision to not re-sign a number of key contributors from last year's team.
Obviously, Howie Roseman and Andy Reid had a game plan going into the offseason, but it cost a lot of quality NFL players a chance to make another deep playoff run in Philadelphia. Lest we forget, this team was one non-mediocre performance by David Akers from beating the eventual Super Bowl Champions in the Wild Card round last season.
The Eagles let a lot of good players walk this offseason, and while they may have been our trash, they could prove to be treasure for other NFL squads. Here's how 10 of them have fared thus far with their new teams.
QB Kevin Kolb, Arizona Cardinals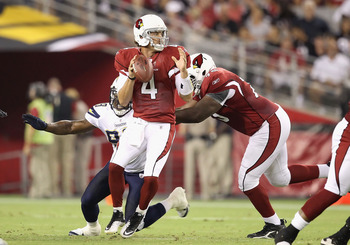 Christian Petersen/Getty Images
Current Roster Status: Starting Quarterback
2011 Preseason Stats: 21-38 (55%) 353 YDS 1 TD 0 INT
After a year of modest speculation, and months of intense speculation, the Eagles finally dealt Kevin Kolb soon after the lockout was lifted.
The trade was viewed as a win-win for both sides. The Cardinals got a guy they think can be their franchise quarterback, and in return the Eagles got a pro bowl-caliber cornerback in Dominique Rodgers-Cromartie, to go along with a second-round pick.
Since joining the Cards, Kolb has been praised for his ability to pick up the offense, and establish himself as a leader in the Arizona locker room. Per Ken Somers of the Arizona Republic, Kolb has been "everything the coaches hoped" so far.
His preseason performance has been solid, but not awe-inspiring. His stats are above average, but a lot of those yards can be attributed to Larry Fitzgerald's wonder catches. After a year playing with a revolving door of UFL talent under center, Fitz seems rejuvenated with Kolb at the helm. A lot of teams could have a hard time matching up with this new tandem.
In the NFC West–which is just as weak as ever–Kolb could very well be starting a home game in the playoffs this year. He couldn't have asked for a much better situation to land in.
SS Quintin Mikell, St. Louis Rams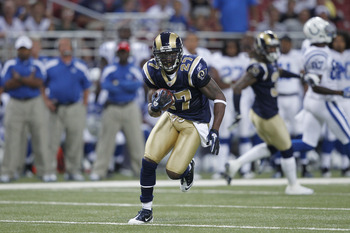 Joe Robbins/Getty Images
Current Roster Status: Starting Strong Safety
2011 Preseason Stats: 6.5 TKL 1 INT
Lost in the chaos of the Eagles' secondary overhaul was the decision to let Mikell–not only a pro bowl player, but also the team's defensive leader–walk away without putting up much of a fight.
When the Eagles let Brian Dawkins walk, it was Mikell, his protege, who rose to the occasion and became the heart of the defense. The parallelism between Dawkins' departure from Philly and Mikell's is almost poetic. Hopefully Nate Allen, Kurt Coleman or one of the new guys is willing to step up and take the reins of the defense.
At the age of 30, Mikell has probably seen his best days come and go, but he's still one of the league's better safeties. In him, the Rams not only get a replacement for O.J. Atogwe, but an unquestioned upgrade.
Mikell also gets to reunite with Steve Spagnuolo, who was the Eagles' defensive backs coach when Mikell entered the league. In his first preseason drive as a St. Louis Ram, Mikell picked off Curtis Painter of the Colts and ran it back 25 yards.
K David Akers, San Francisco 49ers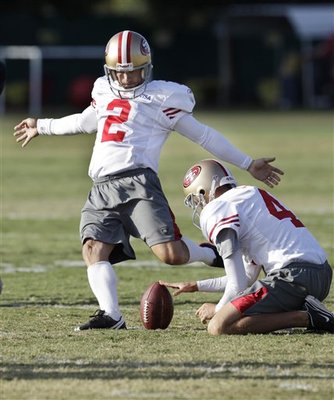 Current Roster Status: Starting Kicker
2011 Preseason Stats: 2-2 on Field Goals (59,23); 3-3 PAT
Akers rode his giant left leg, and an infectious personality all the way into Philadelphia Eagles lore. He's one of the best kickers, and one of the best guys this league has ever seen.
It's a shame his career in Philly came to such an unsatisfying conclusion. Akers missed three kicks in the wild card loss to Green Bay, and essentially sealed his fate as a future former Eagle. Months later, the Eagles used an absurdly-early fourth-round draft pick on Nebraska kicker Alex Henery.
Akers was done.
In San Francisco, the 36-year-old has shown that he still has some juice stashed away in that left leg of his. He nailed a 59-yarder in the team's preseason opener at New Orleans, and hasn't missed a kick in an exhibition game yet.
Akers will have to learn how to kick in the Bay Area winds that swirl through Candlestick park (his 59-yarder was on the road, in a dome). If he can do that, however, he should still be a serviceable kicker, and a definite upgrade over Joe Nedney.
ILB Stewart Bradley, Arizona Cardinals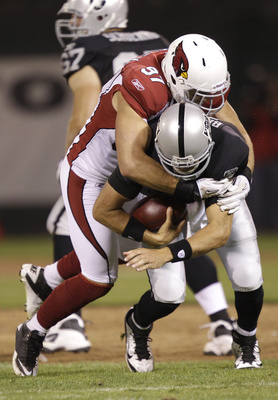 Current Roster Status: Backup Inside Linebacker
2011 Preseason Stats: 4 TKL 1 SCK
Bradley may have gotten a bum deal from the Eagles. Productive when he was on the field, Roseman & Co. finally decided that his faulty knee was too much of a liability to re-sign.
Even coming off of a torn ACL in 2009 (which he never looked the same after),among other injuries, it's hard to imagine the Eagles being better with Casey Matthews in the middle, than if Bradley was still in town.
In Arizona, he's currently battling Paris Lenon for a starting middle linebacker spot in the team's 3-4 scheme. Bradley has a distinct talent advantage over the incumbent Lenon, but he's currently listed behind him on the team's official depth chart.
Ken Somers suggests that even if Bradley loses the battle, he'll still see a lot of field time next to Daryl Washington, in the middle of Arizona's defense. Eventually, you'd have to expect that–health pending–Bradley will end up passing Lenon.
RB Jerome Harrison, Detroit Lions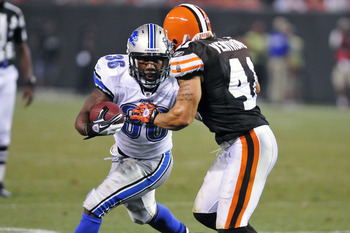 Jason Miller/Getty Images
Current Roster Status: Backup Running Back
2011 Preseason Stats: 20 CAR 59 YDS; 3 REC 49 YDS
Harrison has performed well in the NFL whenever he's been given a shot, and his time in Philadelphia was no different. He was a record-breaking talent at Washington State, and rushed for 561 yards and five touchdowns in the last three games of 2009 for Cleveland.
He only started once for the Eagles in 2010, but he served as a capable backup, and averaged six yards a carry.
As good as he is, the honest truth is he had no spot on the 2011 roster. Ronnie Brown looks like the most dangerous backup running back the Eagles have had since Correll Buckhalter, and Dion Lewis looks like he can fill Harrison's change-of-pace role admirably.
In Detroit, Harrison was expected to serve as the third running back. That all changed, however, when rookie Mikel Leshoure tore his Achilles tendon, and was deemed out for the season.
Harrison showed that he still has some explosion left in him against the Patriots, and he now stands one Jahvid Best injury away from starting on a very good offense.
DT Broderick Bunkley, Denver Broncos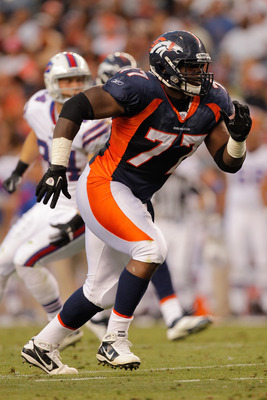 Justin Edmonds/Getty Images
Current Roster Status: Starting DT (Pending Injury)
2011 Preseason Stats: One Pass Defended
Bunkley's career in Philadelphia was marred by unfulfilled promise and inconsistency. That isn't to say he wasn't a good player–because he was–he just never lived up to what the Eagles expected when they traded up to draft him in the first round of the 2006 Draft.
After losing his job to Antonio Dixon last season, Bunkley's status with the team was up in the air. He reported to training camp this year, only to be sent packing; first to the Browns (who nullified the deal due to medical concerns), and ultimately to the Broncos. The Eagles seem more than happy to have filled his roster spot with Cullen Jenkins, who's been a monster since joining the club.
In Denver, Bunkley has been given another shot at regular playing time. He's listed as the first-team defensive tackle on the Bronco's website, ahead of Marcus Thomas and Ty Warren.
He sprained his knee against Seattle a couple of days ago when Robert Gallery cut his legs out from under him. His status for Week 1 is up in the air.
OLB Ernie Sims, Indianapolis Colts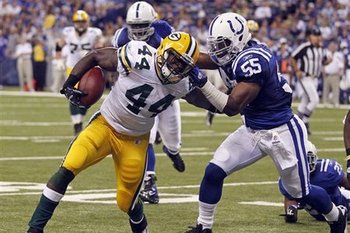 Current Roster Status: Backup OLB
2011 Preseason Stats: 6.5 TKL (1 Game Played)
Ernie Sims is a true NFL enigma. After an impressive career at Florida State, he was taken in the first round by Lions. There, he proceeded to have a few very productive years, before eventually falling out of favor, and ending up in Philadelphia. The price was a mere fifth-round pick.
In training camp last year, that trade appeared to be a steal for the Eagles. Sims looked fast in practice, and occasionally had to be talked to by coaches...because he was hitting too hard!
In the August 8th issue of ESPN the Magazine, Adrian Peterson pointed to Sims as one of his least favorite linebackers to play against. That's high praise from one of the game's truly gifted offensive players.
Since signing with the Colts, Sims had an appendectomy, and was forced to miss two weeks. He's likely to make the final roster, but only as nickel linebacker, behind Kavell Conner.
He played well in his first preseason game, so if he sees the field this year, there's a chance we haven't heard the last of Ernie.
CB Dmitri Patterson, Cleveland Browns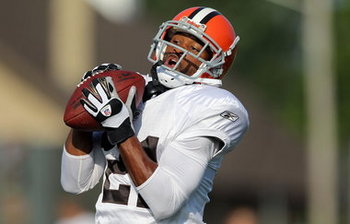 Current Roster Status: Nickel Cornerback
2011 Preseason Stats: 2 TKL
Fair or not, Patterson took a lot of heat last year. After Ellis Hobbs' career-ending injury, Patterson was thrust into the starting lineup, where he proceeded to get consistently burned, like toast being made by a narcoleptic.
The Eagles' secondary was consistently shredded last year, and most of the blame fell upon Patterson's shoulders. In a way though, you could say Patterson's stint as an Eagle was a blessing in disguise; it was the catalyst for the acquisitions of Dominique Rodgers-Cromartie and Nnamdi Asomugha.
In Cleveland, he shouldn't be pressed into work on the outside like he was in Philadelphia. He was signed to be the nickel cornerback, behind former Eagle Sheldon Brown on the depth chart.
Fun fact: In addition to Brown, Cleveland's first-team defense also sports former Eagle Chris Gocong.
OLB Omar Gaither, Carolina Panthers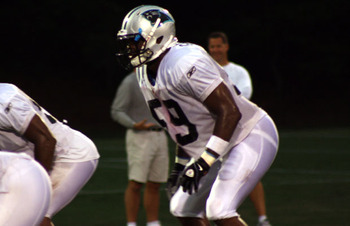 Current Roster Status: Backup Outside Linebacker
2011 Preseason Stats: 4 TKL
Gaither's entire Eagles career was a pleasant surprise. When the Eagles took him in the fifth round of the 2006 Draft, there's no way they could have expected getting 36 starts out of him in five years.
But Gaither proved to be a model of consistency, and although he was never a great linebacker, he was a big body who rarely made costly mistakes.
Now in Carolina, he reunites with former coach Sean McDermott, who now holds the Panthers' defensive coordinator position. The Panthers have a surprising amount of linebacker depth, so Gaither probably won't be pressed into much action unless Jon Beason, Thomas Davis or James Anderson goes down with an injury.
If they do, however, the Panthers will be in pretty good hands.
P Sav Rocca, Washington Redskins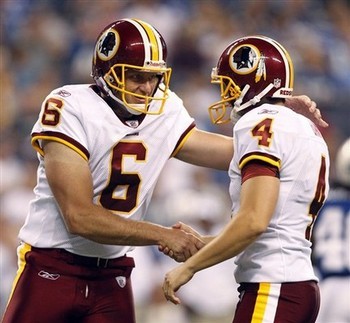 Current Roster Status: Starting Punter
2011 Preseason Stats: 14 Punts, five inside the 20
A former Australian rules football player, Rocca came over to the states, and joined the Eagles in 2007, after being cut from the Bills' training camp the year before.
He beat out the incumbent Dirk Johnson, and immediately became a solid special teamer in Philadelphia.
Now, with both he and Akers gone, the Eagles turn to rookies at both the punter and kicker positions, which is a risky proposition for a team with Super Bowl aspirations.
Meanwhile, Rocca will be kicking down the road in Lanover, MD. As far as the Redskins' roster goes, he might be the player who strikes the most fear in me.
Keep Reading

Philadelphia Eagles: Like this team?