Is Michael Vick Doomed to Repeat His-Story or Create History?
August 30, 2011
Ezra Shaw/Getty Images
"On the brink of divinity, defying gravity. Reachin' for infinity. Can he be incarcerated by the limits. Stuck, they can't function. Caught up in the scrimmage." – Coca Brovaz "Game of Life"
On Sunday January 31, 1988, one man changed the history of the NFL. Super Bowl XXII was played on that date and that man's name was Doug Williams, the Washington Redskins quarterback who along with head coach Joe Gibbs ignored ignorance and created history.
Williams became the first and ONLY black quarterback to win a Super Bowl. Many thought this would be a precursor to one of sports' most celebrated positions being infiltrated by a new dynamic, one that had been refused for so long.
The opponent on that historic day were the Denver Broncos, led by the greatest quarterback to ever play the game in John Elway. That's right, John Elway. The head coach of the Broncos and first witness to history was Dan Reeves.
Reeves would later take over a floundering Atlanta Falcons team whom he would lead to a Super Bowl. However, after reaching the Bowl in 1998 the Falcons returned to their customary ineptitude.
This prompted Reeves to make a bold move and draft a player who had only played 20 spectacular college games. One of those games was for a National Championship in 1999, which was Michael Vick's first year as the starting quarterback for the Virginia Tech Hokies. The Hokies would lose that game to the Florida State Seminoles, but the legend of Michael Vick was born.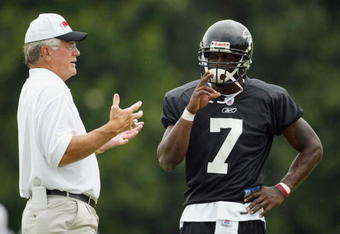 Jamie Squire/Getty Images
Reeves, after being on the wrong side of history in 1988, created history by drafting Michael Vick first overall and making him the first black quarterback to ever be selected number one overall. Donovan McNabb had been the highest-drafted black quarterback at number two.
Opportunity has a way of being confused as fate sometimes, which was the case for Michael Vick. Some would say fate played a role in Reeves drafting Vick, who reminded many of John Elway, the quarterback Reeves developed in Denver with his natural abilities.
Yet truthfully the Falcon quarterback just squandered a marvelous opportunity. Few coaches would ever have taken a chance on such an unpolished player.
San Diego, who originally held the first pick before trading it to Atlanta, publicly stated they traded the pick because they could not come to agreement with Vick's agent on a contract.
The late John Butler, who was San Diego's General Manager at the time, wanted Vick but had questions about his accuracy, and in the 11th hour traded the top pick and essentially Michael Vick. Butler stated the Falcons were the only team interested in trading for Vick.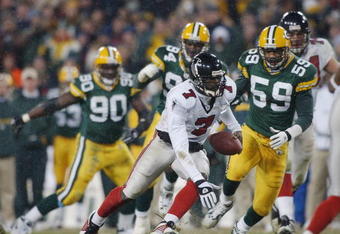 Jonathan Daniel/Getty Images
Once in Atlanta, the phenom was everything advertised and seized his first stake at history by slaying the Dragon. In his FIRST ever playoff game, the boy who could have been king walked into the house that Lombardi built.
His unconventional style allowed him to accomplish something that was unfathomable at the time. The mercurial quarterback walked into Green Bay and beat not only Brett Favre, but shattered the perception that he was more running back than quarterback. The Packers had never lost at home in playoffs, NEVER, and not only did they lose, they were crushed 27–7.
The player who many felt was more of a novelty act proved he was capable of changing the way a quarterback could dominate. He had the arm and the legs to rule over the league for years to come. Then fate or opportunity would interrupt the love fest that had begun.
After the Green Bay win, pressure began to accompany Vick whenever he stepped on the field. This pressure was more enormous then anything his predecessors had faced, except for one man. It was the very same pressure that Doug Williams felt except it was for a season, not two weeks. Unlike Williams, Vick would crumble under the weight of a world on his shoulders.
Al Bello/Getty Images
It was not the dog fighting that destroyed Vick's career, it was Michael Vick. He could not or would not stand strong and steadfast and embrace what he could have become.
The quarterback choose to perpetuate every negative stereotype he heard and relish in it. He was given the tools to build the Sistine Chapel and instead created a Motel 6. He made the unbelievable look effortless and we later found out it was without any effort.
He broke the hearts of so many who wanted so desperately for him to succeed. Steve Young and Dan Reeves stood alongside Warren Moon and Tony Dungy in their tremendous disappointment in such a promising talent, talent who was too young to understand the consequences of being The Man.
One of the hardest things about being incarcerated is that the world moves on without you, regardless of who you are. The streets and jails are filled with wasted talent, and Vick just added to that number.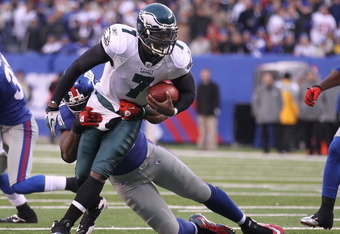 Al Bello/Getty Images
Once released, what would become of him? Would he be another bitter ex-convict seeking revenge against the snitches who delivered him to the feds, or would he rebuild himself?
Prison has a way of reminding you every minute of the mistakes YOU made. Whether or not the punishment fits the crime, you must accept that you did commit the crime and by doing so open the door for whatever punishment that has been bestowed upon you.   
There Vick sat alone to rot or reinvent and he choose to reinvent.
What one does in the dark shall always find its way into the light.The same darkness that he once used to destroy himself was now being used to rebuild himself. He began practicing his footwork in the shadows of his failures. Then he humbled his mind, accepted his imperfections and begged for help.
His transformation would not come overnight, and did not come without opposition.
He destroyed what Fritz Pollard, Warren Moon, Doug Williams, Randall Cunningham, Vince Evans and so many other quarterbacks who were forced to change positions fought to build with his reckless behavior.
Yet it was a former quarterback who was willing to pick up the fallen child. A father who had lost a child and felt an obligation to forgive a young man who so desperately needed his guidance and was ready for redemption.
His redemption in the eyes of some will never be fulfilled, and that is their decision be it right or wrong. However the world that he so painfully let down has met his redemption with hesitation and apprehension. Vick is engulfed in mastering the technical aspects of his position so he can then allow the ability that baffled so many to shine once more.
The same pressure that broke him before has returned, and oddly enough, it has returned with a team that mirrors his talents. The Eagles are exceptional in the skill positions but are a question mark in the fundamentals of the game, i.e. their offensive line.
Vick has the physical skill set to be a champion but has he improved his fundamentals enough to be a champion?
The Philadelphia Eagles rewarded Vick for his redemption with a $100 million contract that many will question in the next few days. This contract will not begin to repay what Vick owes a community that is slowly beginning to believe in him again.
That debt will only be repaid through championships, and building on the legacy that Doug Williams created on January 31, 1988.