Madden 12: Top 5 Teams Guaranteed to Light Up the Scoreboard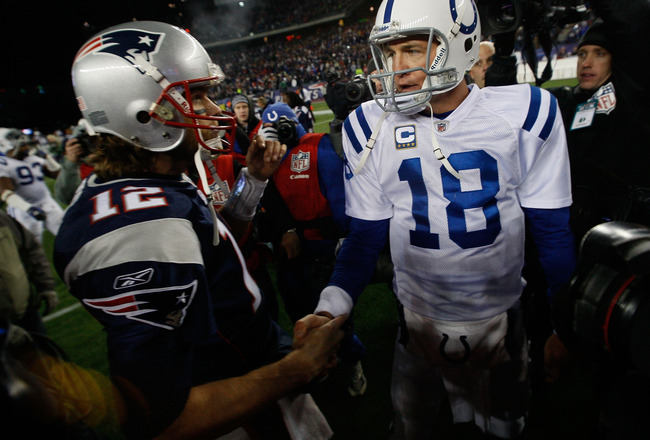 Jim Rogash/Getty Images
Now that I've already tackled the most dynamic defensive players, here's the offenses that will surely burn the scoreboard in Madden '12.
They are the side of the ball that gets all the glory.
Their football cards are worth more, they earn more media attention, and have the advantage when it comes to Hall of Fame selections.
And all can be under your control in the next installment of the Madden football franchise.
If you struggle with offense, begin with these following teams, and you'll improve in no time.
5. Philadelphia Eagles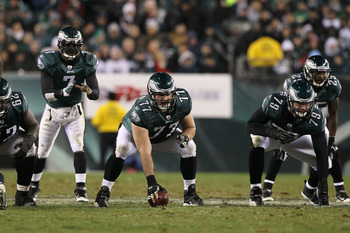 Jim McIsaac/Getty Images
QB Michael Vick is arguably the most exciting player in the NFL, and now has a full year of play under his belt since returning in 2009.
His timing with WRs DeSean Jackson and Jeremy Maclin will be improved, making them very, very scary to face.
Add in acquired RB Ronnie Brown to go with LeSean McCoy, and it's beyond unfair at this point.
Then whenever Vick gets tired, just put in backup Vince Young.
He can run, has a respectable arm, and is almost as athletic.
If you don't score with the Eagles of 2011, something is vehemently wrong with your Madden skills.
4. Green Bay Packers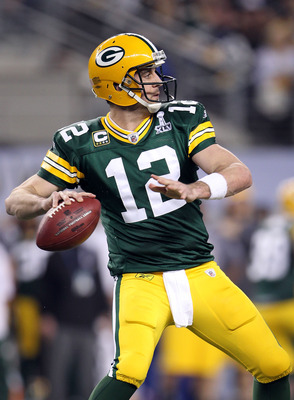 Jamie Squire/Getty Images
Last season the Packers struggled with a lot of injuries all over the place.
QB, WR, RB, defense, you name it.
And yet, they were still able to average over 24 points per game.
Then the postseason began, they got a little more healthy, and put up an average of 30.25 per game.
Now they are completely healthy, and will have an even better 2011 campaign.
If you like a QB who is mobile, and extremely accurate, Green Bay is your team.
Also, if you like controlling the defending Super Bowl champion.
3. Atlanta Falcons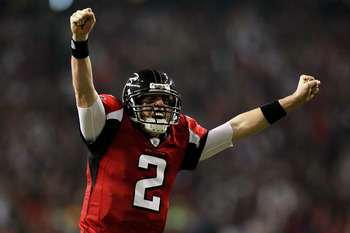 Kevin C. Cox/Getty Images
When the Atlanta Falcons traded up to draft WR Julio Jones from Alabama, it was no secret that they wanted to burn down every scoreboard this season.
With Matt Ryan at QB, Roddy White and Julio Jones out-wide, Tony Gonzalez still at TE, and RB Michael Turner in the backfield, they will be Hot-lanta in 2011.
No defense will be able to stop them, and at best if they're lucky, hold them to under 28 points a game.
Plus, in still having a rather weak defense by comparison, the Falcons will have to out-score everyone anyway.
They won't be in any defensive battles.
So when controlling Atlanta, you really have a diverse array of toys to play with.
Have fun.
2. Indianapolis Colts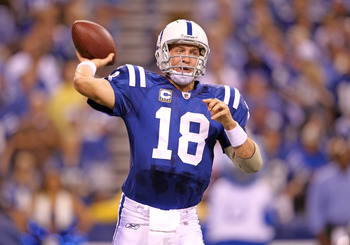 Andy Lyons/Getty Images
Until Peyton Manning isn't under center in Indianapolis, the Colts will continually have one of the best offenses in pro football.
It doesn't matter who his WRs, RBs, or TEs are, because Manning dominates regardless.
In Madden it's no different, and when playing against him, it's actually more difficult than any other QB as he audibles four times before the snap.
When controlling him, though, allow his abilities to guide you along, because if you try to do too much, using him will backfire.
Just sit back and fire frozen ropes to his ample amount of receiving targets, as he's made their rating much higher through the years than they should be.
1. New England Patriots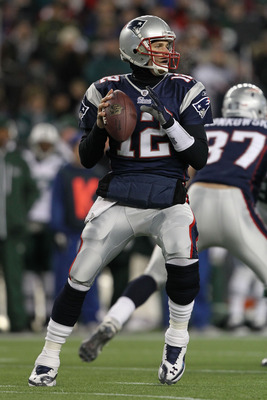 Al Bello/Getty Images
No list of ridiculous NFL offenses is complete with the New England Patriots.
Much like the Indianapolis Colts with Peyton Manning, Tom Brady and the "Patriot Way" are no different, but they are better.
A big reason is because Brady has shredded defenses through the years in much worse weather conditions, and has had WRs, RBs, and TEs that are basically replica's of Manning's.
So, it's no secret that the Pats' are the best in Madden '12 and they will continue to be as long as Tom Brady is at the helm.
Be sure to check out John on Bleacher Report.
And you can follow him on Twitter @ Sportswriter27.
Keep Reading