Houston Texans Cuts: Tracking Players Dropped from 2011 Roster
Al Bello/Getty Images
With less than two weeks until the beginning of the regular season teams will begin making roster moves and cutting players in order to reach the golden number "53."
Here is a look at the Houston Texans' players who should be on their way out the door. Some of these players are fringe players while others have simply failed to impress during this preseason. Also, included are the players who should be on the final roster for the Texans come September 11th.
Quarterbacks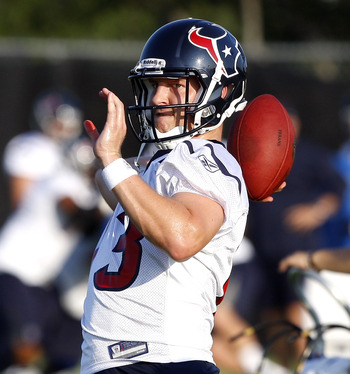 Houston Texans' 3rd string QB T.J. Yates
Bob Levey/Getty Images
Players Cut: None
The Texans, and most teams in the NFL for that matter, typically keep three QBs on the roster. That being said, there should be no cuts for the Texans' QBs. Matt Schaub is the team's first-team QB followed by Matt Leinart and rookie project T.J. Yates.
Players Kept: Matt Schaub, Matt Leinart, T.J. Yates
Running Backs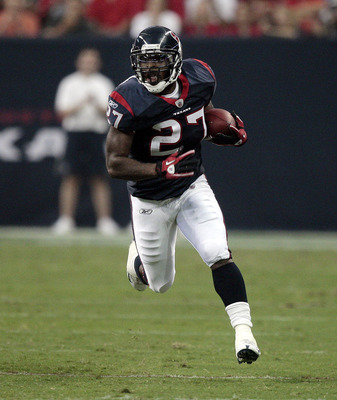 Houston Texans' RB Chris Ogbonnaya
Bob Levey/Getty Images
Players Cut: Chris Ogbonnaya and Steve Slaton
The Texans have some serious depth at RB this season and will look to enter the season with three RBs. That means that two players will have to be cut at this position.
When it comes to Steve Slaton the decision to cut him seems rather obvious. Ever since his 2008 debut his value to the Texans has steadily decreased. With the arrival of rushing phenomenon Arian Foster, Slaton saw more of the bench than the field. Add to that the fact that he hasn't stepped onto the playing field this preseason and its fairly apparent that the writing is on the wall for Slaton.
Chris Ogbonnaya, on the other hand, is one of the fringe players who could possibly stick around. He would have to unseat Derrick Ward for the number three spot but I don't see that happening. Ward has already proven his value for the Texans and would be hard pressed to be cut in exchange for Ogbonnaya.
The Texans are going to have a solid RB corps with Foster, Ben Tate, and Derrick Ward. Ward will be a short-yardage and goal-line back while Foster and Tate take most of the rushing duties.
Players Kept: Arian Foster, Ben Tate, Derrick Ward
Fullbacks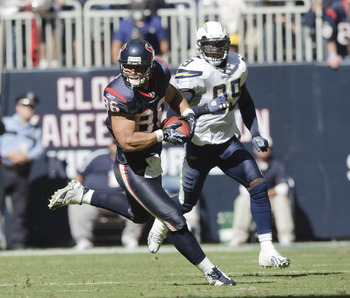 FB James Casey has impressed this preseason.
Bob Levey/Getty Images
Players Cut: Zac Pauga
With James Casey and Lawrence Vickers at the FB position, rookie Zac Pauga simply does not stand a chance of making the Texans' final roster. He has not seen any playing time this preseason will most likely play his last game this week before the regular season begins.
Players Kept: James Casey, Lawrence Vickers
Tight End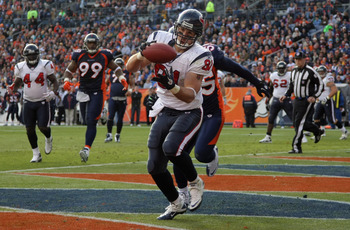 Owen Daniels scores against the Denver Broncos (2010).
Doug Pensinger/Getty Images
Players Cut: Anthony Hill
TE Anthony Hill never really had a chance of making the team with a returning (and healthy) Owen Daniels. Joel Dreessen is a solid backup for Daniels and Garrett Graham has proved that he has what it takes to be a solid third-string player ahead of Hill.
Also, Hill had no receptions last season and only one this season for five yards. With a team like the Texans you must be a TE who can both block and catch. Hill could make the practice squad after all is said-and-done.
Players Kept: Owen Daniels, Joel Dreessen, Garrett Graham
Wide Receiver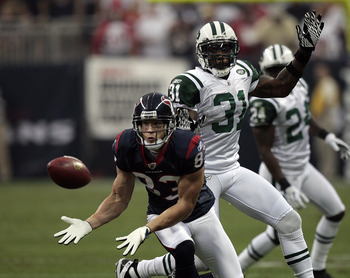 Bob Levey/Getty Images
Players Cut: Devard Darling, Jeff Maehl, Terrence Toliver, Derrick Townsel, Paul Williams
The Texans need as much depth as possible at the WR position. Granted, Andre Johnson is a beast of a WR but Kevin Walter and Jacoby Jones are simply compliments to Johnson. Neither one of them draws the double-team that Johnson does but they are still to be respected and are capable of making big plays when it counts.
I believe that the Texans will go with five WRs this season meaning that Dorin Dickerson and Lestar Jean should finish out the roster spots for the WR corps. Dickerson has great potential on special teams and Jean looks like he could be a breakout player. That being said, fringe players like Terrence Toliver and Jeff Maehl would have to do some pretty incredible things in the next game to have a chance of making the team.
Remaining WRs Darling, Townsel, and Williams will most likely but used as practice squad players but will never see action with the team this season.
Players Kept: Andre Johnson, Kevin Walter, Jacoby Jones, Dorin Dickerson, Lestar Jean
Offensive Line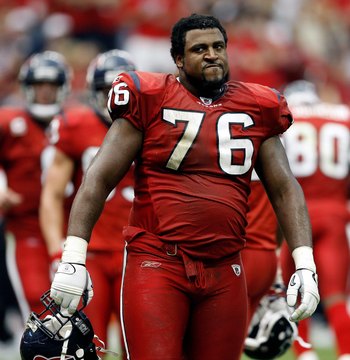 Bob Levey/Getty Images
Players Cut: OT Peter Hendrickson, OT Darius Morris, OT Derek Newton, OT Cole Pemberton, C Cody Wallace, G Howard Barbieri, G Kasey Studdard
The Texans have a very solid offensive line, but they are running out of depth on the line. Most of the second string players have been injured and will be resting until the beginning of the season.
Rookie Derek Newton was drafted with the hopes of bringing some competition to the O-line but all he has managed to do, thus far, is take up roster space. Studdard, who has spent his last four years with the team, has been outplayed during this preseason and will find it hard to make the final roster.
With players like Duane Brown and Eric Winston it is really hard to see most of these players on the final roster. As the old adage goes, "Why try to fix something that isn't broke?"
Players Kept: G Mike Brisiel, G Antoine Caldwell, G Shelley Smith, G Wade Smith, OT Duane Brown, OT Rashad Butler, OT Eric Winston, C Chris Myers
Linebackers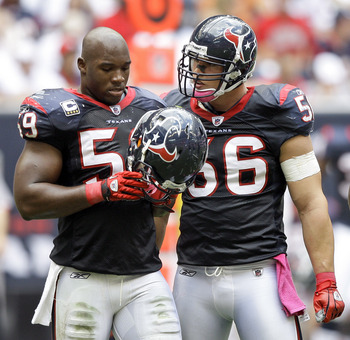 Bob Levey/Getty Images
Players Cut: ILB Mister Alexander, ILB Stanford Keglar, LB Steven Friday, LB Matt Marcorelle, LB Cheta Ozougwu
This preseason has been an experiment for the Texans who have moved players Mario Williams and Connor Barwin from DE to OLB. Both players have shown great potential at their new position. Meanwhile, rookies Brooks Reed and Brian Braman have shown signs of explosive play ability and will (in my opinion) make the final roster.
The Texans have needed depth at the LB positions and this year looks to be the best LB corps ever for the Texans. Unfortunately, that means that some of the rookies who were drafted this season will not make the cut. Keglar, Alexander, and Ozougwu could return as practice squad players but I expect Friday and Marcorelle to be the first to go.
Players Kept: ILB Xavier Adibi, ILB Brian Cushing, ILB DeMeco Ryans, ILB Darryl Sharpton, LB Tim Dobbins, OLB Mario Williams, OLB Connor Barwin, OLB Brooks Reed, OLB Brian Braman, OLB Jesse Nading
Cornerbacks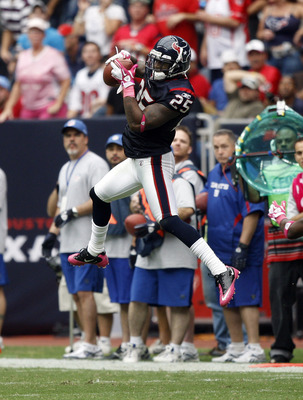 One of Kareem Jackson's interceptions in 2010.
Bob Levey/Getty Images
Players Cut: Roc Carmichael, Antwaun Molden, Jason Teague, Sherrick McMannis
Last season the Texans' were terrible at the CB position. This season they added Brandon Harris through the draft and Johnathan Joseph through free-agency.
Suddenly the Texans have solid depth at CB.
Roc Carmichael, who the Texans also added through the draft, could be placed on injured reserve just to keep him around. I expect Molden and Teague to be packing their bags by the end of the week as the Texans have plenty of depth and leadership at the CB position this season.
Players Kept: Johnathan Joseph, Kareem Jackson, Jason Allen, Brandon Harris, Brice McCain
Safeties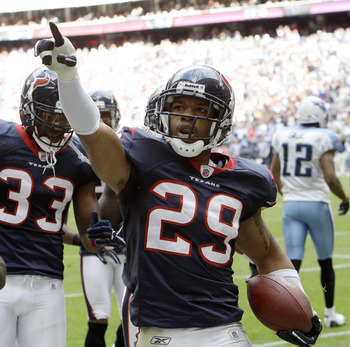 Bob Levey/Getty Images
Players Cut: S Antonio Baker, S Maurice Rolle, S Torri Williams, SS Quintin Demps
Entering the 2011 season the defensive coordinator saw something special in Glover Quin. He saw a future Pro Bowl safety. So far his instincts have proven accurate as Quin's speed and ability to read the QB have proven effective against both the pass and run.
The Texans brought Danieal Manning over from Chicago in free agency and Troy Nolan has been a QB's nightmare when he has been on the field. Fringe player Keo will most likely make the team as a special teams player.
Rookie safety Rolle has done little to impress the coaches and with the depth that the Texans have this year Baker, Williams, and Demps have little to no chance of making the team. Of the safeties who should be soon departing, Williams should have the best chance of making the practice squad.
Players Kept: SS Danieal Manning, SS Troy Nolan, FS Glover Quin, FS Dominique Barber, S Shilo Keo
Defensive Line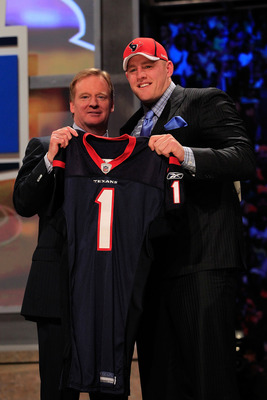 The Texans first round draft pick DE J.J. Watt.
Chris Trotman/Getty Images
Players Cut: DE John Graves, DT Scooter Berry, DT Damione Lewis, DT Guy Miller
The defensive line of the Texans is looking like it could be one of the best in the league. Rookie J.J. Watt has a constant motor running full-speed ahead on every down. His constant pressure on the QB allows Antonio Smith to sneak up on the other side and the duo has been wreaking havoc this preseason.
Meanwhile Shaun Cody and Earl Mitchell have been rotating out of the DT position and are a good compliment to the Watt/Smith combo.
The Texans, in their new 3-4 defensive scheme, do not need as many defensive linemen as they used to and will be looking to cut a few players here. With the current play of the starters there is no real chance for players like Berry, Graves, Lewis, or Miller.
Players Kept: DE J.J. Watt, DE Antonio Smith, DE Tim Bulman, DE Tim Jamison, DT Shaun Cody, DT Earl Mitchell
Specialists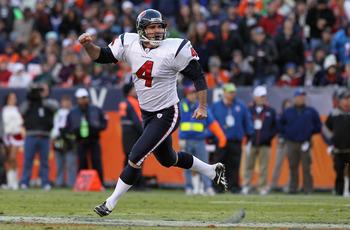 Doug Pensinger/Getty Images
Players Cut: P Brett Hartmann, LS Scott Albritton
Some of the best competition this preseason has been for the starting punting job. Rookie Brett Hartmann came in with a canon of a leg and was hoping to steal the job from veteran competitor Brad Maynard. However, the Texans value a kicker who can place a ball inside the 20 yard line over one who kicks beyond the 20 yard line.
Likewise, rookie Scott Albritton was brought in to be competition for second-year veteran Jonathan Weeks. Unfortunately, for Albritton, Weeks' experience, and his relationship with Neil Rackers, will keep Albritton off the field this season.
Players Kept: K Neil Rackers, P Brad Maynard, LS Jonathan Weeks
Keep Reading

Houston Texans: Like this team?