Why Talk of Dirty Play by Detroit's Ndamukong Suh Is All Media Sensationalism
August 29, 2011
Leon Halip/Getty Images
The recent outcry over the play of Detroit Lions defensive tackle Ndamukong Suh has caused quite the stir throughout the sports world.
Two preseason plays involving Suh have caused NFL pundits and fans alike to call to question Suh's style of play, and whether or not it's appropriate for the game. 
The first of those came against the Cincinnati Bengals, when Suh slammed quarterback Andy Dalton to the turf. The second came in Sunday's 34-10 win over the New England Patriots, when offensive guard Logan Mankins got in a scuffle with a Lions player and Suh jumped in and forcefully broke it up.
All of this caused CBSSports.com National Columnist Mike Freeman to write an article labeling Suh as a dirty player.
Freeman's credibility is damaged with his first statement: "It's official: Ndamukong Suh is a dirty player."
Going out on a limb and saying a player is "officially dirty" is bold enough, but the fact that there isn't a good piece of evidence to back up that claim puts the bombastic statement over the top. As can be seen from clips of both the hit on Dalton and the bout with Mankins, the nastiness of Suh's actions was grossly inflated.
Much of the reason Suh has gotten so much bad publicity for this has to do with last season. As a rookie, the former Cornhusker developed a reputation for being rough and physical, particularly with quarterbacks. As the year progressed, he was penalized more and more often for takedowns that were questionable at worst, including this remarkably bad call.
Despite the penalties, Suh refused to change his aggressive style of play, which is something he picked up from another media sweetheart, Nebraska head coach Bo Pelini.
Many of the fouls Suh was charged with were not necessarily bad calls initially, simply because the speed of the game makes it difficult for referees to clearly see a play. But many times, upon further review, it became apparent that the act was not so much foul as it was simply forceful. Suh's rare blend of power and explosion makes him a clear target for such incidents.
So all of this begs one question: Why is Ndamukong Suh being labeled by so many as a dirty player?
The answer can be summed up in two words: media sensationalism.
Modern day media members have become so concerned with read/view counts that they constantly overdramatize situations to gain a larger audience. This seems to be the case with Mr. Freeman, who claimed video evidence clearly showed that Suh punched Logan Mankins, when it clearly did not. Upon watching the video, I found that the "punch" was more of a shove to the facemask of the Pats lineman. Not to mention it barely connected. It came as a surprise because, based on the way Freeman described it, I was expecting something much more violent.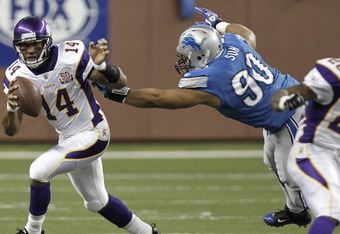 Gregory Shamus/Getty Images
Yet, because of Suh's undeserved reputation and a greatly biased point of view, the shove was morphed into a "haymaker" and Suh was labeled a "demon" by the Boston Jam (is it any wonder that those words came from a New England website?).
Nobody ever called Andre Johnson "dirty" when he decked Cortland Finnegan multiple times. Was it a different situation? Of course. But was it worse? Oh, yeah.
An ESPN analyst summed it up nicely when he said in so many words that Suh would have been right at home years ago, when players like Dick Butkus, "mean" Joe Green or Lawrence Taylor roamed the field.
Ndamukong Suh is never going to change the way he plays the game, nor should he. And his teammates should feed off of his aggression. It's not about being nice, it's about being feared, and Ndamukong Suh is clearly one of the most feared football players in the NFL.
Does that make him dirty? Nah. It just makes his play a great storyline for the media to heavily bloat.