Ben Roethlisberger Is Elite and Poised to Have His Best Year Yet in 2011
August 29, 2011
In case you haven't noticed, Pittsburgh Steelers quarterback Ben Roethlisberger has looked awfully good this preseason. His numbers speak for themselves: 21 of 31 for 361 yards, four touchdowns and no interceptions.
His passer rating is a close-to-perfect 146.6.
I continue to hear critics, fans, media members and analysts refuse to put Roethlisberger in the same class as Tom Brady and Peyton Manning, mostly because of stats. But that doesn't really make sense, given that Roethlisberger actually stacks up very well against Brady, Manning and all of the other elite quarterbacks. 
If you take Roethlisberger's career numbers and put them up against Brady, Manning, Aaron Rodgers, Drew Brees and Philip Rivers, who are all generally viewed as the elite quarterbacks in the NFL, he holds his own. 
Career numbers: 
 Completion Percentage
Drew Brees: 65.2
Peyton Manning: 64.9
Aaron Rodgers: 64.4
Philip Rivers: 63.7
Tom Brady: 63.6
Ben Roethlisberger: 63.1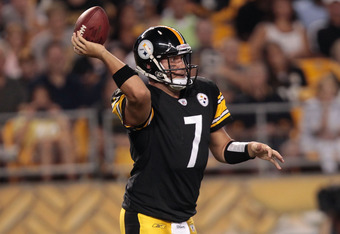 Roethlisberger comes in last, but he's just .5 points away from Brady and is still completing over 63 percent of his passes for his career, which is considered elite. 
 Yards Per Attempt
Philip Rivers: 8.1
Ben Roethlisberger: 8.0
Aaron Rodgers: 7.9
Peyton Manning: 7.6
Tom Brady 7.5:
Drew Brees: 7.3
Roethlisberger comes in second in arguably the most underrated stat when it comes to judging quarterbacks. We already saw that Roethlisberger is a very accurate quarterback, and now you have to take into account that only Rivers does a better job at completing passes down the field. 
 Quarterback Rating
Aaron Rodgers: 98.4
Philip Rivers: 97.2
Tom Brady: 95.2
Peyton Manning: 94.9
Ben Roethlisberger: 92.5
Drew Brees: 91.2
Again, Roethlisberger is just a few points away from Manning and Brady, and has a better career QB rating than Brees.
The only stat that Roethlisberger really doesn't hold his own in is total passing yards. Roethlisberger has five 3,000-passing yard seasons, but only one season where he has thrown for 4,000 yards. However, I think passing yards is by far the worst way to judge a QB. Jon Kitna threw for 4,000 yards in a season, does that make him elite?
Yards per attempt is a much better way to judge QBs, and Roethlisberger is one of the best of all time in that category. 
Also, Roethlisberger critics have to remember that he is just entering the prime of his career now. Roethlisberger is going into his eighth season, which is right in the prime of his career. Years seven through 10 are generally a quarterback's best years. 
Tom Brady broke the touchdown record by throwing 50 touchdowns in his eighth year in the NFL.  Brady also led the Patriots to the first-ever 16-0 season in the history of the NFL.
Peyton Manning broke the touchdown record in his seventh season in the league, throwing 49 touchdowns. In his eighth season, Manning went 14-2, threw 28 touchdowns and just 10 interceptions.
Drew Brees threw for over 5,000 yards and 34 touchdowns in his eighth season in the league. In his ninth season, his eighth as a starter, Brees won the Super Bowl with the New Orleans Saints.
Roethlisberger has looked incredible this preseason, and I believe he's poised to play the best football of his career.
He's in great shape and is surrounded by a lot of good, skill-position players. Mike Wallace emerged as one of the biggest playmakers at the receiver position last year. Antonio Brown is emerging as a future star as well.
Roethlisberger still has his veteran targets, Hines Ward and Heath Miller, too.
I'm expecting Roethlisberger to have a huge year. Over 4,000 yards, over 30 touchdowns and a top-five QB rating. Unfortunately, those big stats are the only thing that people seem to care about nowadays—thanks, fantasy football.
Maybe then, Roethlisberger, who's already won two Super Bowls, will be given the proper respect he deserves. 
This article also appears on the very popular Pittsburgh blog: 412sportstalk.
Follow me on  Twitter.