2011 NFL Fantasy Football: Why Larry Fitzgerald is the No. 1 Wide Receiver
August 26, 2011
With the NFL season just days away, fantasy drafts are occurring at a frightening rate, as fans gear up for one of the most exciting NFL seasons in years. One of most important positions in fantasy football is wide receiver, and it is critical in deciding whether your team will be hoisting up the league's trophy at the end of the season.

According to ESPN, the top five wide receivers this season will be Andre Johnson, Calvin Johnson, Hakeem Nicks, Roddy White and Greg Jennings. Somewhere along the road, they left out the most dynamic wideout in the game today, Larry Fitzgerald.

The Cardinals superstar just signed a massive contract that guaranteed his presence in Arizona for another 8 seasons. Fitzgerald will leave fantasy owners laughing at season's end, as he will become the best fantasy wide receiver. Here are the top three reasons Larry Fitzgerald is the No. 1 fantasy player at his position.

Durability
Did you know that Larry Fitzgerald has missed just one game since 2007? The elite wide receiver is one of the most durable players in the NFL today, and he almost guarantees fantasy owners a full season of tremendous play. Here is a list of how many games each of ESPN's top fantasy wideouts have played in since 2007:
Andre Johnson: 54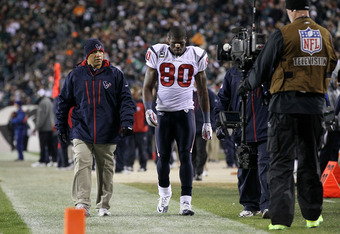 Roddy White: 64
Calvin Johnson: 60
Greg Jennings: 61
Hakeem Nicks: 27 (debuted in 2009)
Larry Fitzgerald: 63
There you have it. Fitzgerald has played in the most games since 2007, and he beats out other elite receiver Andre Johnson by seven games. Calvin Johnson, Roddy White and Greg Jennings all show a high level of durability, but Hakeem Nicks has missed five games in just two seasons, showing that injury risk could play a major factor this year. This alone should knock him below Fitzgerald in the wide receiver rankings.

Consistency
Fitzgerald is arguably the most consistent wide receiver of the last five seasons, as he is yet to have a season where he did not accumulate 90 receptions, 1,100 yards and six touchdowns. He has recorded 41 touchdowns in the last four seasons, and is one of the best red zone receivers in the league today. Here are the list of the most touchdowns among elite receivers over the last three seasons:
Andre Johnson: 25
Roddy White: 28
Calvin Johnson: 29
Greg Jennings: 25
Larry Fitzgerald: 31
The Arizona star has recorded the most touchdowns over the last three seasons, even after only recording 6 last year. Andre Johnson is a superb supplier of yards and catches, but the Texans wideout is yet to have a double digit touchdown campaign. Fitzgerald has had four, and debuted a year later. Calvin Johnson may be a tremendous supplier of touchdowns, but Fitzgerald has caught more passes and has had more yards in each of the last three seasons.

Roddy White has been Matt Ryan's favorite target the last few seasons, but the addition of Julio Jones will cut down his touchdowns. Greg Jennings had a superb season last year, as he caught a career-high 12 touchdowns. But the year before, the Packers star only recorded four touchdowns, and he may go back down again this season, as he has to split targets with Donald Driver, Jermichael Finley, James Jones, and Jordy Nelson.

Fitzgerald certainly has no one to steal targets away from him.

Quarterback
The most important reason Fitzgerald is the No. 1 wide receiver in fantasy this season is because he finally has a decent quarterback. The Pittsburgh alumni caught passes from three different quarterbacks last season, but he still managed to put up superb numbers. Each of the other wideouts have star quarterbacks in Matt Schaub, Aaron Rodgers, Matthew Stafford, Matt Ryan and Eli Manning throwing the ball.

The addition of Kevin Kolb in Arizona could be huge for Fitzgerald's fantasy value, as he has been practicing with the former Eagles quarterbacks all summer. The chemistry between the two could be phenomenal, and they could form one of the most dangerous passing duos in the league.

Fitzgerald will have a massive season, and has the potential to put up 100 catches, 1500 yards, and 15 touchdowns, while establishing himself as the No.1 wide receiver in fantasy football.
My WR Rankings
1. Larry Fitzgerald
2. Andre Johnson
3. Calvin Johnson
4. Roddy White
5. Greg Jennings
6. Hakeem Nicks
7. Vincent Jackson
8. Mike Wallace
9. Miles Austin
10. Dez Bryant