Denver Broncos' Handling of Tim Tebow Is Why They Will Again Lose 12 Games
August 26, 2011
Some organizations are just losers. Oh they may luck out every so often, but look at their past decade or so and you see consistent failure. When teams keep drafting high in the order every year, you wonder why they never seem to get any better. It's because they are run by idiots. They are run by people I wouldn't trust to draft a fantasy team for me in a no-money league.
The Denver Broncos' John Fox is a good example of this type of moron. He ran the Panthers into the ground and got rewarded with the Denver job. Completely ignoring the fact that out of his three quarterbacks, only one is a proven winner, he continues to plummet down the depth chart. Why? Is it because he does not practice well? Where's Allen Iverson when you need him? "We talkin' 'bout PRACTICE? PRACTICE?"
Is it because he does not stand like a statue in the pocket like Peyton Manning and fire darts all over the field? Tim Tebow went 6-for-7 against Dallas with a line as porous as SpongeBob Squarepants. That's in a GAME fellas. But you idiots would rather go with Kyle Orton? Newsflash! He sucks. Ask any Bears fan. They hated him so bad there, they were happy to get Jay Cutler for him. That's right, Jay Cutler. Not Joe Montana...not Joe Namath...Jay Cutler.
You had Orton last year in this organization...oh wait, you were busy going 1-15 in Carolina...never mind. DENVER had Kyle Orton. He was 3-10. What make you think he'll be any better this year?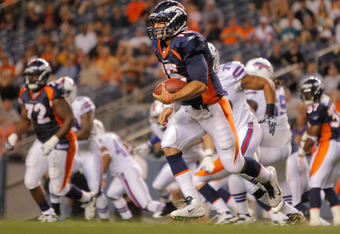 "But we have Brady Quinn!" Really? The same Brady Quinn who was at Cleveland and couldn't hit the broad side of a barn? That Brady Quinn? How many teams has he been with now?
Tim Tebow has never been stopped yet. Not in high school. Not in college. Not even in the pros. The three games he played for Denver last year, he played well. So well, in fact, that the fans were thrilled to have him in there. He broke the record for the longest TD run in franchise history for a QB in his FIRST GAME! This from a franchise that once had a pretty good running QB—a guy named Elway.
Here's the thing: There is no law that an NFL QB has to be a statue in the pocket. No law that states the only way to the end zone is by running the ball up the gut on first down, throwing a quick slant on second down, and then throwing it down field on third down. Although, if you watch much NFL football, you'd think there is. But, here's the truth—there isn't.
All a team has to do is move the ball 10 yards in three plays. That is all. Snap it three times and get 10. It doesn't matter how. Tim Tebow, if given three plays and some decent blockers, can get ten yards in three plays. He's done it before. In fact, he's never NOT done it. The only people who have ever stopped him is Denver's coaching staff. Period. Until it has been proven that another team can stop him, put him in the game! Other teams have stopped Kyle Orton and Brady Quinn.
With Orton and Quinn, you know what you are getting. You're getting beat. Stop listening to idiots on ESPN like Merrill Hodge, who wouldn't know the goal line if he tripped over it, but now all of a sudden is an expert on quarterbacks.
Think about the fact that Urban Meyer had Tebow and everybody's Golden Boy, Cam Newton at his disposal every day for two years and it was Newton who rode the bench. What does that tell you?  Put in an offense that gives him a chance to display his talents and he will move the football. Or go 4-12 with Orton.