LA Dodgers: 7 Lessons New Manager Don Mattingly Has Learned in 2011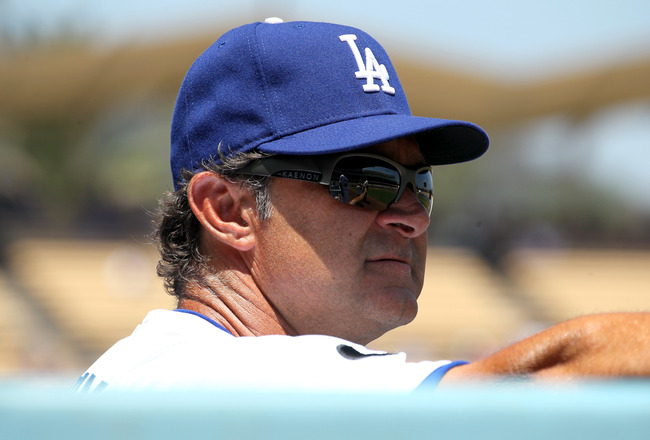 Stephen Dunn/Getty Images
Don Mattingly is an overall, all-around great guy. Like so many people in baseball, and baseball around the entire world, Mattingly cares deeply about his players, his team and his community within the entire organization. He knows that for all intensive purposes, he is the face of the on-field production.
This has been an extremely difficult season for the Dodgers, and this year has definitely contributed to many of Mattingly's gray hairs. Mattingly has suffered through tumultuous times in his first year as a major league manager, and nothing Joe Torre could have taught him could have properly prepared him for this long year.
Mattingly should return next year. He has shown a dedication to this organization and a passion for making his new crop of Dodgers the best players possible. However, with the unknown that is the ownership situation, who really knows what will happen next?
If anything, Don Mattingly can refer to this list to reflect on these seven lessons he has learned through the first five months of the 2011 season.
Lesson 1: The Dodgers Will Always Be Plagued by Injuries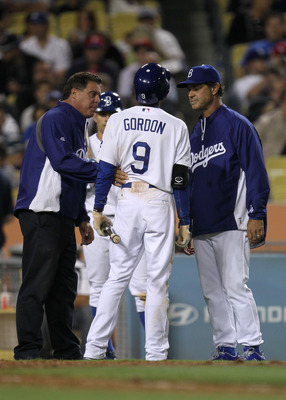 Stephen Dunn/Getty Images
I don't know if it's just a curse from the O'Malley family selling off the team, but from a blogger's perspective of 19 years of being alive and bleeding Dodger blue, the Dodgers have never had a season without major injuries decimating the team.
Maybe it's because they choose the wrong guys, which has been done numerous times in the Ned Colletti-era. From the disaster that was Jason Schmidt to the unfortunate neck and back injuries that robbed Rafael Furcal of valuable time during his career, the Dodgers have been bit hard over again by the injury bug. Without Furcal's tough back injury, the glorious 2008 Dodgers season could have ended with a World Series.
Jon Garland going down in May was just one of the many examples over the past decade that has proven how the Dodgers have lost out on many of their investments. Add to that the pain of watching 20-year-old flamethrower Rubby De La Rosa go down, needing Tommy John surgery and making 2012 prospects look bleak, the Dodgers look downright cursed.
Not only that this season, but add to it the malady of Vicente Padilla, the downfall of Jonathan Broxton, the struggle with Hong-Chih Kuo and the constant battles with health for both Juan Uribe and Casey Blake. Catcher Rod Barajas also went down for a month, and so did up-and-coming shortstop Dee Gordon.
The picture here is Mattingly and trainer Stan Conte treated Gordon, who went on the disabled list after an at-bat in early August. Overall, the Dodger players have made an outstanding 24 trips to the DL. Seven players have made multiple trips to the DL, and there is still five weeks to play.
Mattingly needs to know that he needs a deep, full roster of talented, go-getter type players. He needs versatility and athleticism, not slow-footed Uribe or aging Blakes. To be successful in this era of baseball, Mattingly will need his team to look more like a flock of kids that would be carded at a liquor store than fathers of little leaguers.
Lesson 2: When in Doubt, Go with the Youth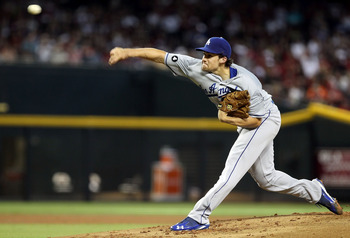 Christian Petersen/Getty Images
This is a lesson it took Mattingly too long to begin to comprehend, and he has not gotten it completely yet. Even after a three-game sweep of the Cardinals, the Dodgers are still 60-69 and 10.5 games back in the NL West.
Mattingly took much too long to make changes this year, not pressing for younger players and not giving his younger pitchers a chance to see what they had. Sure, now rookies are everywhere and in the most vital of roles, but if they've played the best and it still took until the end of August.
Dee Gordon should have been up much earlier this season, Jerry Sands should be up right now and might still be if Mattingly showed faith in him. Perhaps Sands would be starting at first base right now, with James Loney batting a meager .248.
Sure, Juan Rivera has been a boost of production, but unless Rivera offers to take a cut in pay he will not be in Dodger Blue next season. With the uncertainty of the ownership situation and where the players will get their paychecks from, I can't imagine from a financial sense why anyone would want to play for the Dodgers.
With Sands back and hopefully Ivan de Jesus or Justin Sellers set on being the starting second baseman, the Dodgers can finally have a lineup that is young and looks good for the future. Sands and Tony Gwynn splitting time in left, Matt Kemp in center, Andre Ethier in right, Jamey Carroll/Aaron Miles/Sands at third, Gordon at short, Sellers at second, Sands/Loney and Rivera at first and A.J. Ellis/Tim Federowicz (in waiting) behind the plate.
The young pitchers, such as Nathan Eovaldi (pictured here) and Javy Guerra, have impressed so far and Mattingly should continue to build confidence in them
That's a team Mattingly will want to have in a few years, paired with a rotation of Clayton Kershaw and Chad Billingsley. It's a roster that will win many NL West Divisions, as long it can a couple extra pieces and a little front office tweaking.
Lesson 3: Keep Jamey Carroll, Aaron Miles as Long as Possible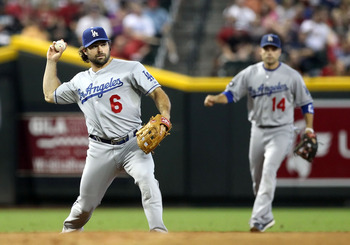 Christian Petersen/Getty Images
If Matt Kemp has been the heart of the Dodgers team this season, these two men have been the pulmonary arteries and the blood vessels that allow the heart to function and not have to do it all by itself.
In almost 400 at-bats, Jamey Carroll is batting .291 and has a .360 on-base percentage. The ultimate utility man, Carroll has played third base, short stop and second base extraordinarily well this season and has the ability to play practically any position on the field.
Carroll is a leader in the clubhouse, has never complained about his role—even when he has been put back on the bench—and has been a great influence on the young Dee Gordon. Carroll is worth every cent of his $2.5 million contract.
Aaron Miles has quite possibly been the greatest non-roster pickup in Dodger history. After having no teams go after him this past offseason, the Dodgers invited Miles to spring training and all he has done from there has impress everyone. Miles will be getting a multi-year, multi-million dollar contract for next season after this year's superb performance.
Miles is batting .287 with 31 RBIs in 362 at-bats, playing basically everyday at some odd position. Miles manned second base while Carroll was roaming shortstop and has filled in more than adequately at third base. Miles is another stand-up character guy and is extremely versatile.
Both men should be brought back for next year, and Mattingly needs to do everything in his power to convince the two that they should stay as Dodgers in order for the Dodgers to have a great bench and lots of depth.
Lesson 4: You Must Make More Changes When the Dodgers Struggle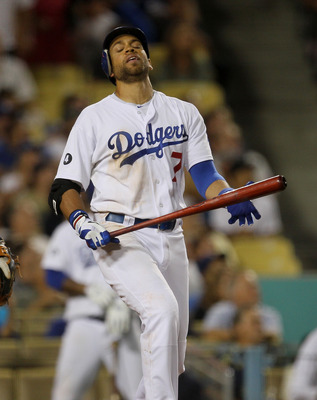 Stephen Dunn/Getty Images
The Dodgers have suffered through numerous slumps this season, with a scuffling offense that has managed just 3.7 runs a game. Ranked 28th in the MLB in terms of offensive production, Mattingly has failed to shuffle the lineup and try new things often enough.
Mattingly has learned not to always write Andre Ethier's name in the lineup card, as Ethier has proven yet again that he cannot handle left-handed pitching. He is under .200 this season against lefties and is a major second-half swoon. Finally, Mattingly tried putting Juan Rivera in the cleanup spot to protect Matt Kemp and boost the offense, but it took until this most recent road trip.
Too often has Mattingly written James Loney's name in the five- or six-hole in the lineup. Too often Jamey Carroll and Aaron Miles were stuck batting seventh and eighth respectively in the lineup, cursing the Dodgers to leaving them on base because of the pitcher's inability to get them over.
In my opinion, Mattingly needed to have a shorter leash with his team when they did not produce offensively. Offensive mediocrity cannot continue in LA; not if they want to take their game to the next level in 2012.
Lesson 5: The Dodgers Will Always Surprise You When You Least Expect It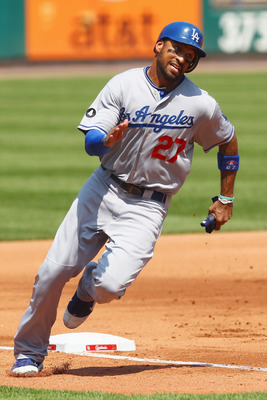 Dilip Vishwanat/Getty Images
As evident by the last three game sweep of the contending St. Louis Cardinals, the Dodgers always have a way to surprise during the season. There have been many individual performances that have been pleasant surprises this season.
From Nathan Eovaldi's fantastic debut and strong performance thus far to Justin Sellers batting .280 in his first cup of coffee in the majors—after critics said he couldn't hit—the Dodgers always find ways to bring a slight smile to your face.
The main thing for Mattingly is not to get stuck in one mode of thinking. He is a young coach who needs to be open to changing his methods to adapt to his team. The Dodgers are young, and because of the ownership situation will only be getting younger as 2012 approaches.
Over the next month, make these games interesting and full of learning. Don, keep the Dodgers on their toes, call bunts when even your own team least expects it. Pull some trickery—call a double steal or a true trick play. Keep forcing the Dodgers to make themselves relevant, and keep their focus on the game and not on the end of the season.
Other than Matt Kemp (pictured here) striving for the Triple Crown and Clayton Kershaw pitching his case for a Cy Young Award, the Dodgers are really playing meaningless games. Behind the Arizona Diamondbacks by 11 games, the Dodgers will be eliminated in the next couple weeks and then truly have no postseason aspirations.
Mattingly needs to try to win, but really try for the growth of his players and his team. He has learned that more than anything, he needs to promote working as a team for next season, when the Dodgers could have a legitimate chance to win with some of their young studs.
Lesson 6: Protect Your Arms Sometimes, and Sometimes Let Them Loose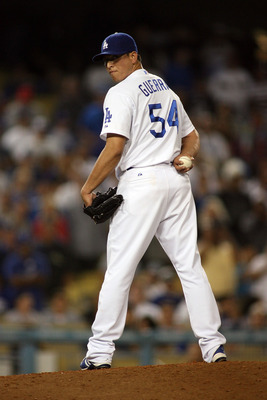 Jeff Golden/Getty Images
As a manager of 25 men, it is easy to get caught up in a game and listen to an assistant coach's advice. Especially considering how the Dodgers have so many young, talented pitchers with fragile arms, Mattingly has had to watch their workload all season.
Already the Dodgers have had to deal with Rubby De La Rosa's injury, which was an accident and not related to an over-stressful workload. However, it is important for Mattingly to not always play it safe and protect his pitchers' arms.
Absolutely starter Nathan Eovaldi, standout Javy Guerra (pictured here) and reliever Kenley Jansen should be protected from too much work, but sometimes you have to let the competitive juices carry them through an outing.
Too often Mattingly has pulled Clayton Kershaw or Chad Billingsley an inning early, only to see the bullpen come in and blow a close game. It does a lot of damage to their confidence if they do not feel like they can control the ultimate fate of the game, especially if their manager does not want to give them the benefit of knowing their bodies and arms.
That is the lesson for Mattingly to keep learning. Learn your pitchers inside and out. Find out how they are feeling before the game, know you are going to go to and trust your gut in terms of letting them continue past their limits.
Those five games the Dodgers' bullpen blew—what could've been complete games by Kershaw and Billingsley—would put the Dodgers in the hunt for the playoffs right now. We'll never know what could have been.
Lesson 7: Put Faith in Your Players, Not in the Ownership or the Front Office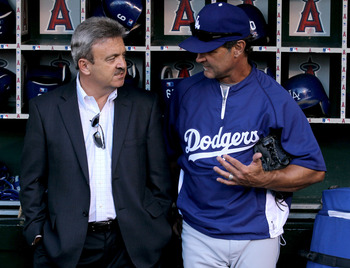 Stephen Dunn/Getty Images
This is the most important lesson if Mattingly wants to keep his job after this season. After the disastrous year that the Dodgers have had to suffer through with their embarrassing ownership situation, many believe that when Major League Baseball forces Frank McCourt to sell, a complete cleaning of the house will happen.
Not just Frank McCourt and his head honchos; not just the removal of Ned Colletti and the front office leaders, but also the on-field coaches like Don Mattingly and pitching coach Rick Honeycutt. All of them could be gone next spring.
The best chance Don has to keep his job is to separate himself ever so slightly from the McCourts and Colletti, even though he will have to work with them, and put all of himself into the development of his young core.
Mattingly has earned the chance to return, but he is going to have to go above and beyond in order to make sure he will be in Dodger Blue in Arizona next February.
Keep Reading

Los Angeles Dodgers: Like this team?