Dear Bruce Bochy ...
August 26, 2011
Dear Bruce Bochy,
This letter was born out of curiosity as much as it was out of necessity. With your club now three games behind the NL West-leading Arizona Diamondbacks following yet another lifeless performance by a punchless offense, it's time to answer some hard questions.
What is it that's keeping you from hitting Brandon Belt in the number five spot in the lineup?
Why are there hitters in the Giants minor league system, with between 75 and 100 RBI that are not starting for the big league team, who is dead-last in all of baseball in run production?
And perhaps the most confounding lineup question of them all: Why is Aubrey Huff still starting?
These questions only scratch the surface of the gigantic glacier of concern that approaches your ball club as it sails toward September, a club that in all fairness has endured some of the most unbelievable strings of injuries and other obstacles in recent memory.
But injuries and the loss for the season of key players like Buster Posey and Freddy Sanchez do not prevent a manager from making decisions for his current lineup that reflect common sense, based on sheer numbers and the ever-increasing likelihood that slumping veterans who had career years in 2010 will not snap out of their funk in 2011.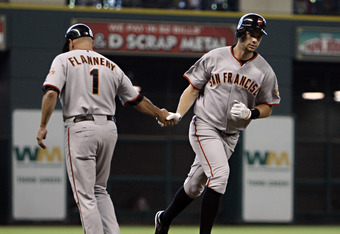 Your leadership of this team to a long-awaited World Series title last season showed your genius as a big league manager. Your ability to take a team that, on paper, had no business going deep into the postseason, and drive it to a championship, is inspiring.
But what has transpired in 2011, and your responses to the various challenges that this team has faced, have been anything but inspiring.
Brandon Belt
The way Brandon Belt has been tossed like a hot potato between Triple-A and the big leagues has been one of the most difficult dramas to watch for those following the Giants in 2011.
Belt has shown that he had some adjusting to do, particularly with the mechanics of his swing, early on in the season. He also suffered a fractured wrist that resulted in another stint in Fresno for rehab.
But aside from that, his prolonged stays in the minors have been a source of bewilderment to Giants fans, and very possibly, Belt himself.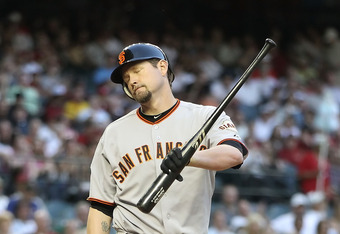 When he's gotten the chance after making the mechanical adjustments in his swing, Belt has been nothing short of phenomenal.
Surely you're aware that your prodigy is slugging .606 for the month of August, when your club as a whole is slugging a meager .359.
Yet you insist on inserting Aubrey Huff into the fifth spot in the lineup, and would hit him cleanup if Carlos Beltran hadn't been acquired.
This, despite the fact that Huff is hitting .245 with a .301 on-base percentage.
Time to "Free Pill/Brown"

Surely you understand, Boch, that on a team that is hitting a league-worst .240 for the season, having scored the fewest runs in all of baseball, Belt and other young talents that have been playing well in the minor leagues ought to get a chance to show what they can do at the big league level.
What's the worst that could happen, Bruce? That they hit like minor-leaguers? That's no worse than what you currently have out there now.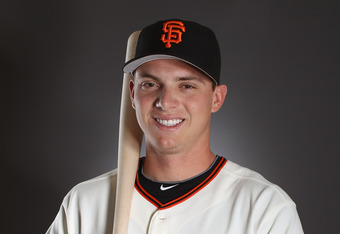 With a stellar pitching staff starved for run support and now quite possibly feeling the pressures of having to be perfect every outing, the backbone of this team - it's arms - could be on the brink of an irreversible loss of confidence.
Brett Pill is hitting .310 with 24 home runs and 104 RBI for Triple-A Fresno. Is there any reason not to give him a starting position to see what he can do?
And then there's Gary Brown, center fielder with Single-A San Jose, who's hitting .331 with 12 home runs and 74 RBI in 121 games. His on-base percentage is .400 and he has 47 stolen bases.
So how about it, Bruce? Pill and Brown in the starting lineup. Too many first basemen, you say? That excuse won't fly anymore. Not when your club has lost 18 of 26, including three of their last four against the worst team in all of baseball (Astros: 43-88).
Brandon Crawford was called up from A-ball earlier this season, and it is far from unprecedented or in some other way irrational in the current situation to give Brown the chance to crack the starting lineup.
While Pill and Brown may certainly be September call-ups, donning a Giants uniform come next Thursday when rosters expand, will we see them in the starting lineup?
Or will we see them ride the bench in favor of Andres Torres, Aaron Rowand, or Cody Ross, whose combined batting average is .233, and whose combined on-base percentage is .303?
Buster Posey and Madison Bumgarner gave the Giants an infusion of youthful energy that sparked a run through the postseason and to a world championship in 2010.
With Posey gone for the season and aging stars from last season slumping, your club needs that spark of youth and vigor once again, and every day that passes without it is one day closer to the end ... the end of the season, and the end of a brief moment in time when the San Francisco Giants could rightfully claim the title of defending world champions.
Without starting players like Pill and Brown, and without anointing players like Belt in place of players like Aubrey Huff, the questions surrounding the 2011 season for the San Francisco Giants will not cease to be asked even after play has ended, the biggest of which will be: what if?
If the core of this group is still about "TEAM", youth will be embraced
You know better than anyone else, Bruce, that yours is truly a "team".
Last season they proved that by playing like champions under the banner "Band of Misfits". The key word there wasn't "Misfits". It was "Band".
If it's still about the team, even in this dark moment for the Giants, Aubrey Huff won't mind sitting. Neither will Andres Torres. Or Aaron Rowand. Or Cody Ross.
Your belief in veterans is both admirable and utterly frustrating. It's both courageous and baseless. You've earned the right to manage in your way, both through the tenure you've had and the success you've achieved.
But it's time to change course, Skipper, before that ominous glacier of questions sinks your ship.