The 10 Most Disappointing Individual MLB Performances of 2011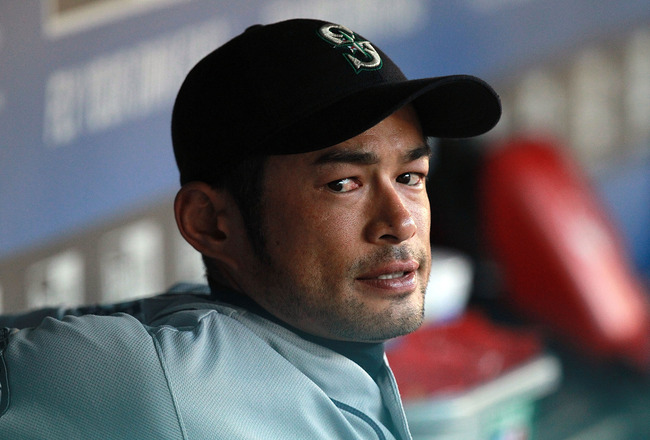 Ronald Martinez/Getty Images
As the 2011 Major League Baseball season heads into its final month, we've witnessed dozens of breakout players while seeing just as many fade into the sunset.
To have your season be considered disappointing, however, the player needs to have some means to compare it to. The 10 players on this list have all had some level of success in the past, and while not all of them are having horrible seasons by MLB standards, they are surely having disappointing seasons by their own standards.
Here are the 10 most disappointing individual MLB performances of 2011.
10. Chad Billingsley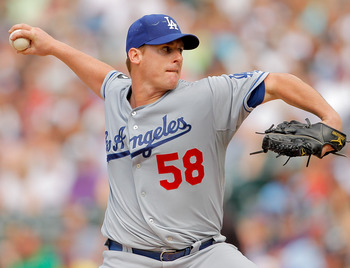 Justin Edmonds/Getty Images
While his season hasn't been absolutely horrible, Chad Billingsley continues to prove his inconsistency with the Los Angeles Dodgers. The 26-year-old seems to have taken the one-step-forward, two-steps-back approach on the mound.
In his sixth year with the team, Bilingsley is set to have the worst statistical season of his career. His K/BB ratio has dropped all the way to 1.94 while his ERA has jumped to 4.07. He also stands with a paltry 91 ERA-plus.
It'll be interesting to see if the 2011 season is the tipping point for GM Ned Colletti, who will most likely be looking to make some moves this offseason. Billingsley's name may be first on the chopping block.
9. Francisco Liriano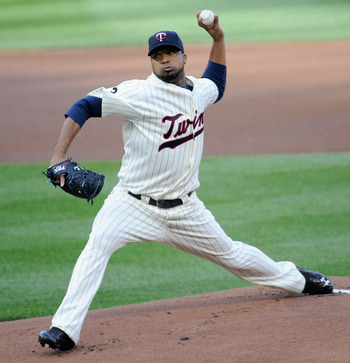 Hannah Foslien/Getty Images
Francisco Liriano finally appeared to regain form last season after Tommy John surgery derailed his breakout rookie season while forcing him to miss the entire 2007 season.
Liriano held opponents to a 3.62 ERA last season while increasing his K/BB ratio all the way up to 3.47. But this year, Liriano fell apart just as fast as the Twins' season. His ERA ballooned up to 4.85 and he's already set a career record for walks issued in a season.
The Twins will almost assuredly send Liriano packing over the offseason, so a hot September may help boost his value.
8. Jason Heyward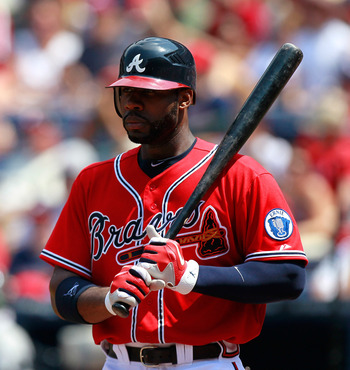 Kevin C. Cox/Getty Images
After a stellar breakout rookie campaign last season, Jason Heyward has shown no resemblance of his former self so far this season. It's been so bad that the "J-Hey Kid" has found himself riding the pine at times this season.
Heyward hit .277 while slugging 18 home runs last season and he was a major component of the Atlanta Braves' high expectations heading into the season. The 21-year-old has responded with the definition of a sophomore slump—averaging only .222 with 13 home runs.
Well on their way to a postseason berth, Heyward can earn his place if he can ignite his bat down the stretch and into the playoffs.
7. J.A. Happ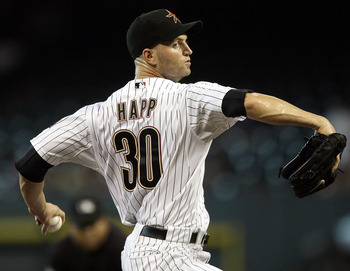 Bob Levey/Getty Images
J.A. Happ came over to the Houston Astros from the Philadelphia Phillies as part of the Roy Oswalt deal last season and he quickly made his mark with a 3.75 ERA over 13 starts with the club.
In fact, Happ had a 2.93 ERA over 161 innings in 2009 and a 3.40 ERA over 88 innings in 2010. This season has been a different story, as Happ finds himself as the worst pitcher in all of baseball.
Through 22 starts, Happ is 4-14 with a 6.26 ERA and 1.659 WHIP, with an ERA-plus of only 60. If he is the man they are building their rotation around heading into the future, then Astros fans don't have much to look forward to over the next decade.
6. Ichiro Suzuki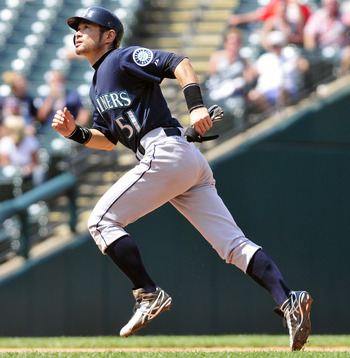 Jason Miller/Getty Images
At 37 years old, Ichiro Suzuki is finally showing signs of wear and tear. Over his first 10 seasons in MLB, Ichiro averaged nearly 225 hits with a career batting average of .330 while making the All-Star team every year.
Currently with a slash line of .271/.312/.325, Ichiro appears ready to set career lows in every statistical category aside from stolen bases. His OPS-plus stands at only 83.
With only 146 hits on the season to this point, barring a hot streak, Ichiro's record of consecutive 200-plus-hit seasons appears to be nearing an end. Adding to his recent futility, Ichiro has lost a few steps in the outfield and is now below-average defensively, as represented by his minus-1.2 dWAR on the season.
Suzuki has one more year at $17 million remaining on his contract before he hits the open market.
5. Jayson Werth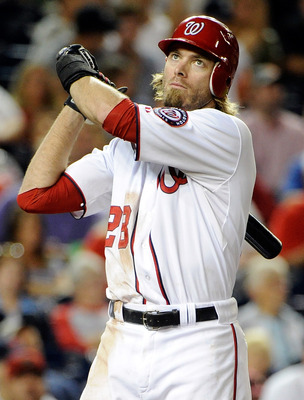 Greg Fiume/Getty Images
The Washington Nationals gave the late-blooming Jayson Werth a seven-year, $123 million contract last offseason in hopes that he'd be the veteran backbone of a young team heading into the Stephen Strasburg-Bryce Harper era.
While he still has six seasons to prove his worth to the club, it's safe to say the Nats are less than pleased with their slugger's 2011 performance.
Werth is sitting with a slash line of .232/.332/.389 with only 15 home runs—all career lows over a full season—and at 32 years old, one can only wonder if Werth's best years are behind him.
Something tells me the Nationals will sorely regret this contract when they are paying a 38-year-old Werth $21 million in 2017.
4. Vernon Wells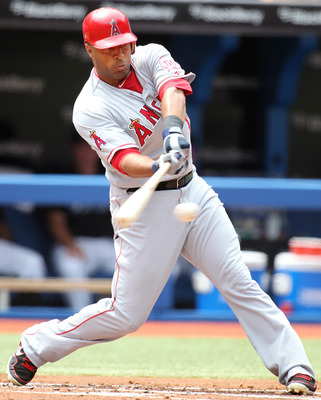 Claus Andersen/Getty Images
With every passing week, the Los Angeles Angels front office looks even more foolish for acquiring Vernon Wells and his massive contract from the Toronto Blue Jays last offseason.
In their defense, Wells showed signs of life in 2010 by hitting 31 home runs, averaging .273 and ending the season with a 125 OPS-plus. Although those numbers certainly don't justify Wells' $23 million salary this season, the Angels were hoping to get at least that much production to make the deal worth their while.
Wells has responded with a slash line of .209/.242/.376 with an OPS-plus of 73—all by far the lowest of his career.
He is under contract with the Angels for three more years at $63 million.
3. Albert Pujols
Dilip Vishwanat/Getty Images
Albert Pujols is having a good season according to MLB standards, but relative to his career and his current contract situation, Pujols' season is an utter disappointment.
Only six months ago the baseball world was speculating as to whether Pujols would net $300 million on his next contract. At this point, even $200 million seems out of the question.
While Pujols leads the NL in home runs with 31, he has only 21 doubles and 77 RBI while walking at an extremely lower rate this season. He's set to bat under .300 for the first time in his career, while he is only getting on base at a .355 clip. His previous career low was .394 way back in 2002.
At 31 years old, Pujols has plenty of productive seasons remaining ahead, but you can bet the Cards are glad he's showing his first signs of aging this season rather than next.
2. John Lackey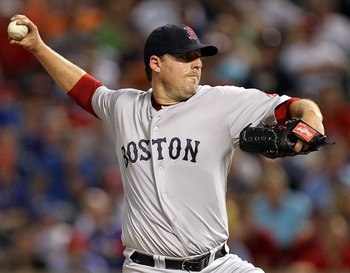 Ronald Martinez/Getty Images
After a rough first season with the Boston Red Sox in 2010, many were left believing it couldn't get any worse for the clearly outmatched pitcher. Whoever had that frame of mind was clearly wrong.
Lackey is by far the worst pitcher in the American League this season, but only in Boston can a starting pitcher have a 12-9 record with a 5.98 ERA. He's allowed 160 hits in only 130 innings while his WHIP sits at 1.546, and his 69 ERA-plus almost seems like a joke.
The Red Sox have Lackey on their payroll for three more years and nearly $46 million.
1. Adam Dunn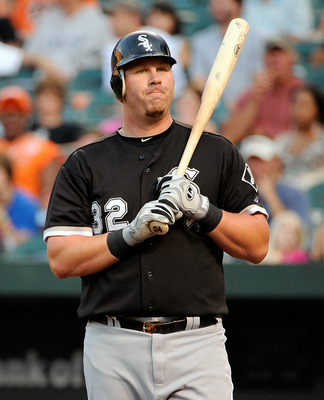 Greg Fiume/Getty Images
Adam Dunn's horrible first season with the Chicago White Sox has been well documented, and he's made GM Kenny Williams quickly regret handing the slugger a four-year, $56 million deal last winter.
Many people—myself included—figured Dunn would rake at US Cellular Field on the South Side of Chicago, especially seeing as he hit 38 home runs during each of the past two seasons in a less hitter-friendly ballpark in Washington.
In all, Dunn entered the season averaging more than 40 home runs per year since 2004. At this point the White Sox would have been happy with 30.
The 31-year-old slugger currently sits with a mere 11 home runs while hitting only .165. He also leads MLB with 153 strikeouts.
The White Sox can only hope Dunn regains form in 2012, or else he will be a very expensive bench bat for the next three years.
Keep Reading