I Say It Again Five Months Later: What Happened to Having Fun at a Game
August 24, 2011
About five months ago I wrote an article on Bleacher Report where I asked, What Happened to Just Going to a Game, Having Fun and Rooting for Your Team?
That article was in reaction to the beating of Giants fan Bryan Stow on Opening Day at Dodger Stadium. Stow, who is still in critical condition in a Bay Area hospital, was wearing a Giants jersey and was beaten in the parking lot after the game by a group of men wearing Dodgers gear.
In that article I said this:
"One of my fondest memories of my youth is the time my dad and I made the trek up the coast to San Francisco to watch the Dodgers play the Giants at Candlestick Park.

It was sometime in the early 70's, and Ron Cey was the Dodgers third baseman. Giants fans didn't like Cey too much for some reason, so every time he came to bat they would boo him. Of course when they would boo him, I would stand up and cheer him on.

When he hit a home run I really went crazy. The Giants fans around me said a few things and gave me a hard time, but it was all in fun, and we all had a great time. Never did I feel in danger."
But as I pointed out, that was a different time. People could actually go to a game back then and root for the opposing team. Civility was still the rule of the land in America back then, well kind of.
Today it is not, especially at sporting events.
Today if you go to a game at Dodger Stadium you will most likely hear the following chant: "(team name here) Suck! And it will be repeated again and again. Whatever happened to being respectful of others? Not everyone is a fan of your team. People need to remember that.
But it is not just at Dodger Stadium where you will hear things like this. You hear that, or some other degrading chant at almost every major sporting event around the country.
If Giants fans at AT&T Park are chanting "Beat L.A." there is nothing wrong with that. Dodgers fans could chant "Beat the Giants" and that would be fine.
But why go to the negative and chant "Giants (or Dodgers) suck"? There is no intelligent reason to do that.
When I hear people chanting that I usually think to myself, "No, you suck."
So I ask again, what happened to going to a game and having fun, even with fans of the opposing team?
I have fond memories over the years of interactions with the fans of the opposing team.
You might yell at them that so-and-so can't hit. They will reply back that he can. Then he strikes out and you make fun of the other fans, or if he gets a hit you could expect some good-natured ribbing back from them.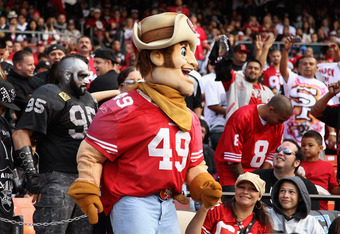 But today? You don't dare make fun of the other fans, you might get beaten or worse for doing that.
All the facts of what exactly happened at the game between the Raiders and 49ers are not available yet.
Maybe the violence inside and outside of Candlestick Park was related to the game, and maybe it really wasn't. Some reports are saying it was gang related. If so that is a serious issue in many parts of California that needs to be addressed, but not in an article on Bleacher Report.
I do know many national sports writers have said the atmosphere inside and outside of Candlestick Park last weekend was not the norm. Many have been quoted as saying that they don't think many of the fans in attendance were the normal fans who usually show up for a football game for some reason.
I don't know, but it sounds like it was not a place where I would have wanted to be.
Until whoever runs the various stadiums around the country, for all the different major sporting leagues, realizes that they have to increase security for all events you can expect things to just get worse. That is the direction our society in this country is going.
As I said in my article written in April, my wife is a Pittsburgh Steelers fan. I am an Oakland Raiders fan.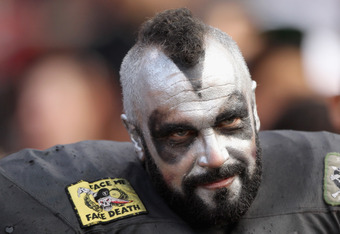 I would love to make the trek from Southern California where we live to see the Raiders play the Steelers the next time they meet there in the regular season.
But I know that can't happen. My wife's life would probably be in jeopardy if she attended a game in Oakland wearing her Steelers jersey—cheering her team on like I know she would. And like she should be able to do.
Oh don't get me wrong, if she attended a game in Oakland wearing her Steelers jersey I think it would be fun if she got some good-natured ribbing from the Raiders fans. I might actually enjoy that. Heck, I would probably join in!
But I know that isn't how it would go. We would both be targets of unruly, drunk fans if she was to do that. And it might end up being a situation where we would feel like our lives were in danger.
Of course it isn't just Oakland where she would have to worry. She would probably have to worry at any stadium around the NFL if she did that.
And that is wrong.
She should be able to go to any stadium around the league and root for her Steelers.
So what can we do about all the violence at sporting events in our country?
There isn't really an easy answer to that question.
I think limiting the consumption of alcohol is one issue that needs to be addressed. I see too many fans who appear to be intoxicated consuming five or more beers at a game, and that doesn't count what they had in the parking lot during the tailgating session before that game.
Maybe they need to eliminate tailgating altogether.
But is it fair to penalize the rational, intelligent people that attend games by not letting them have a couple beers before and during the game? Probably not.
There is talk of taking away the season tickets of fans involved in fighting during games. But really, how many of the fights and other incidents actually involve season ticket holders? I don't think that many.
For now I guess the only thing we can do is triple the police presence inside and outside of stadiums during sporting events.
What do you think? Let me know in the comments section below.
Follow me on Twitter, I am @GaryBurzell.