Redskins vs Ravens: 5 Things to Watch For in Thursday Night Preseason Game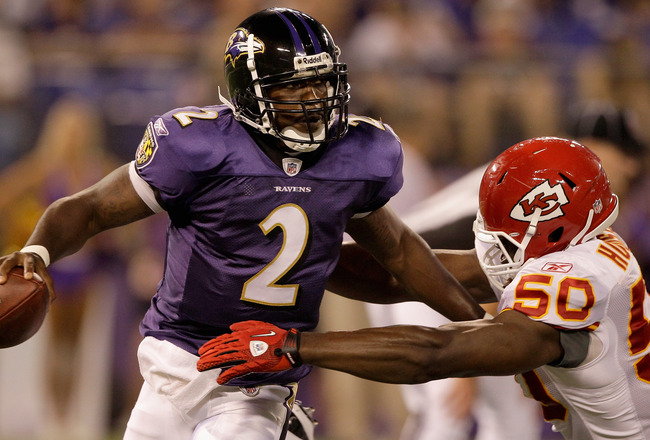 Rob Carr/Getty Images
The Baltimore Ravens and Washington Redskins face off against each other Thursday night with plenty of question marks remaining for both teams.
The Ravens will host the Redskins after rebounding last week against the Kansas City Chiefs, coming away with a substantial victory at home.
For the Redskins, determining their starting quarterback remains the most pivotal part of the preseason. Therefore that is where we will start...
John Beck vs. Rex Grossman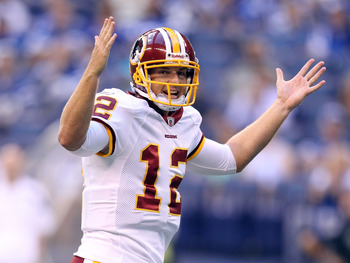 Andy Lyons/Getty Images
Round three of the quarterback duel continues as the Washington Redskins look to determine who will be their starting quarterback on opening day.
What must be comforting for Redskins fans is the fact that both have impressed to this point in the preseason. Rex Grossman was very good against the Pittsburgh Steelers in the first game of the year while John Beck had a fine performance against the Indianapolis Colts.
Grossman mostly saw time against the Steelers backups, however, while Beck was playing against a defense(and team) that doesn't tend to perform in the preseason no matter who is in the game. Therefore Thursday night's game will likely go a long way in deciding the winner of the job.
The Ravens defense should be in regular season form and be on the field for substantial time.
Seeing how Beck and Grossman deal with the veteran laden defense will be important as it is the stiffest test that will come before week 1.
Will Oniel Cousins React?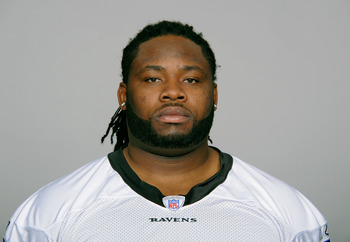 Handout/Getty Images
The addition of Bryant McKinney means that a healthy starting group for the Baltimore Ravens will no longer feature Cousins.
Cousins should still get the start on Thursday night as McKinney is unlikely to feature with only two days notice. Cousins will continue to play at right guard as Marshal Yanda continues to recover from a back problem.
With Jah Reid likely flanking him outside, Cousins will need to have a big game to even hold off the rookie as the backup tackle. It appears like the Ravens are treating Cousins as a versatility option to backup both tackle and guard spots.
That is essentially a demotion from being the starter so it will be intriguing to see if Cousins reacts with renewed determination or falters to failure.
Will Torrey Smith Continue to Struggle?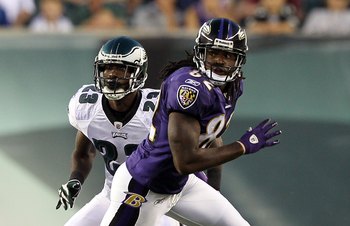 Jim McIsaac/Getty Images
It hasn't appeared to click with Torrey Smith just yet.
That's not a major knock on him considering he is still a rookie but the Ravens were likely hoping to see more from their second round draft pick by now.
His failures could be a result of the offense's overall struggles in the passing game but David Reed and even Tandon Doss have outperformed him to this point. The arrival of Lee Evans may have been more telling as far as Torrey Smith's involvement for the coming season.
Smith was supposed to be the team's burner this year but that mantle likely falls to Evans now.
How Much More Can Sergio Kindle Show?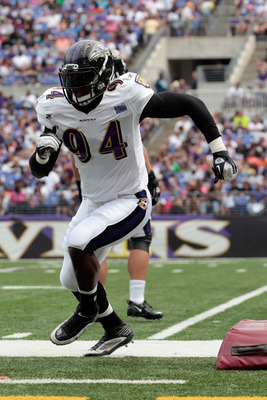 Rob Carr/Getty Images
The fact that Sergio Kindle is on a football field at all is impressive considered what he went through after being drafted last year.
Kindle has so far made two tackles in his first two games since returning to football. Kindle was drafted by the Ravens and expected to be a spark for the defense as a pass rusher. While this season will be somewhat of a free year for Kindle, he will have to prove that he can not only get on the field but also contribute before long.
This game will just be another step, but it will be a step in the right direction nonetheless.
Redskins Running Game Will Face a Proper Test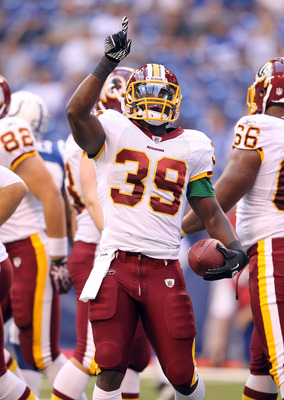 Andy Lyons/Getty Images
The Redskins so far have been excellent running the football with Tim Hightower and Roy Helu in particular standing out.
However there is one significant problem, their success against the Steelers first unit was mostly due to the Steelers seemingly having little interest in playing while the second game was against the Indianapolis Colts who are infamous for not stopping the run.
The Ravens will provide a stern test as Haloti Ngata and Terrence Cody look to fill the running lanes and overpower plays on every snap.
The Redskins will learn a lot about the state of their offense in this game, if Tim Hightower continues to run well in this game there will be a lot of reasons for optimism in Washington.
Serial tweeting about NFL, NBA, NHL, NCAA, soccer and rugby @Cianaf.
I also write for Irish Central and Fantasy Football Life.
Keep Reading

Baltimore Ravens: Like this team?