San Francisco Giants: 10 Free-Agent Coups Brian Sabean Needs to Consider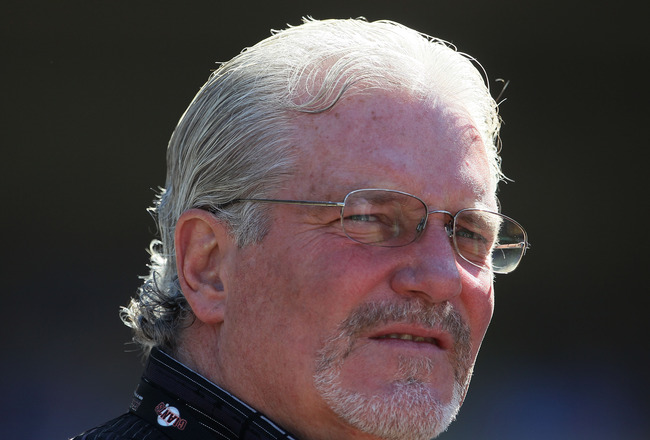 San Francisco Giants' GM Brian Sabean
Jeff Gross/Getty Images
The 2011 season is far from over, and I have not given up hope for the Giants this year. I do expect the Giants to overtake Arizona and make the playoffs.
The Giants went through a tough pennant race last season and I believe that experience will give them the confidence necessary to get past the Diamondbacks. Arizona has not played meaningful games in September for quite awhile, and very few of their current players have been through that pressure.
If the Giants do indeed make the playoffs, we shall let the chips fall where they may. As we saw last year, the Giants' outstanding pitching will give them a chance in any playoff series.
However, Brian Sabean will have a big job in the offseason, as he will need to rebuild the Giants roster. Several current Giants will be free agents, and it's very unlikely they will be on the 2012 team.
These free-agents-to-be include Miguel Tejada, Mark DeRosa, Cody Ross, Carlos Beltran, Pat Burrell and Orlando Cabrera. Relief pitchers Javier Lopez, Jeremy Affeldt and Guillermo Mota will also be free agents, but may be re-signed by the Giants. Lopez, Affeldt and Mota have all done their jobs well this year.
Several other players are arbitration-eligible and may not be offered a contract. These include Jonathan Sanchez, Jeff Keppinger, Andres Torres and Mike Fontenot.
This means several new players may be wearing Giants uniforms in 2012. In addition to the aforementioned Lopez and Affeldt, who Sabean will try to re-sign, let's take a look at some impending free agents GM Brian Sabean should be looking at and would look good in orange and black.
10. No Way, but Fun to Think About: Albert Pujols and Prince Fielder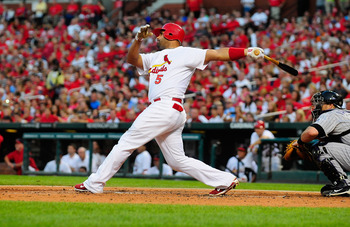 Albert Pujols looks to break the bank in free agency
Jeff Curry/Getty Images
In the category of "it's fun to think about, but it'll never happen," Albert Pujols and Prince Fielder are both impending free agents and either would look great in a Giants uniform.
However, it's extremely unlikely that the Giants would pony up the mega dollars that both of these slugging first basemen would command. The Giants already have Aubrey Huff signed for 2012 and Brandon Belt waiting in the wings, so first base is also not a high priority area of need at this point.
I expect Pujols to stay with the Cardinals, but I put the Brewers' chances of retaining Fielder at about 50-50.
9. Jamey Carroll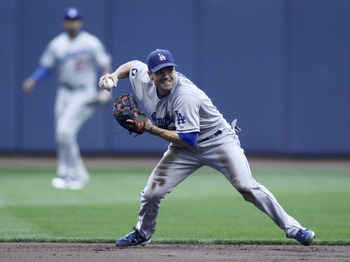 Jamey Carroll is an excellent utility infielder
Darren Hauck/Getty Images
Jamey Carroll will be 38 years old when the 2012 season begins, but he shows no signs of slowing down. He is a fine utility infielder and would be a great acquisition to back up the middle of the Giants infield.
Carroll is hitting .287 with an OBP of .358. He does not have power, but is a solid defender and can play multiple positions effectively. The Giants will need a quality back-up to spell Freddy Sanchez at second base.
Sanchez has had major injury problems in his two-and-a-half years in San Francisco. It's unrealistic to expect him to play in 140 to 150 games. In fact, he has averaged only 94 games over the last three seasons.
The Giants will also need to make a decision at the shortstop position. Carroll would also be able to fill in on a part-time basis whenever needed.
8. Carlos Beltran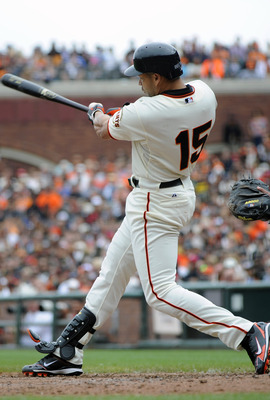 Carlos Beltran has not delivered for the Giants.
Thearon W. Henderson/Getty Images
The Giants traded former first-round draft pick Zach Wheeler to the Mets for Carlos Beltran. They hoped Beltran would come in and give their anemic offense a boost.
Unfortunately, Beltran got off to a slow start, then he got injured and is just now returning. The Giants are hoping Beltran can get healthy and produce down the stretch. If he can help lead them to the playoffs, there is a good chance GM Brian Sabean will try to sign Beltran for the future.
If, however, Beltran continues to struggle at the plate, or if injuries slow him down, both sides are unlikely to want to do a deal for Beltran to stay in San Francisco. Thus far, he is hitting just .244 with no home runs and two RBI in 45 at-bats for the Giants.
Beltran's injury history is a concern, as he played in 81 games in 2009 and just 64 in 2010. If he does not play well down the stretch for the Giants, they won't take the risk of signing him to a longer term contract.
7. Omar Infante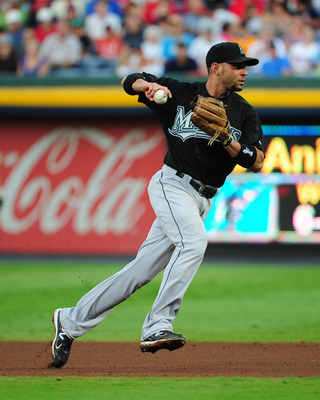 Omar Infante is an excellent hitter
Scott Cunningham/Getty Images
Omar Infante is an underrated player mainly because he is not a big power hitter. He can flat out hit line drives all over the field. Infante hit .305 in 2009 and .321 in 2010, for the Braves. A large yard like the Giants play in at AT&T Park would help, not hurt, Infante because he's not a power guy anyway.
Infante was an All-Star in 2010 and then was traded to the Marlins in the Dan Uggla deal this past winter. He got off to a slow start in Florida but has his average up to .275. He is a versatile player and can play second, third or left field.
Offensively, Infante reminds me a lot of Freddy Sanchez. Defensively, Infante is decent, although not as good as Sanchez. He is four years younger than Sanchez and I would be comfortable signing him to a two- or three-year deal. He would ultimately replace Sanchez, whose contract expires after 2012.
With his recent injury history, Sanchez has not played more than 111 games in any of the past three years and he only played 60 games this year. It's unlikely that Sanchez will play a full season in 2012 without needing a DL stint or two. At a minimum, Sanchez will need rest, so Infante would be a valuable acquisition.
He would also be able to spell Sandoval at third and also get spot starts in left field. Manager Bruce Bochy likes versatility and Infante's ability to play multiple positions would be a plus.
6. C.J. Wilson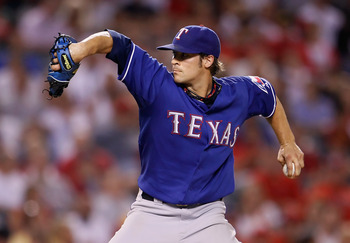 C.J. Wilson has emerged as a top left handed starter
Jeff Gross/Getty Images
The Giants have a very strong starting pitching staff, but as the old saying goes, you can never have too much pitching. Ryan Vogelsong came through and became a reliable fourth starter when Barry Zito went down with an injury and Jonathan Sanchez was ineffective.
The Giants are stuck with Zito's huge contract for two more years and will undoubtedly re-sign Vogelsong. The odd man out may end up being Jonathan Sanchez, who regressed from a solid 2010 campaign.
C.J. Wilson has emerged as one of the top left-handed pitchers in baseball. In 2010, he was 15-8 with an ERA of 3.35 and WHIP of 1.245. He has followed that up with a stellar 2011, thus far. Wilson currently stands 13-5 with a 3.08 ERA and 1.199 WHIP.
Wilson has struck out 163 hitters in his 181 innings. Perhaps his biggest improvement has been with his control. Wilson averaged over four walks per nine innings in 2010, and has that down to three per nine in 2011.
Wilson will be a hot commodity this offseason and may become too expensive for the Giants. Nevertheless, with Vogelsong turning 35 in the middle of next season and Zito and Sanchez ineffective, GM Brian Sabean should at least take a look at him.
Wilson earned $7 million in 2011, but expect him to command between $12 to $15 million per year on his next contract. That will likely be too much for the Giants' budget, but they should consider whether expanding the payroll for Wilson would be worth it.
5. Michael Cuddyer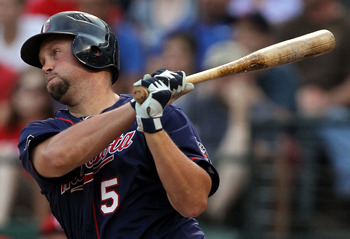 Michael Cuddyer would be a good fit in San Francisco
Ronald Martinez/Getty Images
Michael Cuddyer would be a very attractive player for the Giants. GM Brian Sabean tried to acquire him prior to the trade deadline, but could not swing a deal for the powerful right-handed hitter.
Cuddyer's versatility is also a major asset. He can play either corner infield position and both corner outfield positions. Cuddyer also has experience at second base and could play that spot in a pinch.
Currently, Cuddyer is batting .295 with 18 home runs and 61 RBI. The Giants need a right-handed bat and Cuddyer would be a valuable addition.
If we look at the Giants' 2012 roster outlook, we can foresee five players for four positions, if Cuddyer came to San Francisco. In the corner outfield, you would have Schierholtz, Belt and Cuddyer. At first base, you have Huff, Belt and Cuddyer. At third base you would have Sandoval and Cuddyer.
This approach gives each player a day off here and there and manager Bruce Bochy can play the matchups in his favor.
Cuddyer would command a salary in the $12-$15 million range per year, so he won't come cheap. It will be up to Sabean and the Giants' ownership group if they're willing to spend that much on a player like Cuddyer.
4. Coco Crisp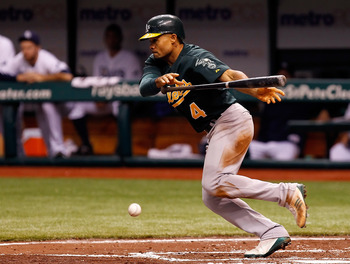 Coco Crisp lays down a bunt for a base hit
J. Meric/Getty Images
Covelli "Coco" Crisp would be a very nice addition for the Giants. He is a solid defensive center-fielder and a leadoff hitter. The Giants have struggled in center field with Andres Torres and Aaron Rowand getting the bulk of the playing time.
Torres is hitting only .228 with an OBP of .314. Rowand is having an equally poor season with a .235 average and .276 OBP.
Crisp is currently hitting .267 with five home runs and 38 RBI. His OBP is too low at .328, but his 37 stolen bases rank first in the American League. Crisp would fill the center-field spot and bat leadoff for a team sorely in need of a leadoff hitter.
The Giants' top minor-league outfield prospect is center fielder Gary Brown. Brown is currently playing in single A, at San Jose. He is likely a year or two away from the majors, but is projected as the center fielder of the future in San Francisco. Bringing Crisp aboard for one year would make perfect sense.
Crisp currently makes $5.75 million, and if the Giants can get him for $7 million or less, he would be a good fit for the 2012 season.
3. Jose Reyes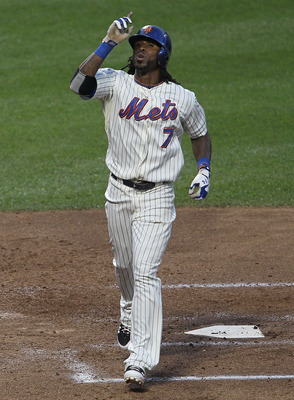 Jose Reyes crosses home plate following a home run
Nick Laham/Getty Images
Jose Reyes is one of the most exciting players in baseball. The Mets had many teams interested in him prior to the trade deadline, but did not make a deal. This means the Mets will likely make a run to re-sign Reyes to a long-term deal this winter.
There will be several other teams interested in his services, so the price will be very high. Reyes has had nagging leg injuries throughout his career and has not played over 133 games, since 2008.
In 2011, when healthy over the first half of the year, Reyes played at the top of his game. He currently leads the NL with a .336 batting average. His speed was also a factor, as he has 34 stolen bases this season.
The Giants are clamoring for a leadoff hitter as Andres Torres hasn't done the job and neither have any of the other options the Giants have tried. Reyes would fill that void and also give the Giants the everyday shortstop they need.
The acquisition of Reyes would not be without risk, however. He is looking for a four- or five-year deal along the lines of $15-$18 million per year. That may be too much for the Giants, as they also need to be concerned about retaining Tim Lincecum, Matt Cain and Brian Wilson for the long haul.
2. Jimmy Rollins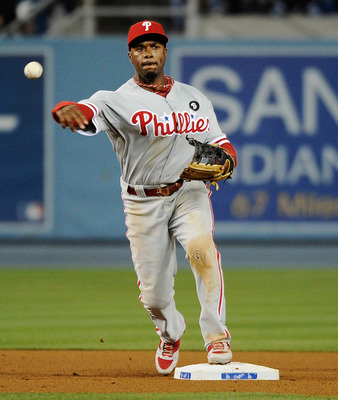 Jimmy Rollins might welcome a return to the Bay Area
Kevork Djansezian/Getty Images
The Giants have a hole at the shortstop position. Miguel Tejada was not the answer and it's very questionable if the Giants would make any effort to sign recent acquisition Orlando Cabrera for 2012.
As a comparison, Cabrera is making only $1 million this year and would be substantially cheaper than Rollins, who is at $8.5 million. If Cabrera does well in the stretch drive, the Giants might be willing to offer him a contract to stay for 2012. The key will be how this current audition goes in the next five weeks.
Rollins is not the same dynamic superstar player he was when he won the NL MVP award in 2007. He can still be a decent leadoff hitter and steal a few bases for you. Rollins is currently hitting .268 with 14 home runs, 58 RBI and 28 stolen bases. His OBP is .342.
Rollins is still an excellent defensive shortstop and the Giants have had problems defensively at this critical position. Rollins has three Gold Gloves to his credit, from 2007-2009.
Brandon Crawford has shown Major League Baseball defensive ability, but his bat still needs a lot of improvement. Anybody who believes that Crawford is an everyday shortstop in the big leagues today is simply wrong.
Crawford would benefit from a full season at triple A Fresno in 2012. He needs to improve his offensive game. In 80 plate appearances in Fresno, Crawford is hitting .270 with one home run and only five RBI. His cumulative totals from 2010 saw him hit just .236 as he spent time at single A San Jose and AA Richmond.
When Crawford was with the Giants this year, he struggled at the plate after getting off to a decent start. He hit just .190 in 153 at-bats. I do expect the Giants to bring Crawford up as a September call-up, when the rosters expand. He would be an excellent late-inning defensive replacement.
For the right price, Rollins might be a very good option for a two-year deal, but no longer. I would be willing to give him something like $7-$8 million per year, but no more than that. Reyes is the better player but the delta in price makes Rollins more attractive.
Rollins will be 33 years of age when the 2012 season begins and he might want to play in the Bay Area before his career is over. He grew up right across the bridge in Oakland and the return to his childhood home could energize him for a year or two.
1. Matt Kemp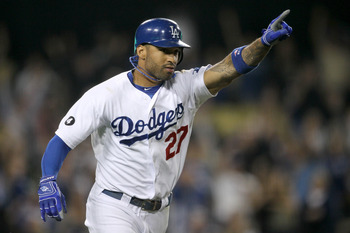 Matt Kemp could be moving from LA
Stephen Dunn/Getty Images
Matt Kemp will be 27 years old in September and is having his best season as a professional. He is a legitimate candidate for the NL MVP award and seems to have matured as a player and a person.
Kemp is hitting .321 with 29 home runs, 95 RBI and 33 stolen bases. His defense is not as good as Andres Torres, but it is above average. In addition, lack of focus, which has been a problem for Kemp in the past, should not be an issue playing with a contender and in front of a packed house in San Francisco.
Kemp is not a free agent at the end of the year, but I decided to include him on our list because if he becomes available, he should be the Giants' first priority. Kemp is arbitration eligible, so the Dodgers do control his rights for one more year.
Kemp is making $7.1 million this year and, if he goes to arbitration, would likely make in the neighborhood of $15 million in 2012. The real question is whether the cash-strapped Dodgers are willing or able to extend themselves to that level.
The Dodgers are in major financial trouble and may decide not to keep Kemp—Giants GM Brian Sabean and Dodgers GM Ned Colletti used to work together in San Francisco and hold each other in high regard. Sabean will try his best to work a deal with Colletti and pry Kemp away from Los Angeles.
2012 Will Be A Very Interesting Year For The Giants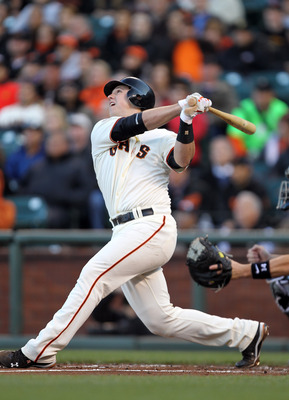 Buster Posey plans to return and catch for the Giants in 2012
Ezra Shaw/Getty Images
The Giants are pushing hard for the playoffs in 2011 and, as I mentioned earlier, I do believe they will make it. 2012 will bring a lot of changes, however.
Several players from this year's roster will be gone and it will be interesting to see how GM Brian Sabean is able to structure the roster.
The Giants had a $118 million team salary at the beginning of this season, which was roughly $22 million more than the starting 2010 payroll. The 2011 salary level also increased over the course of the year, as the Giants made several mid-season acquisitions.
It will be very interesting to see how much more money the Giants' ownership group authorizes for the coming year.
The positive news is that the Giants have been selling out every home game and revenues are up. The Giants' managing partner of the ownership group, Bill Neukom, has stated that money will not be an issue, but the Giants will indeed be prudent in who they spend their money on.
Several key, impact pitchers have big raises on the horizon, so the Giants must save room to keep those top pitchers. Tim Lincecum will be arbitration eligible in both 2012 and 2013, then will be a free agent. Matt Cain is a free agent after the 2012 season and Brian Wilson will be arbitration eligible in 2013.
The Giants' best two hitters also must be locked in. Buster Posey will be arbitration eligible in 2013 and Pablo Sandoval is arbitration eligible following this season.
Unfortunately, the Giants have two huge albatross contracts they are stuck with. Barry Zito is due to make $19 million in 2012 and $20 million in 2013. There will be a $2 million buy-out after 2013, which the Giants will certainly pay off. This is $41 million for a player who is not getting the job done.
Aaron Rowand is owed $13.6 million for 2012, and he has under-produced. The Giants will be rid of his contract following 2012. If any team is willing to make a trade for Rowand and the Giants have to eat only a small portion of that contract, I think they would gladly do it.
In my opinion, these two contracts are a primary reason why Peter McGowan is no longer the managing partner for the Giants' ownership group. McGowan was the driving force for both of these huge deals.
Bill Neukom took over the reigns following the 2008 season, and within two years the Giants were World Series champions.
The Giants may sign one big-money free agent and try to bolster their squad with other mid-level players. GM Brian Sabean has had the most success with shorter term deals and I expect him to stay with that approach for the most part.
Keep Reading

San Francisco Giants: Like this team?