Pittsburgh Steelers: Position Battles Revisited at the Preseason Halfway Point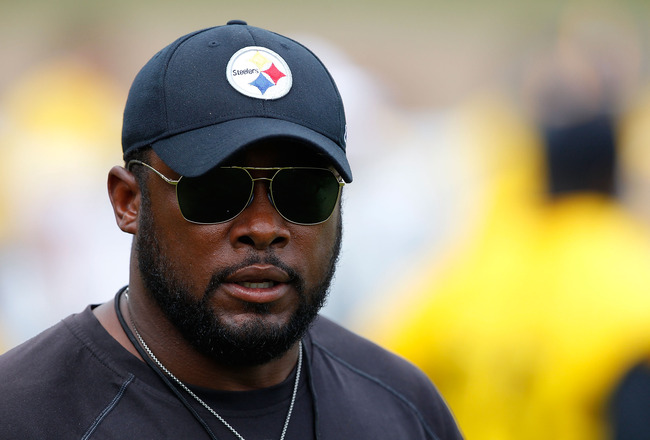 Jared Wickerham/Getty Images
Two down, two to go in the Pittsburgh Steelers' preseason, and with the most important preseason game on the horizon Saturday evening, it may be the final opportunity for players to make an impression.
The third preseason game is generally the game teams use to prep for the regular season with the starters playing into the third quarter.
One important player to watch is Tony Hills, who will once again get the start at right guard. With a good performance, he could lock down the starting job. It is particularly important that the Steelers determine their right guard soon so they can finalize their offensive line and begin to work as a cohesive unit.
Here is a second look at the position battles and where everyone stands halfway through the preseason.
Left Tackle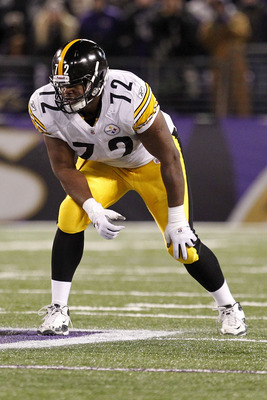 Geoff Burke/Getty Images
The battle for the starting left tackle job ended up not being much of a battle.
Instead, the Steelers decided to go with Jonathan Scott to man Ben Roethlisberger's blindside. Scott is a fair left tackle and is the best on the roster; he has not even been challenged.
Pittsburgh's 2011 second-round selection, Marcus Gilbert, has been the backup at left tackle, but is still at least a year away from challenging for the position.
On Monday, the Steelers re-signed Trai Essex, but that was to address depth issues. Even with a minor knee injury, Scott will be the clear-cut starter entering the season.
Right Guard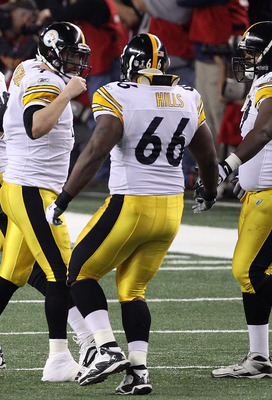 Streeter Lecka/Getty Images
The competition between Ramon Foster and Doug Legurksy quickly changed to Foster and Chris Scott.
By the Friday night practice at Latrobe's High School's football stadium, Scott was getting reps with the first team at right guard. Pittsburgh's coaches did not have Legursky rated as a starter, and Scott was impressive in position drills.
In his first game, however, Scott was easily the worst starting lineman on the field. That opened the door for Tony Hills, who looked to be on the way out.
Hills has actually performed well in his limited opportunities at guard and has the current edge over Foster. Though Hills is about 20 pounds lighter than Foster, he worked on increasing his strength over the offseason, and the coaches love his athleticism.
"Tony is very athletic, maybe the most athletic guy in the group," offensive line coach Sean Kugler said.
Hills would also provide the Steelers with a guard who can pull besides Chris Kemoeatu.
"His redirect, his pulling skills, his ability to adjust in space, those translate to guard. I'm not saying he can't play tackle, but we're going to see if those skills flourish at the guard spot. That would be for the benefit of the entire team," Kugler said.
Hills will have to demonstrate these skills if he wants to win the job and prove he can handle larger defensive tackles he will face playing in the AFC North. If not, the coaches do like Foster's size and how he can match up against large defensive tackles.
Saturday will be a showcase game for Hills, and if he performs, expect him to be named the starter.
Backup Quarterback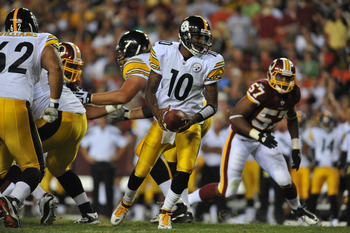 Larry French/Getty Images
Byron Leftwich has clearly been the second-best quarterback on the Steelers' roster throughout camp and has carried that into the preseason games.
So instead, let's look at the third-string quarterback.
Charlie Batch played well when stepping in last season, and while he did not have a great camp, he is always dependable. Batch did not play in the second preseason game because Pittsburgh gave extensive time to Dennis Dixon.
Dixon was struggling with accuracy issues during camp and only completed one pass in 10 attempts in the preseason opener at Washington. He was much better against Philadelphia though, going 8-of-11 passing, but he has not sold me.
If I had to choose either Batch or Dixon to have an emergency start for one game, I'd feel more comfortable with Batch.
However, if the Steelers release Batch, it would be unlikely he would be signed away. Dixon would most certainly be signed.
For this reason, Dixon can earn the final quarterback spot if he has another solid game Saturday, but this one will likely go to the final round of cuts.
Backup Running Back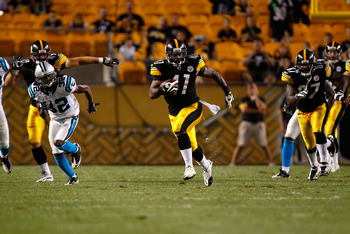 Jared Wickerham/Getty Images
Baron Batch had the look of the third-down back of the future until he tore his ACL during practice.
Now Jonathan Dwyer is the only other running back on the roster who appears to have a chance to make the final roster.
The Steelers could still wait to sign a veteran after cuts are made, which could make Dwyer expendable. But Dwyer has stepped up his game—albeit against third-stringers for the most part.
His 51 total yards and 2.8 average yards per carry do not look good on paper, but he appears to be running harder than he did in practice and is willing to step up in the fullback role.
Dwyer has the fourth running back spot for now, but that could change if he does not continue to improve—meaning the Steelers will have to bring in a veteran.
Backup Tight End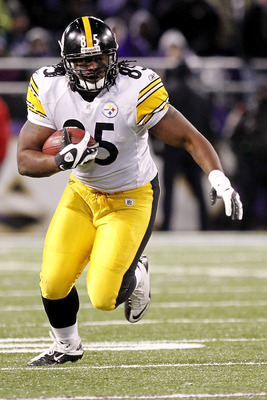 Geoff Burke/Getty Images
David Johnson had a strong first week and a half of camp as one of the best blockers. He also displayed great hands and was getting a lot of looks in the flat.
That would not last though, as Johnson began to struggle in practice. He had a poor opening preseason game, and while he improved in the second, Johnson is not the ideal second-string tight end.
John Gilmore is a blocking specialist, but has yet to standout, and Weslye Saunders has high potential, but it is unlikely the Steelers want an undrafted free agent as their backup.
Pittsburgh brought in Daniel Graham and Reggie Kelly for a visit, but neither signed. It is clear they would still like to upgrade the position. While a free agent would be ideal, right now it is Johnson's job by default.
Nickelback
Jared Wickerham/Getty Images
The battle for nickelback should have been the most crowded competition.
Instead, a rash of injuries made a constant adjustment of the depth chart and has really limited the competition.
Crezdon Butler, a camp sensation from last season, was expected to compete for this role, but has been sidelined with an injury.
Keenan Lewis had his best game in a Steelers uniform last week, as he made four tackles and an interception against Philadelphia—and quite simply had a solid all-around game.
Third-round draft choice Curtis Brown missed time early in camp with an injury, but is beginning to show why the Steelers selected him. He still needs time to develop and could eventually move into this role before the end of the season.
A surprise name is Donovan Warren, who has played well in the preseason—just not well enough to take such a prominent role in the defense.
Pittsburgh could also go with the veteran William Gay.
This battle should go to the wire, as the Steelers should give every player as much time as possible to earn the job. As for now, I keep Gay as the No. 3 on the depth chart so the young players have to continue to push themselves to beat him out.
Kicker and Punter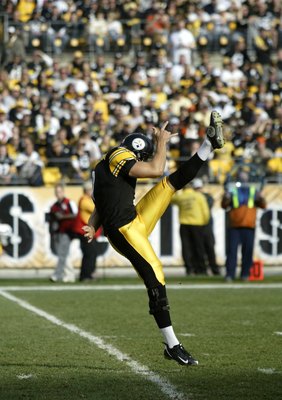 Rick Stewart/Getty Images
Swayze Waters had his big shot last week, stepping in for Shaun Suisham who had an appendectomy.
Waters had three kickoffs that went for a touchback against Philadelphia, but that was not enough; he missed two of his three field goal attempts, one of which was blocked.
Suisham will have the job once he returns.
Jeremy Kapinos looked to have the edge on the punting job prior to the Steelers re-signing Daniel Sepulveda. Now Kapinos is pushing Sepulveda, averaging 48.6 yards per punt to an average of 46.6 yards for Sepulveda.
However, Sepulveda has had four of his five punts downed inside of the 20-yard line and has a higher net average. Sepulveda is also the more consistent punter who has proven himself over his career, injuries aside.
Sepulveda should win this battle.
Follow me on Twitter.
Keep Reading

Pittsburgh Steelers: Like this team?