Ryan Howard: The Philadelphia Phillies' Replaceable Superstar
August 24, 2011
Of all the players on the Philadelphia Phillies who might be deemed "irreplaceable," the Phillies and their fans are coming to grips with the fact that Ryan Howard is no longer one of those players.
Howard is a swell guy. A behemoth at the plate with unrivaled power (when he actually connects with the ball), Howard has been present for some of the greatest moments in Philadelphia Phillies' history.
And many of those moments would not have occurred if not for the Phillies' fantastic first baseman.
But how long has it been since we had one of those moments?
By now, the City of Brotherly Love is awash in talk of the earthquake that hit the region on Tuesday afternoon, and a firestorm that hit the New York Mets on Tuesday night.
For the second straight day, the Phillies have pummeled their most-hated rival into the ground, drawing clearer and more deeply the distinction between a baseball team doing everything right, and the New York Mets.
After a 10-0 whitewashing on Monday night, the Phillies picked up where they left off for the second straight day, staking out a 9-0 lead through five innings before finally allowing the Mets to score a run in the series.
That 14-inning, 19-run outburst was not without its stars: John Mayberry has hit two home runs in the last two days to continue his red-hot second half hitting; Hunter Pence has scored five runs in two games with a home run, a single and two walks; Shane Victorino, batting leadoff in place of Jimmy Rollins, followed up Monday's triple, walk and two-RBI performance with a home run and a two-run triple on Tuesday.
And Ryan Howard?
On Monday, he went 1-for-4 with three strikeouts, all looking, before being lifted late in the game; and on Tuesday, Howard got the night off.
And the offense did not miss a beat.
It has now been five years since Ryan Howard broke out in 2006 with one of the greatest offensive seasons in Philadelphia baseball history.
It has been three years since Howard last led the NL in home runs and RBI, and helped lead the Phillies to a World Series championship.
It has been two years since Howard led the NL in RBI before going cold in the World Series. And it has been one year since Howard ended the Phillies' season with his bat in hand as a called strike three went sailing past.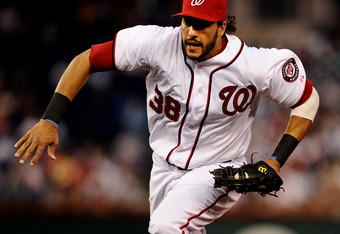 And where are we now?
Howard's reputation as a run producer is unrivaled and has reached mythical proportions, but know this: After tonight's game, the Phillies are now 4-1 on the season in games in which Howard does not start.
But that is too small a sample size to discuss. Howard's supporters will be quick to point out that while Howard's numbers overall may not be great, Howard excels at "doing what he gets paid to do" (i.e. driving in runners on base).
And to a degree, this is true. In 2011, with runners in scoring position, Howard is batting .312 with a .415 on-base percentage a .500 slugging percentage.
Not too shabby. With runners on base (as opposed to in scoring position), Howard is hitting .285/.378/.494.
Also pretty good.
Compare that with the NL average of .253/.340/.385 with runners in scoring position, and .259/.332/.393 with runners on base, and Howard is clearly well above average.
Neat.
At the same time, what about .333/.467/.556 and .317/.441/.568? Those are Prince Fielder's numbers with runners in scoring position and with runners on base.
And what about .425/.543/.745 and .368/.504/.626? Those are Joey Votto's numbers (WTF?!, by the way). 
And then there's .340/.416/.596 and .337/.401/.564.
These are the numbers that present a problem, because, you see, these aren't Albert Pujols' numbers, or Adam Dunn's numbers or Adrian Gonzalez's numbers. They aren't Mark Teixeira's numbers, or Miguel Cabrera's numbers or Ike Davis' numbers.
These numbers belong to a 29-year-old first baseman in his first full season in the majors. He is currently making $1.05 million, and he is hitting for a better average (.319), a better on-base percentage (.374) and a better slugging percentage (.554) than Howard.
He also has just five fewer total bases than Howard (224 vs. 219) despite having over 100 fewer plate appearances (537 vs. 436).
Oh, and he has more hits and more doubles than Howard while hitting into fewer double plays than Howard.
This player's name is Michael Morse, and for about five percent of what Howard is earning in 2011, Morse is outperforming him.
At the end of the day, as he sits on the bench and watches his Phillies destroy the New York Mets without his help, one has to wonder whether Howard realizes that if the Phillies traded him to the Nationals for Michael Morse tomorrow—straight up—they probably wouldn't miss a beat.
Because that's a thought that could fester for a guy who has suddenly become one of the most replaceable players in the Philadelphia Phillies lineup.