Chicago Bears: 7 Most Unheralded Players on the Roster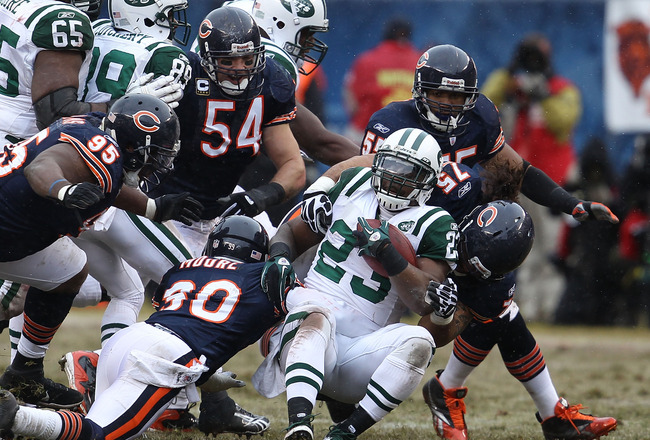 Jonathan Daniel/Getty Images
We all know the big names; Jay Cutler, Brian Urlacher, Julius Peppers, but what about the other guys? What about the guys that don't get all the press? Without a group of unheralded players, a team cannot succeed, and without these seven players, the Bears would have a tough time trying to repeat as NFC North Champions.
No. 7 Nick Roach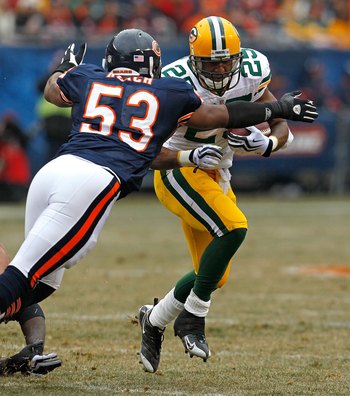 Jonathan Daniel/Getty Images
Since coming in to the league in 2007, Nick Roach has not been a household name. Since the Bears signed him that summer after he was released from the Chargers, Roach has been a steady contributor on special teams, as well as being a good replacement option in case of injuries. With the Bears not resigning Pisa Tinoisamoa, the strong-side linebacker position is Roach's to take.
The reason that makes Roach unheralded are his abilities to play all three linebacker positions, and if there is an injury to Brian Urlacher, Roach is the logical choice to slide over and take the middle linebacker position. Roach does not jump out with gaudy statistical numbers, but he is a solid contributor, that can help in many areas on this team.
No. 6 Henry Melton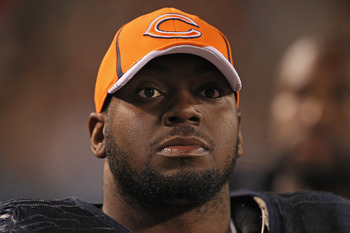 Jonathan Daniel/Getty Images
If you were to ask any defensive coach on the Bears who has been the most impressive defensive player this training camp, the majority would say Henry Melton.
Melton, originally drafted as a defensive end, saw many opportunities last season as a rush defensive end in obvious passing situations. After the Bears released Tommie Harris this offseason, Melton was asked to put on some weight for the opportunity to take Harris' spot as the under tackle in the 4-3 scheme, which relies on speed and quickness to get to the quarterback or ball carrier. Melton's combination of size and speed could help catapult him to being one of the best at his position, and without that speed and quickness, the defensive line cannot function the way it needs to.
No. 5 Earl Bennett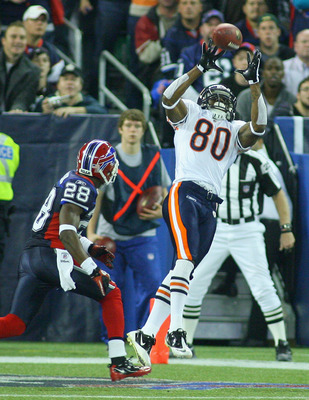 Rick Stewart/Getty Images
"He has the best traffic hands" said Bears radio analyst Tom Thayer, during the Bears preseason game against the Giants.
Earl Bennett has struggled at times to get on the field in the past, but when he's been there, he has been one of the most reliable. Bennett, who had spent time with Jay Cutler at Vanderbilt, does not have speed and quickness like Johnny Knox and Devin Hester, but he does have reliability. Whenever Cutler gets in a jam or it is a third down possession, his main target always seems to be Bennett. Bennett is the type of player that every team needs, a reliable receiver, who can fight and get you the extra yards when you need them most. With another year in the Mike Martz's system, look for Bennett to continue to be a main target for Jay Cutler.
No. 4 Roberto Garza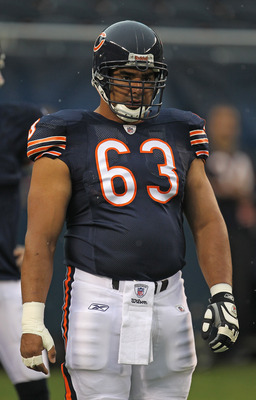 Jonathan Daniel/Getty Images
If there is any chance at the Bears being successful this season, Jay Cutler needs to stay upright, and Roberto Garza becomes the leader of the group asked to protect him.
When Olin Kreutz was not re-signed before the start of training camp, many questioned the move, but the Bears had their plan in place. Garza, who has never been a regular starter at center, was moved to the center position, all the pressure of the offensive line fell on his shoulders. Garza will be relied upon to make any line calls and to help determine what the defense is trying to bring at them. He will be asked to keep his line together and keep everyone on the same page. Garza has been a very reliable left guard for the Bears in the past few seasons, and moving him to the center position will only help solidify this offensive line, regardless of the signing of Chris Spencer, look for Garza to keep a grasp on the center position.
No. 3 Corey Graham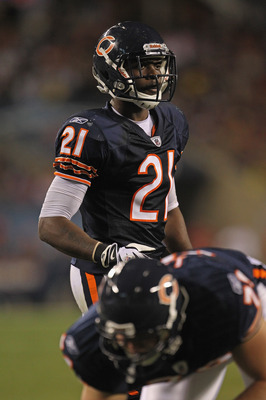 Jonathan Daniel/Getty Images
One of the Bears top priorities this offseason was resigning cornerback/special teams ace, Corey Graham.
Graham hasn't seen much playing time in the field as a corner in recent years, but his contributions on special teams are unmeasurable. Graham's 25 special teams tackles led the Bears last season, and he is expected to make the same major contribution this season. Without Graham's special teams prowess, the Bears would struggle in the field position game and in turn be plagued with an up-field battle all game.
No. 2 Chris Harris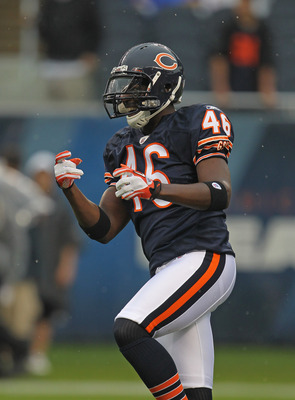 Jonathan Daniel/Getty Images
In the tenure of Lovie Smith as Bears head coach, the one position with the most turnover has been at the safety spot. Last season the Bears reacquired former starting safety Chris Harris. Harris played last year mostly at the free safety position, but is expected to return to his normal spot at strong safety.
With the addition of Harris last season, it helped solidify the Bears secondary, and add a veteran presence to a vulnerable position. Harris' best attributes are his ability to step in to the box and stop the run, but his abilities as a coverage man came in to place last year, as he was tied with the team lead in interceptions with five. Look for Harris to continue to help solidify the defense against both the run and pass this season.
No. 1 Patrick Mannelly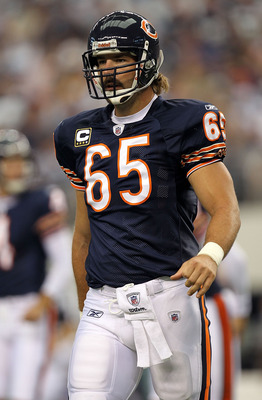 Ronald Martinez/Getty Images
Patrick Mannelly. You rarely hear his name, but that is a good thing. If you heard his name more often, he would be doing something wrong. Patrick Mannelly is the long snapper, and if you're the long snapper, you never want to hear your name.
Mannelly is the longest tenured Bear, entering his 14th season. One of the most unheralded positions on any team is the long snapper, and Mannelly has been as good as anyone during his career. When a punt or field goal is about to be kicked, all the focus is placed on the punter or kicker, but the most important man in that equation is the long snapper, if he cannot get that ball there perfectly, all hell can break loose.
There is no timetable on how long Mannelly plans to play, but when he finally does hang up his cleats, the Bears will quickly learn how important he really is.
Keep Reading

Chicago Bears: Like this team?