Miami Dolphins Sign Former Pro Bowl RB Larry Johnson
August 23, 2011
Many of us—myself included—have wondered why the Dolphins didn't find a true backup to Daniel Thomas. Someone that could carry the load in the event the rookie suffers an injury, considering Reggie Bush is more of a role player and Lex Hilliard just isn't starter material.
But as Ronnie Brown, Ricky Williams, Marion Barber, Jerome Harrison and every other quality back signed elsewhere, it appeared the Dolphins were content going with a seemingly thin backfield—at least until final cuts rolled around.
However, the Dolphins have added an unlikely, formerly high-profile name in the form of ex-Chiefs and Redskins running back Larry Johnson. The Dolphins have waived running back Kory Sheets to make room for Johnson on the roster, which now stands at 85 players.
Miami also reportedly worked out Johnson's former Washington teammate Clinton Portis on Monday. Reports from last week had Portis extremely out of shape for a workout with the Patriots.

Background
Johnson played his college ball at Penn State, where in 2002 he rushed for 2,000 yards on fewer carries than anyone else in NCAA history. Averaging nearly eight yards per carry, Johnson earned the Doak Walker Award as the nation's top running back and the Maxwell Award, given to the best player in college football.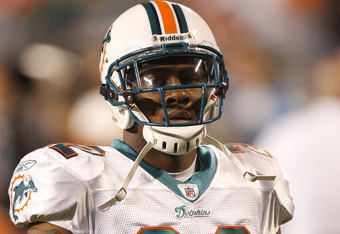 Selected by the Kansas City Chiefs in the first round of the 2003 NFL Draft against the wishes of head coach Dick Vermeil, Johnson played sparingly as a rookie before seeing significant action (and excelling) late in the 2004 season.
Out of Priest Holmes' shadow in 2005, Johnson went on a tear the next two seasons, topping 1,700 yards rushing in both 2005 and 2006 while combining for 37 touchdowns on the ground. Before the 2007 season, he signed a six-year, $45 million contract with $19 million guaranteed.
Johnson, who set an NFL record with 416 carries in 2006, saw his production dip significantly as he rushed for just 559 yards on a 3.5 average in eight games in 2007. He averaged a healthy 4.5 yards per carry the following season despite missing four games, but missed time due to violations of team rules.
Through the first seven games of the 2009 season, Johnson remained the Chiefs' starting running back and averaged just 2.9 yards per carry. Following a series of tweets that criticized head coach Todd Haley, a Chiefs fan, and the entire gay and lesbian community, the team eventually released Johnson on Nov. 10.
Johnson soon signed with the Cincinnati Bengals, appearing in seven games primarily as a backup to Cedric Benson and rushed for 204 yards on 46 carries. He was signed to a three-year contract worth up to $12 million based on incentives with the Washington Redskins in 2010, but was released after just two games and five carries.
Aside from his on-the-field performance, Johnson has also had multiple run-ins with the law during his professional career—including charges of assaulting women—which can be read about in more detail here.
Now 31, the 6'1" 235-pound Johnson was reportedly in great shape earlier this offseason, but has not played in an NFL game in nearly a year and has shown signs of wear due to the volume of carries he received early in his career. He will wear Sheets' No. 23 for the Dolphins and try to compete for a backup job.

Analysis
I'm a bit conflicted on this signing, because it absolutely fills a need. Despite what Tony Sparano says, Bush is not going to be an every-down back, meaning a backup that can carry the load is needed on the roster in case of an injury to Thomas.
Johnson can certainly be that guy.
My question is why the Dolphins settled for someone that hasn't shown much life in nearly three years as opposed to someone like Barber or either of the Dolphins' former veteran backs that might have been able to fill in better as a starter?
Obviously, Johnson is probably getting a bottom-basement deal with some incentives, but it's not like the other veterans on the market signed big-money contracts either. It seems odd the Dolphins would opt for a less-effective player to save $500,000.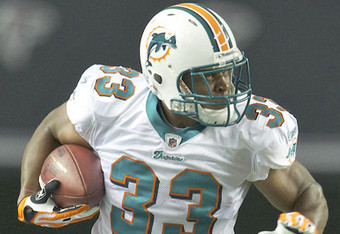 All that being said, I'm not opposed to the signing or the release of Sheets.
Johnson certainly has a track record as a one-time elite NFL running back, and if he's in good physical shape, he should be capable of serving as a backup and/or short-yardage back. Sheets, meanwhile, has speed, but not much else and hadn't shown the ability to contribute on offense.
One thing to keep in mind for anyone getting overly excited or overly annoyed at this signing is that Johnson is by no means a lock to make the roster.
He'll have less than two weeks to audition for a spot on the team, but he'll be no better than the third option in the backfield and thus, is not safe from being replaced by a younger player (and one that can play special teams) once final cuts are made.
As always, check out the updated projected depth chart reflecting these transactions here.

Discuss this article on the forum here!
---
Chris J. Nelson majored in journalism at Georgia State University and currently works for Turner Sports in Atlanta. He operates his own Miami Dolphins website, The Miami Dolphins Spotlight, and he can be followed on Twitter here.