Matt Holliday Moth and the Craziest MLB Injuries of 2011
Dilip Vishwanat/Getty Images
Matt Holliday had a moth fly into his ear Monday night at Busch Stadium. The moth quickly became lodged in Holliday's right ear canal, and he had to be removed from the game.
After trying to lure the moth out with a light, team trainers were eventually able to extract the still live moth with tweezers. Naturally, Holliday took it home as a souvenir.
This is just the latest strange injury occurrence in the weird world of baseball. In recent years MLB players have been hurt by such nefarious things as a sneeze, a pepper and a Guitar Hero game.
Even an octopus-throwing contest has gone horribly wrong.
This year has been a bit tame by those standards, but the injuries are starting to pile up. Here are the weirdest MLB injuries of 2011.
Scott Downs Breaks His Toe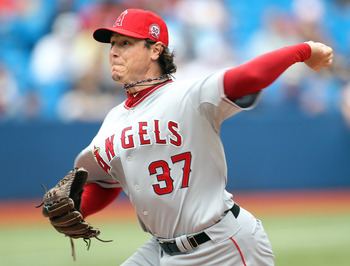 Claus Andersen/Getty Images
Scott Downs was a big offseason free-agent signing for the L.A. Angels, expected to step into the role of setup man for the club.
Too bad he couldn't even walk in spring training.
Downs managed to break his big left toe playing around with his kids and "just doing normal dad stuff at home."
What, exactly, is his version of normal dad stuff?
Chris Davis Can't Sleep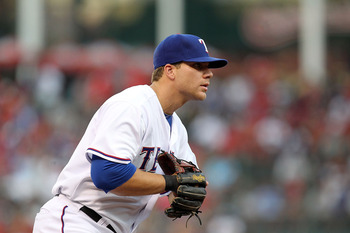 Ronald Martinez/Getty Images
Human beings spend about 33 percent of their lives sleeping. You would assume that after 25 years, Chris Davis would have it mastered, right?
Wrong.
Davis, acquired by the Baltimore Orioles before the trade deadline, found himself headed to the disabled list after sleeping on his shoulder wrong.
A MRI revealed more than just an achy arm. Davis will most likely miss the rest of the season due to wear and tear on his labrum and rotator cuff.
Alcides Escobar Gets Bit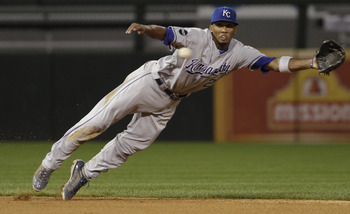 John Gress/Getty Images
Alcides Escobar had to be scratched from the Kansas City Royals spring training lineup due to, well, a scratch.
Escobar was bitten on the arm by a bug. The site then became infected after he scratched it, which caused red welts and swelling. He was treated with antibiotics, ultimately missing a few games due to the bite.
No word on what type of bug it was.
Zack Greinke Hoops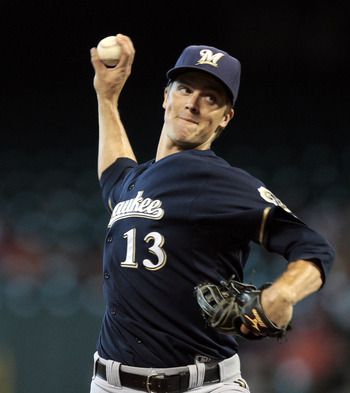 Bob Levey/Getty Images
Zack Greinke began his 2011 season with the Milwaukee Brewers on the disabled list. Apparently, his ultra-competitive nature on the field translated to the basketball court as well.
Greinke missed the entire month of April with a hairline fracture in one of his ribs. He sustained the injury going for a rebound in a pickup basketball game.
"Everyone always told me not to do it because I was going to get hurt," Greinke said. "It finally caught up to me."
Rafael Furcal Jumps Rope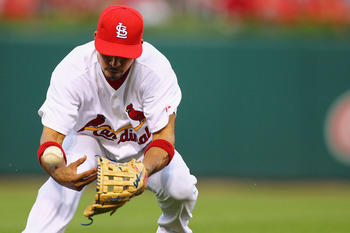 Dilip Vishwanat/Getty Images
St. Louis Cardinals infielder Rafael Furcal sprained his thumb at Wrigley Field last Sunday night.
No, he didn't get hit by a pitch or catch a grounder off a bad hop—he fell over a rope and braced himself poorly for the tumble.
Thankfully, his spill did not land him a trip to the disabled list.
Carlos Zambrano Watches TV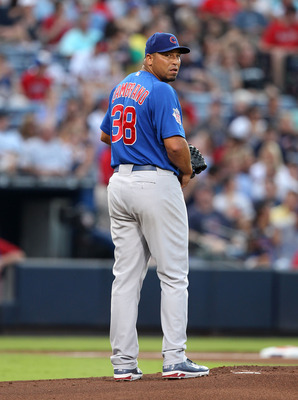 Mike Zarrilli/Getty Images
Carlos Zambrano pitched through the pain of a knot in his trapezius muscle earlier this season.
Most would figure that any off-field injury of Zambrano's would stem from a brawl, but the Cubs pitcher managed to aggravate his neck watching late-night television in bed.
He might want to adjust his sleep habits. Exhaustion has been known to cause grumpiness and irritability.
Ubaldo Jimenez Breaks a Nail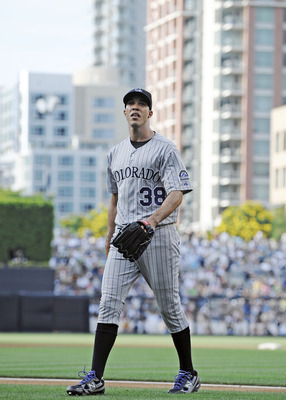 Denis Poroy/Getty Images
Ubaldo Jimenez had a rough Opening Day, giving up five earned runs in six innings for the Colorado Rockies.
The cause? A cracked cuticle.
The injury would not allow Jimenez to grip the ball properly and landed him on the 15-day DL. No word on whether the crack was caused by a botched manicure.
Chris Narveson Can't Cut It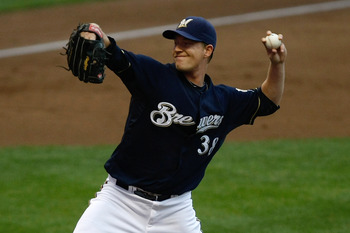 Scott Boehm/Getty Images
Everyone is taught as a child that you shouldn't run with scissors. Apparently some people should just be taught to stay away from them altogether.
Chris Narveson of the Brewers sliced his thumb on a pair of scissors while trying to fix some laces on his glove. He had to miss one start while he waited on his eight stitches to heal.
Matt Holliday Is Bugged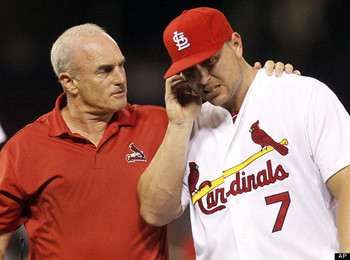 You know most of the eerie details by now of the Matt Holliday moth story. As for the aftermath?
While Holliday is not expected to miss any playing time with his bug adventures, the moth that flew into his ear canal was not so lucky.
After being tweezed out of Holliday's ear, the moth was not able to survive the night.
Asked if he killed the moth, Holliday said, "No I didn't. I just think so much wisdom was passed onto him that he died with an overflow of wisdom of being inside my head.

"I figure we're friends. We've bonded."
Keep Reading