Russell Branyan and the Most Bizarre Sports Injuries Ever
Ezra Shaw/Getty Images

Russell Branyan of the Seattle Mariners has made headlines recently, and it hasn't been for his on-field performance.
Branyan suffered an injury to his tailbone during a family outing to a local pizza parlor.
That's right. A pizza parlor.
We are used to athletes injuring themselves during a game, but many have had some pretty outrageous mishaps off the field.
Here is a list of the 10 most bizarre sports injuries ever.
Begin Slideshow

»
Elsa/Getty Images

Derrick Mason was playing in a charity golf tournament where he broke his wrist while teeing off. Apparently his swing was awkward, and he twisted his wrist to the point of fracture.
We know that football is your sport, but who breaks their wrist playing golf?
Brian Bahr/Getty Images

During his rookie season, Lionel Simmons had to miss two games because he suffered from tendinitis in his wrist.
The best part?
He did this playing Nintendo GameBoy.
Jed Jacobsohn/Getty Images

The most recent bizarre injury on our list is Russell Branyon's pizza predicament. Branyon was eating at a pizza parlor when his son kicked off one of his shoes.
Leaning forward in his chair to pick up his son's flip flop, Branyon fell out of his chair and hit his tailbone on the cement floor.
Poor Russell Branyan. The Mariners' post-game pizza parties will never be the same.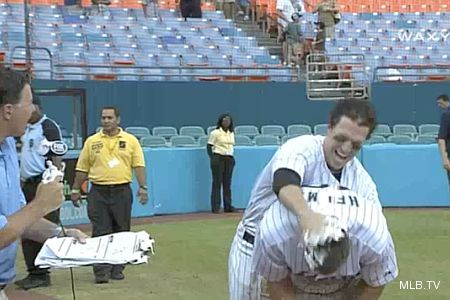 It seems like the Mariners have the worst luck when it comes to bizarre injuries.
Outfielder Chris Coghlan was also injured in a weird incident involving shaving cream pies. He went to put one of these pies in the face of Wes Helms, and he ended up tearing the meniscus in his left knee in the process.
We get that athletes need to have some fun, but was it really worth it?
Bret Barberie of the Baltimore Orioles makes our list for another culinary catastrophe. Barberie was making some extra spicy nachos complete with chili peppers and hot sauce, and he made the mistake of not washing his hands afterward.
He then went to put in his contact lenses. Ouch.
Barberie had to miss a game because his eyes burned so badly.
Robert Laberge/Getty Images

Marty Cordova injured himself while getting in touch with his metrosexual side. In 2002 Cordova fell asleep in a tanning bed and suffered burns so bad that he had to miss games.
Instead of playing ball, he was ordered by doctors to stay out of the sun.
Beauty is pain, Marty. Beauty is pain.
Ronald Martinez/Getty Images

Now I have had some pretty intense sneezes in my life, but they pale in comparison to a sneeze attack suffered by Sammy Sosa.
In 2004, allergies got the best of Sosa as his powerful sneezes actually caused spasms in his back. Sosa had to miss a game against the Padres.
Soccer players are no stranger to injury, and a dislocated jaw doesn't seem like that far of a stretch for a goalkeeper.
The bizarre part of Alex Stepney's injury is that he actually injured himself by screaming.
That's right. Screaming.
Stepney was yelling at his defensemen so intensely that he ended up having to reset his jaw.
Nick Laham/Getty Images

Adam Eaton had just purchased a new DVD, and he was ready to kick back, relax, and watch a movie.
But then things went horribly wrong. Trying to open that impossible packaging that we've all had our troubles with, Eaton ended up stabbing himself in the stomach with a paring knife.
This injury is bizarre, but I doubt this is the first time someone hurt themselves trying to open a DVD case.
They're tricky!
Chris Hanson was the kicker for the Jacksonville Jaguars, and he definitely suffered the most gruesome injury on our list.
Head coach Jack Del Rio kept wood and an axe in the locker room to remind the players to "keep chopping wood" after they had a rough start to the season.
Hanson decided to take his chance and swung the axe. Instead of hitting the wood, the axe ended up deep in his leg.
Needless to say, he was out for the rest of the season.