10 Fantasy Football Kickers Guaranteed to Rack Up the Points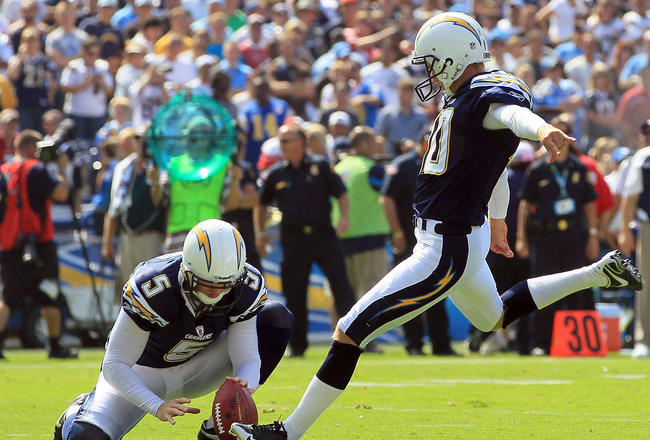 Jeff Gross/Getty Images
Place kickers like Nate Kaeding of the San Diego Chargers play a role in fantasy football that is very similar to their real-life jobs: they are part of the team, but no one thinks they are important until they either come through for your team or hurt your team.
In real life, coaches go through kickers like socks. If there is any sign of a hole, it is easier to go out and get a new one than go through the trouble of wearing the damaged sock.
Yet, when kickers make big kicks, they are the hero of the team. When they miss an important one, they might be out of a job the next day.
In fantasy football, kickers are usually taken near the last round of drafts, and they should be.
Still, they play a more important role in fantasy football than most think.
Let's take a look at 10 kickers who are likely to come through for your team in 2011.
10. Adam Vinatieri, Indianapolis Colts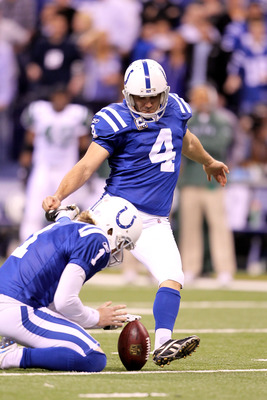 Andy Lyons/Getty Images
Adam Vinatieri has not attempted more than 29 field goals since joining the Indianapolis Colts, but this year could be his chance for fantasy relevance.
Last year, going 26 for 28 was the only thing that kept him on fantasy teams.
This year, the offense could finally slow down a bit.
Peyton Manning is questionable for the start of the regular season. If he misses time, it might be bad for Vinatieri because they might not be able to reach the other side of the field.
Yet, Manning's return will mean some rust in the passing attack as he tries to get timing down with his receivers after missing the preseason.
This will mean more failed drives in the red zone, and more attempts and points for Vinatieri.
9. Billy Cundiff, Baltimore Ravens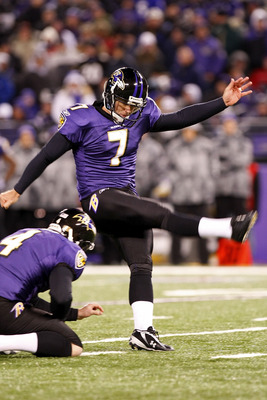 Geoff Burke/Getty Images
Billy Cundiff has bounced around the NFL his entire career, but he appears to have found a home in Baltimore with the Ravens.
This will give him the chance to have another good year and remain useful for fantasy owners.
He has looked good in the preseason, going 3 for 4 with a long of 53 yards.
The Ravens offense could promote the success of Cundiff this year.
Ray Rice is the exclusive goal line back this year, and he may struggle with that role.
The more he struggles, the more points Cundiff will rack up for your fantasy team.
8. Rob Bironas, Tennessee Titans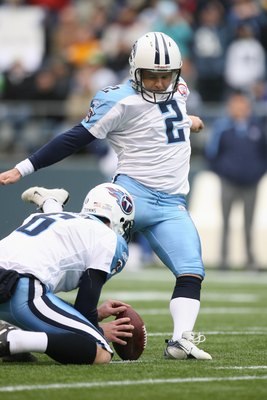 Otto Greule Jr/Getty Images
Rob Bironas has been shaky for the Tennessee Titans in the preseason, but he has been one of the most consistent fantasy kickers in fantasy football over the past few years.
I may be giving him too much credit for what he has done in the past.
His historic 8 for 8 day in 2007 will never be forgotten in fantasy football folklore.
Nonetheless, this year poses some questions in Tennessee.
Chris Johnson has not signed yet.
If he misses games, the offense will struggle mightily, leading to problems for Bironas.
With the news that the two sides will meet, however, there is hope for another outburst from Bironas in 2011.
7. Garrett Hartley, New Orleans Saints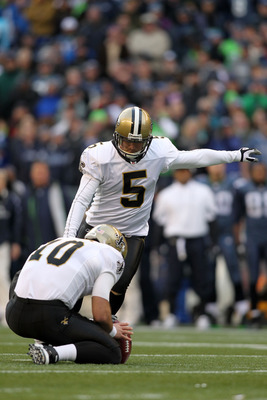 Jonathan Ferrey/Getty Images
Garrett Hartley is finally the full-time man for the New Orleans Saints, and he should benefit from the offense's production.
Drew Brees has a true juggernaut running down south.
They enter the red zone on a seemingly unbeatable rate.
Hartley's success depends on the ability of defenses to stop Brees in these areas.
The addition of Mark Ingram may give the Saints another option to pound the rock into the end zone.
Still, Hartley will get his chances simply because the offense will be in range so often.
Plus, John Carney is gone.
Hartley will be a stud in 2011.
6. Matt Bryant, Atlanta Falcons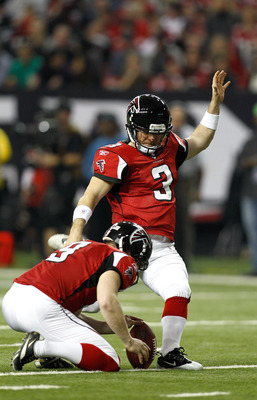 Chris Graythen/Getty Images
Matt Bryant had two monster years with the Tampa Bay Buccaneers, but has finally regained form with the Atlanta Falcons.
The Falcons offense is built for a kicker's success.
Like the aforementioned New Orleans Saints, they constantly move the ball into field goal range.
Bryant should have every opportunity to become relevant in fantasy football this year.
He should repeat his 2010 campaign with similar numbers in 2011.
5. Josh Brown, St. Louis Rams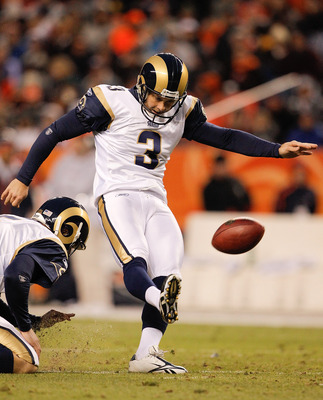 Justin Edmonds/Getty Images
Josh Brown, playing for the St. Louis Rams, is in a very different situation than many successful fantasy kickers.
His offense is nothing to get excited about like that of Matt Bryant's or Garrett Hartley's.
Yet, their ability to slowly move the ball and fail to finish drives is the key to his production.
Last year, in Sam Bradford's rookie year, he attempted 39 field goals.
This year, that number may dip a bit, but he should make up for it in extra points after touchdowns from this improved unit.
4. Stephen Gostkowski, New England Patriots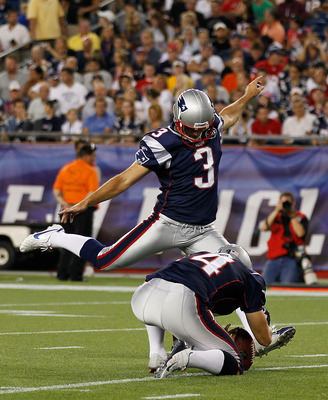 Jim Rogash/Getty Images
Stephen Gostkowski may be the beneficiary of one of the most potent offenses in the NFL, but that should not take away from the fact that he is a very good place kicker.
The New England Patriots are very thorough in choosing every player they add to their roster.
Gostkowski is no different.
His career field goal percentage of 84.3 is nothing to scoff at.
He should come off an injury-stricken season with a vengeance in 2011.
Look for the Patriots to return to dominance and Gostkowski to fantasy relevance this year.
3. Neil Rackers, Houston Texans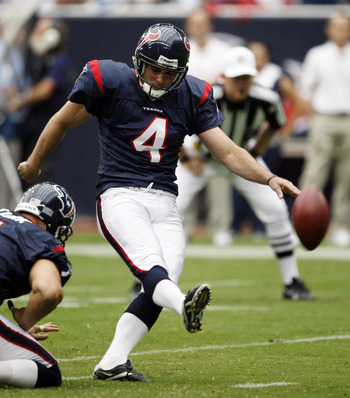 Bob Levey/Getty Images
Neil Rackers may be one of the worst clutch kickers in recent history of the NFL, but his role on the Houston Texans suits him perfectly.
Although we expect the Texans to take the next step every year, I have lost all hope.
This is perfect for Rackers.
He can rack up the fantasy points in meaningless games with minimal playoff implications.
If you grab him, hope for Houston to remain out of the playoff hunt.
If they expect Rackers to start making clutch kicks for them, his fantasy value may take a hit.
2. Sebastian Janikowski, Oakland Raiders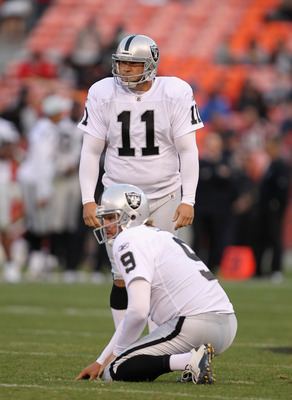 Ezra Shaw/Getty Images
Sebastian Janikowski may have the biggest leg in the NFL, and the Oakland Raiders are willing to use it.
In fact, they are even willing to try it from 76 yards away.
No, his offense is not the best in the NFL.
However, he is probably in a similar situation to Josh Brown.
The offense is good enough to get him in range a good amount of the time, and they usually struggle to convert for six.
The difference is, the Raiders are actually looking to use Janikowski in any way possible.
Sounds like fantasy goodness to me!
1. Nate Kaeding, San Diego Chargers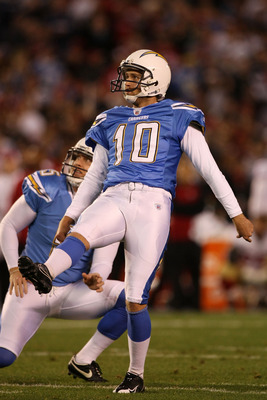 Donald Miralle/Getty Images
Nate Kaeding has had his ups and downs as an NFL kicker with the San Diego Chargers, but he has been surprisingly consistent statistically.
He has attempted between 24 and 35 field goals in seven seasons making between 20 and 32 in these years.
Kaeding has had his highs and lows, and is now becoming a solid veteran kicker that can handle pressure situations.
The fact that even when San Diego is losing, the offense seems to be moving the ball with ease doesn't hurt either.
Kaeding is the safe kicker to pick in 2011 if you want to somehow attempt to gain an advantage at the position.
Keep Reading