Complete Report Card Following Philadelphia Eagles Preseason Week 2 Loss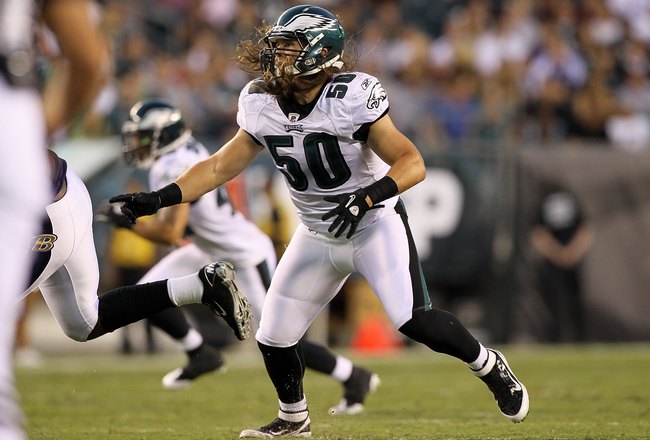 Jim McIsaac/Getty Images
One week everyone thinks the Eagles are Super Bowl bound, and the next week everyone thinks they're headed for a disastrous season.
Such is life when the team with the most high-profile offseason follows up a solid performance against the Baltimore Ravens with a complete letdown against the Pittsburgh Steelers.
It's really tough to gauge where this team is and how well everyone is playing unless you step back, take a deep breath and allow these insightful thoughts to saturate your brain.
I graded each set of positions for your consumption. It allows you to see where this team stands entering its third preseason against the Cleveland Browns. And as it stands now, it has a lot to prove.
Quarterbacks: C+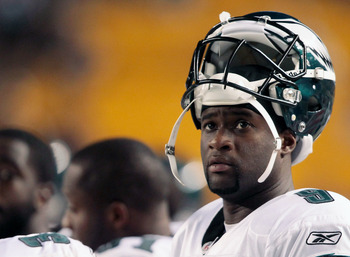 Lost puppy.
Jared Wickerham/Getty Images
Mike Vick came out against the Baltimore Ravens and looked like someone who could sling the ball around for about 40 touchdowns. His performance warranted an A.
Against the Steelers he looked like a overwhelmed freshman on his first day of high school ready to throw the ball to the wrong team 40 times. As a freshman he would have repeated the grade due to a big fat F.
Average those bad boys out and you get a C.
Vince Young has looked awful. I don't care what people want to say about him because he has been nothing short of a hot mess.
But this is what I expected of him. Let's just be honest here: He's a moron.
According to USA Today, he scored a 6 out of 50 on the Wonderlic intelligence test as an incoming rookie.
I know quarterbacks are not judged by their brain power alone, but c'mon.
The test asks questions such as "which of the following does not belong: Wednesday, Friday, September, Tuesday?".
Based on that, I have serious questions if he can learn an offense in a short amount of time, and so I give him a C. He's doing what I expected.
Meanwhile, Mike Kafka has looked pretty solid and he may give Young a run for his money for the backup role. A lot of people thought he was capable of being a backup this year, but I doubted him.
I'll give the guy some credit and give him a B.
Who knew Kafka would be the one exceeding expectations?
Running Backs: C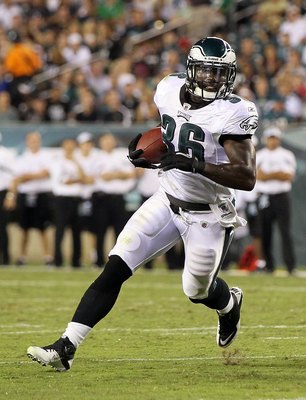 Jim McIsaac/Getty Images
It's nearly impossible to grade the running backs when you have a coach who doesn't like to run the ball and your playing time is limited due to the preseason.
If there's a more deadly combo for getting into a rhythm, please let me know.
The one thing that appears to be going in the right direction is their ability to pick up first downs in short-yardage situations, but Andy Reid still doesn't run the ball enough in the red zone.
At times Ronnie Brown has looked like a great compliment back, and then there were moments you realized why Miami let him go.
Same goes for rookie Dion Lewis. Can you imagine if Lewis can find a way to be as productive as he was at the University of Pittsburgh, where he rushed for 2,860 yards in two years?
Wide Receivers: A
Jared Wickerham/Getty Images
When you miss a test, or in this case a game, because of your own doing, it's an automatic F.
DeSean Jackson thought it would be a good idea to miss some time at camp to fuss about his contract, and it caused him to miss the season opener against the Ravens.
But since I'm a nice guy, I'm willing to give Jackson a pass here. Jeremy Maclin also gets a freebie because of his illness.
How excited do you get when Chad Hall, Riley Cooper and Jason Avant step up?
If this grade was purely based on that trip, the receivers get an A.
The good news is I don't see a reason to knock their grade down. Johnnie Lee Higgins emerged as a pleasant surprise against the Steelers.
And what about Gerald Jones? I mean, the guy had two touchdowns against the Ravens. That's gotta count for something.
I have my concerns about the receivers, but I can only grade them on their performance and not on my anxiety.
Tight Ends: D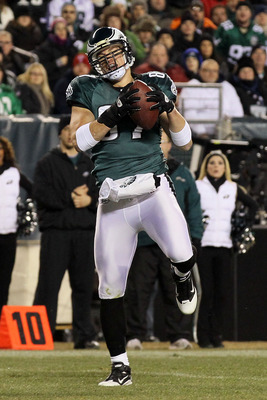 Have you seen me?
Jim McIsaac/Getty Images
Brent Celek has been abysmal so far.
He's dropping passes, not getting involved and has been an non-factor in the offense.
Donald Lee was an intriguing signing and showed a little life against the Steelers by hauling in three passes.
That may not sound like a big number. But when you consider he stepped in for Jermichael Finley last year in Green Bay and only caught 11 passes, you begin to think twice.
Remember the days when our tight ends were a reliable target?
Do I actually miss L.J. Smith?
As soon as that question enters my mind, I should give this group an F.
Offensive Line: C+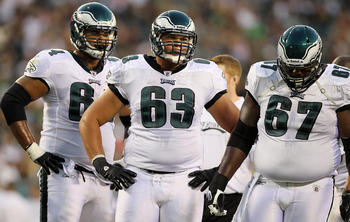 Do you think Jackson can see his toes?
Jim McIsaac/Getty Images
Put your cursor over the picture and answer the question that pops up.
Okay, back to footy-football.
I'm not going to lie and say I know how well or poorly offensive lineman play.
I know Winston Justice looked like a human pylon when Giants defensive end Osi Umenyiora sacked Donovan McNabb six times.
I could say a lineman plays well if the quarterback doesn't get killed by the guy he's blocking or if the announcers never have to say his name, or I could tell you how poorly John Harris moves his feet or how well Jason Peters uses his hands.
Either way, it seems disingenuous and a waste of your team.
I decided I would grade the linemen on their ability to identify who should be a starter.
Right now it seems like Jason Peters and Todd Herremans are a lock.
After that it's anbody's guess.
According to Reuben Frank of CSNPhilly.com, the Eagles are going to give rookie Jason Kelce a shot to start at center in place of Jamaal Jackson.
Right tackle seems to be a complete mystery as offensive line coach Howard Mudd tries to identify who will start.
Danny Watkins appears to have the right guard position secured, but when you read the article attached to the link above it sounds like Mudd is keeping his options open.
So why the C+ grade?
The protection has been pretty solid and Vick hasn't taken big shots in the pocket, but no one from the middle to the right side has stepped up their play and separated themselves from the rest of the pack.
Right now, it sounds like the Eagles have a bunch of guys who are pretty good.
Defensive Line: B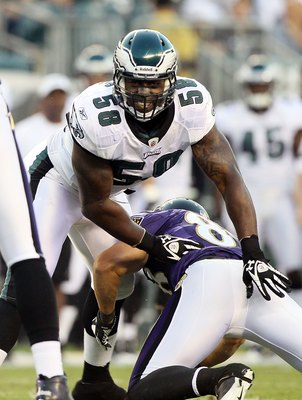 Jim McIsaac/Getty Images
Nine wide.
Get used to it, because that's what you're going to hear.
In short, it means the defensive line is going to have wider gaps between positions than normal and it will allow the ends to get up field and attack the quarterback more often than what we're used to.
It's resulted in the line pressuring the quarterback without the blitz, but it has exposed the linebackers because the line is weaker in the middle.
I'd like to blame the line for the play of the linebackers, but it's not right. They are getting pressure on the quarterback like they should.
My issue here is the line's play against the run. It got pushed around too easily against the Steelers, and it will be interesting to see how it plays against the Giants, Jets and Bears, because they also like to run the ball and wear a defensive line down.
The pass rush has exceeded expectations, while the rush defense has been subpar.
Linebackers: F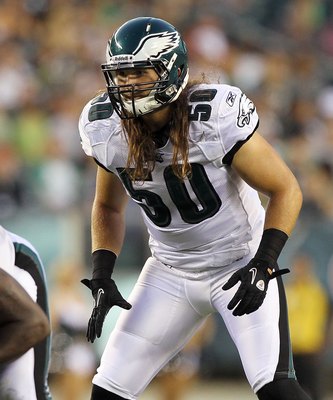 Jim McIsaac/Getty Images
Who is starting in the middle?
Who is starting weak side?
Who is starting strong side?
How a team can go this far through preseason without identifying any of those positions is beyond me.
They appear to be overwhelmed and too small. This sounds incredibly familiar, and a lot of the blame falls on someone else. But if the play is that bad, it gets an F.
I don't want to mention names.
Secondary: C-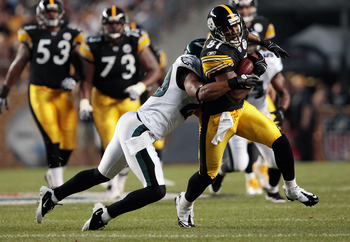 Weak.
Jared Wickerham/Getty Images
How can you have the best secondary in the league and get shredded by Ben friggin' Roethlisberger?
The guy is one of the best quarterbacks in the league, but he's not working with a great receiving corps compared to what the Eagles will see against other teams.
Asante Samuel can't tackle and he jumps too many routes.
Nate Allen's you-know-whats have not dropped, and he can't make a play when needed.
If you're the best secondary, then step up and make a play. Is this is a harsh judgement? You bet. But if you can't acknowledge how ordinary this secondary has been, you're clueless.
The secondary has to cover up each and every blemish of the line and linebackers.
So far, they haven't.
Keep Reading

Philadelphia Eagles: Like this team?