Denver Broncos: Tim Tebow Needs Mental Toughness to Make It in the NFL
August 21, 2011
If you ask people why they don't think Tim Tebow can be a starting NFL quarterback, they would immediately point to his physical ability.
Few would argue that point but after his recent—and very public—spat with ESPN football analyst Merrill Hoge, people will now question his mental toughness as well. 
Tebow was the darling of NCAA football in all his years as quarterback of a fantastic football program at Florida. He very rarely faced criticism for his on-the-field performance. The former Heisman Trophy winner did things the right way throughout his college career. 
That became debatable when his anti-abortion Super Bowl commercial aired, telling his very personal story to millions of viewers worldwide. Even then, Tebow handled the very controversial issue well, and it seemed the young QB could handle anything. 
So it's puzzling why such a measly criticism from an NFL analyst would get to Tebow the way it did. It didn't come close to garnering the negative press that the Super Bowl ad did, so naturally you would think he would brush Hoge's criticisms off without a problem. 
That was certainly not the case.
After Hoge's harsh, but very viable, criticisms came to light from his twitter, Tebow responded from his own account.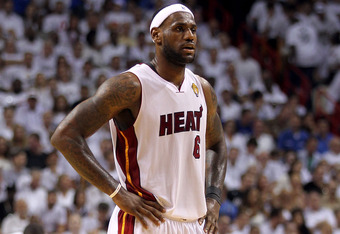 "Hey Merril...... 'ppreciate that," Tebow responded.
A very short, simple response that despite its length, said a lot about Tebow's mindset. It opened the door slightly to get a look at how Tebow deals with his critics. But it got worse when reporters asked Tebow about the situation during training camp. 
Tebow responded further, going in-depth about how he was used to being criticized by the media and how he pays them no mind. 
But that begs the question, if Tebow pays them no mind, why even respond to Hoge's realistic assessment of his game? Clearly, Clearly, they bothered Tebow greatly. If he wasn't, there would have been no point in responding to them, especially twice.
Enter LeBron James. No doubt one of the most controversial figures in sports since taking his talents to South Beach, James flew in to the rescue in order to defend Tebow.
"Listened to Merril Hoge today on SC and he was just blasting Tebow. The man hasn't even play a full season and it's only his 2nd year in," James wrote. "Guys get on that TV and act like they was all WORLD when they played. How bout encouraging him and wishing him the best instead of hating!!"
What Tebow and James don't understand is that it is the job of these talking heads on ESPN and other networks to give analysis. That is what Hoge did, and that is what he's paid to do. 
On top of their analysis, if they can be controversial and stoke the fire, that is an added bonus.  Blindly supporting athletes like James wants would seriously hurt the credibility of any analyst.  No doubt Tebow himself turned Hoge's comments into a media frenzy.
Tebow and James have another thing in common. They both don't deal with criticism well and for both, it won't get any easier from here on out. Specifically for Tebow in this instance, he has opened the floodgates for analysts to criticize him further, possibly seeking to get a rise out of him like Hoge was successful in doing. 
The bigger the controversy becomes, the more people will tune in.  More viewers, more ratings, more money.
The No. 1 rule as an athlete in the public spotlight is to never let the media see you sweat.  Often times, if you show sensitivity when being criticized as Tebow did, the media shark tank will be whipped into a frenzy. It's just like having an open wound when swimming with sharks. 
The media will sense it and attack.
Tebow has lodged further doubt into the minds of his skeptics, but it isn't just about his ability anymore. It's about his mental ability and toughness in regards to ignoring his critics and getting better despite them. 
Mental toughness is vital to being a successful QB in the NFL—just ask Ryan Leaf. After this, I have many doubts Tebow has what it takes mentally to be a starting QB in the NFL. 
What was once thought to be Tebow's strength, will now be thought of as just another weakness in Tebow's game.
FOLLOW ME ON TWITTER:  @michaelmoraitis