Chicago Bears' Jay Cutler Will Be an Elite NFL Quarterback
August 21, 2011
Chicago Bear's quarterback Jay Cutler is one of the most criticized players in the NFL. Ever since Jay Cutler has left the Denver Broncos, he has been unfairly chastised every time he turns a corner. 
Broncos fans hate him because he demanded a trade from Denver.  
Some Bears fans began to dislike him when he threw 26 interceptions his first season in Chicago. Which is far too many, but it is not cause to cast him aside as a bust.  
This season, the league hates him because he had to come out of the 2011 NFC Championship game against the eventual Super Bowl champions Green Bay Packers due to a knee injury.
This sparked the debate on weather or not Cutler is "soft" or not. This notion is absolutely ridiculous.
Jay Cutler has only missed one game in his career as a starter, played for an entire season with undiagnosed diabetes, and was sacked more than any other quarterback in 2010. I think it is safe to say that Cutler is anything but "soft".  
Some people have a problem with the way Cutler carries himself. He generally keeps a solemn disposition, which makes him look aloof or uninterested. For this reason, some people believe he is not a fierce competitor, but this could not be further from the truth.
If you ever see Cutler during games on the sidelines, he is vocal. (When I say during games I do not mean the two second intervals that Fox or ESPN show. I mean if you are at the game.) He is often cracking jokes when the Bears are winning, and trying to motivate teammates when the team is down. Jay Cutler is a leader.
The simple fact is Jay Cutler gets nowhere near the respect he deserves for what he has accomplished in his four years as a starter. Yes, it has only been four years since Jay Cutler has been a starting NFL quarterback.
People tend to forget that he is so young. I would like to show how well Jay Cutler has played in his short career compared to some of the elite quarterbacks of this era in their first four years.
Jay Cutler: 63 games (one missed), 84.3 QB rating, 14,963 passing yards, 95  touchdowns, 74 interceptions,  2,070 attempts. 
Peyton Manning: 64 games, 85.2 QB rating, 16,418 passing yards, 111 touchdowns, 81 interceptions, 2,226 attempts.
Brett Favre: 63 games (one missed), 86.9 QB rating, 14,825 passing yards, 108 touchdowns, 64 interceptions, 2,145 attempts.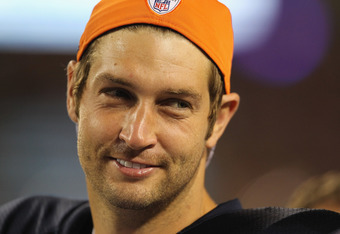 Drew Brees: 58 games (six missed) 85.7 QB rating, 12,127 passing yards, 79 touchdowns, 53 interceptions, 1,782 attempts. 
Tom Brady: 63 games (one missed) 87.7 QB rating, 13,919 passing yards, 97 touchdowns, 52 interceptions,  2,015 attempts.
These stats show just how close Jay Cutler is to some of the best quarterbacks in the last decade, and a few are arguably the best of all time.
This clearly shows how well Cutler has played and the talent level he possesses. Taking into account the poor offensive line play and poor receiving options, his numbers are even more impressive.  
Jay Cutler has shown extreme promise in his first four years as a starter. He struggled in his first year in Chicago, but he cut his interceptions by 10 from 2009 to 2010. 
According to Bears offensive coordinator Mike Martz, Cutler is doing more than just cutting back on his interceptions. He has used the lockout to work on his mechanics—his biggest weakness.
Martz said, "Technically, his footwork and his drops, I was kind of stunned...He's done an awful lot of work on his own this offseason [,and] watching him drop right now is textbook."
This improved footwork coupled with the improved offensive line should lead to a great season for Jay Cutler and the Chicago Bears.
Yes, he has some red-zone interception issues that need to be addressed, as well as some general turnover issues, but he has the ability to overcome this problems.  
In 2011, Jay Cutler will show the NFL his promising skills and prove that he is the most talented quarterback in the Chicago Bears historic franchise.
Follow me on Twitter: tothemax15