Colt McCoy: 10 Reasons Why He Is Different from Past Cleveland Quarterbacks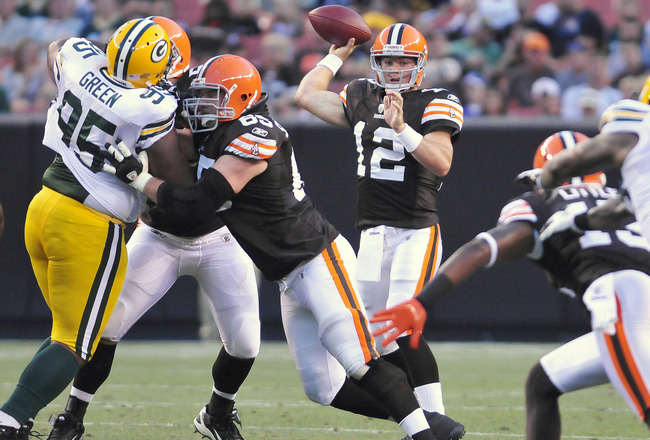 Jason Miller/Getty Images
Since the Cleveland Browns returned to the NFL in 1999, the quarterback position has been like a revolving door. Colt McCoy is the latest player that the Browns have invested in, crossing their fingers that he ends their quarterback conundrum.
We can only evaluate McCoy based on a handful of starts from last season, along with his performance in two preseason games so far this season.
In two preseason games against the Packers and Lions, McCoy has shown promise. The question is, can he maintain this level of performance? I believe he can, and here are 10 reasons why this quarterback differs from the numerous others who have failed at the position since 1999.
1. Leadership Qualities
Gregory Shamus/Getty Images
McCoy has proven that he has the ability to be a leader in the NFL. During the NFL lockout, McCoy organized offseason workouts with teammates to counter their inability to work with the team's coaching staff.
McCoy took the initiative and proved that he possesses the leadership qualities needed in a quarterback in this league.
2. Winning Pedigree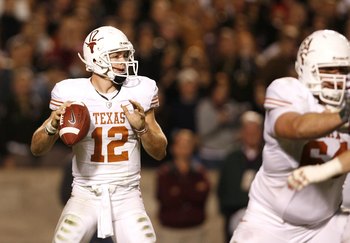 Aaron M. Sprecher/Getty Images
McCoy is a proven winner. McCoy enjoyed an illustrious career at Texas, which concluded with his Longhorns playing Alabama in the 2009 National Championship.
Although the Longhorns ultimately lost to Alabama, McCoy ended his career guiding the Longhorns to 45 wins, the most by a quarterback at the Division I level.
McCoy has flashed that same pedigree in Cleveland as well. He helped engineer upset victories against the Saints and Patriots last season. McCoy still has to prove he can do it on a consistent basis.
3. Does Not Have the Pressure of Being a First-Round Pick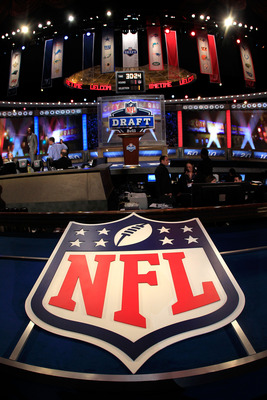 Chris Trotman/Getty Images
Unlike Tim Couch and Brady Quinn, McCoy was not a first-round draft choice. He did not get selected by the Browns until the third round, with many draft pundits pointing to his size and lack of arm strength as a reason for his low selection.
Couch and Quinn were first-round selections who were immediately named franchise quarterbacks. Every Browns fan is aware that neither performed at the level expected of them.
When team president Mike Holmgren and general manager Tom Heckert selected McCoy in the third round of their first draft in Cleveland, they thought they were selecting a quarterback that could eventually start a few years down the line.
Holmgren publicly stated that McCoy would not start last season unless injuries were a factor. As fate would have it, both starter Jake Delhomme and backup Seneca Wallace went down early in the season, forcing McCoy into action.
Although it would be disappointing for Browns fans if McCoy does not emerge as a franchise-caliber quarterback, we have to remember that he was a third-round selection. The failure of a third-rounder is much easier to overcome than the failure of a first-rounder.
4. Motivation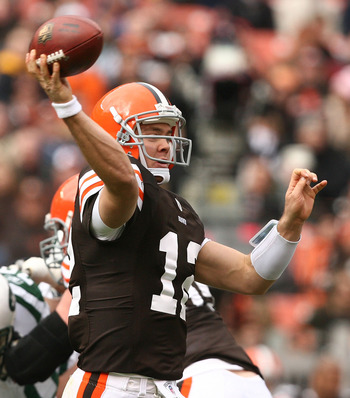 Matt Sullivan/Getty Images
There are many motivating factors for McCoy. As stated in the previous slide, McCoy was a third-round selection in last year's draft. Although he graduated from Texas with 45 career victories and other prestigious honors, many experts and teams were worried that he lacked the prototypical size and arm strength of an NFL quarterback.
One can assume that McCoy would like prove those who doubted him wrong.
5. Student of the Game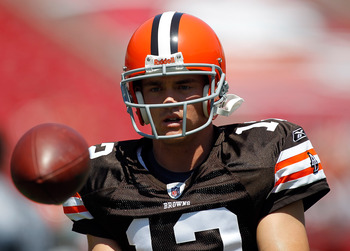 J. Meric/Getty Images
McCoy overcomes certain setbacks, such as his size and apparent lack of arm strength by having a high football IQ. McCoy is committed to studying film and improving his craft.
Also, McCoy sought the advice of Brett Favre during the offseason as he was unable to communicate with head coach Pat Shurmur.
Favre played under Holmgren in Green Bay and played in the West Coast offense for the majority of his career.
As a student of the game, McCoy is constantly absorbing information that will help him to succeed at this level.
6. Plays in a Scheme That Fits His Talents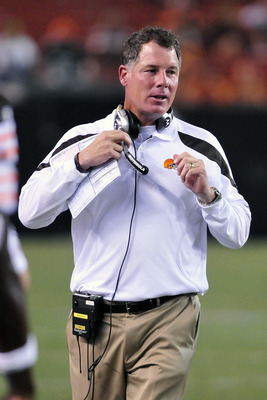 Jason Miller/Getty Images
During Mike Holmgren's coaching career, he won a Super Bowl in Green Bay with the West Coast offense. Now that he has assumed the position of team president in Cleveland, he is implementing the same system. With the hiring of Pat Shurmur, the Browns organization has a full commitment to the West Coast offense.
Colt McCoy has a chance to be very successful in the West Coast offense. While he may lack the arm strength that other NFL quarterbacks possess, he has incredible accuracy, which will serve him well.
The West Coast offense requires quarterbacks with pinpoint accuracy. Joe Montana did not have a rocket arm, but his accuracy allowed him to thrive in such an offense. Holmgren's Seattle Seahawks were guided to their first Super Bowl by Matt Hasselbeck, another quarterback whose accuracy exceeded his arm strength.
It is unfair to compare McCoy to either Montana or Hasselbeck (especially Montana). However, this offense places more emphasis on McCoy's strongest characteristics as a quarterback. Hopefully, he and the Browns are able to thrive in the West Coast offense.
7. Continues to Improve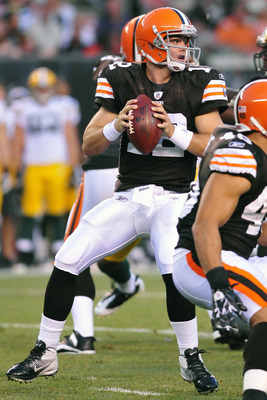 Jason Miller/Getty Images
McCoy has shown that he has the ability to learn from his mistakes. This training camp has been a strong indication of that. While he initially struggled during the first few days of camp, McCoy began to display more consistency as camp wore on.
As a rookie last year, he had a roller coaster season. He began the season as a third-string quarterback. Then, when he was given an opportunity to start, he displayed potential, but his inexperience was evident as well.
So far in training camp, McCoy has shown continuous improvement. Much of this can also be attributed to the fact that with each passing day he continues to familiarize himself with the new offense.
While he struggled initially in camp, McCoy has for the moment rested those lingering issues with two impressive performances in the preseason thus far, proving that he has the ability to learn from his mistakes.
8. Surrounded with Talent on Offense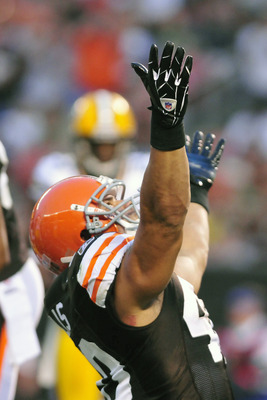 Jason Miller/Getty Images
McCoy has the help he needs in order to be successful as the starting quarterback. Many experts often refer to the phrase that a strong running game is a quarterback's best friend. McCoy certainly does not have to worry about who he is handing the ball off to. Last season, Peyton Hillis emerged as the physically imposing running back that the Browns have so desperately needed.
If he can still healthy, Montario Hardesty could team with Hillis to form a potentially strong backfield. This would lessen pressure for McCoy
McCoy also has a solid group of tight ends. Starter Ben Watson was the team's leading receiver last year. When healthy, Evan Moore is one of the team's most versatile players, and if the game against the Lions is any indication, Moore could be an excellent option for McCoy in the red zone. Jordan Cameron, the Browns' fourth-round pick in the 2011,draft, cannot be overlooked either.
While the wide receivers are young and inexperienced, there is certainly talent at the position. There is enough talent present to suggest that someone will emerge as the No. 1 receiver. The development of this group is vital to McCoy's success.
9. Good Offensive Line Protecting Him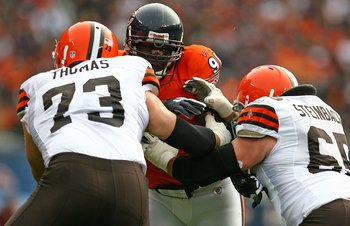 Jonathan Daniel/Getty Images
One of the main contributing factors to Tim Couch's struggles was the poor play of his offensive line. Couch took a beating early in his career as he played behind a mediocre offensive line. While this was not the only reason Couch struggled, it certainly did not help.
McCoy does not have that problem. The Browns have Pro Bowlers in left tackle Joe Thomas and center Alex Mack while left guard Eric Steinbach has been steady for the team since his arrival via free agency in 2007. If right guard Shawn Lauvao and right tackle Tony Pashos can solidify the right side, the Browns' offensive line has the potential to be one of the best in the NFL.
Having a strong offensive line (not just a strong left side) will make McCoy's life much easier.
10. Team Stability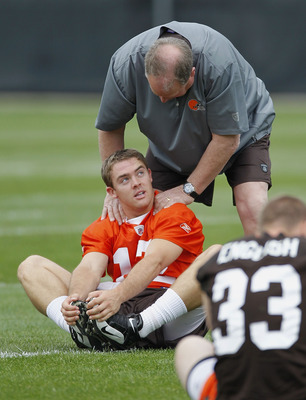 Gregory Shamus/Getty Images
With team president Mike Holmgren, general manager Tom Heckert, and head coach Pat Shurmur, the Browns are led by a group committed to one direct path. For the first time since the Browns returned to the NFL, there appears to be stability at all levels.
While Shurmur is a first-year head coach, he helped with the development of Sam Bradford and is an expert of the West Coast offense. He was not the biggest name in the coaching market, but he shares the same philosophy as Holmgren and Heckert (something Eric Mangini did not).
For past Cleveland quarterbacks, team stability was non-existent. Both Tim Couch and Brady Quinn were drafted by one regime, only to see it be replaced by another soon after.
McCoy has the support of a front office and coaching staff that is committed to building through the draft and winning long-term. While Shurmur is in his first year, he is the man Holmgren believes the Browns will win with.
Also, both Couch and Quinn were involved in quarterback controversies. By his fourth season, Couch was being pressured by Kelly Holcomb. After Holcomb performed brilliantly in the 2002 playoff loss in Pittsburgh, head coach Butch Davis opened up training camp in 2003 with a competition between the two for the starting position.
Brady Quinn had to sit behind Derek Anderson before getting his opportunity. This included a 2009 quarterback competition that led to a carousel at the position during the season.
Holmgren, Heckert, and Shurmur have all publicly declared their support of McCoy. While Seneca Wallace was brought back, it was clearly indicated that McCoy was the starter. The confidence of his superiors should alleviate pressure from McCoy.
Conclusion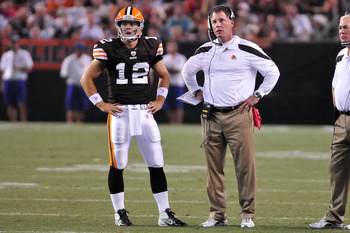 Jason Miller/Getty Images
All the factors mentioned, along with others, suggest that McCoy is in a much better situation to succeed than the Cleveland quarterbacks of the past. While Tim Couch, Brady Quinn, and others did display some of the qualities necessary to succeed, they were ultimately unable to do so.
Colt McCoy has only started a handful of games. He has looked impressive this preseason and his performance should have Browns fans feeling optimistic. However, we cannot evaluate whether or not he is the franchise quarterback for the Browns at this point.
Even if McCoy has a good season and Holmgren and company commit to him long-term, that does not guarantee that the Browns' search for a franchise quarterback is over. Tim Couch had an encouraging rookie season, throwing more touchdown passes than interceptions with little help around him. Derek Anderson was a Pro Bowler for the team in 2007. Both players flamed out as starters for the team.
The mark of a franchise quarterback is one who brings stability to the position for years. A good season from McCoy cannot be enough to warrant that title. Let us be fair to McCoy. Enjoy the progress that he is showing. He still has much to learn; he's only entering his second season with very few starts in this league.
Before we decide whether he's the next Bernie Kosar, or the next Tim Couch, he must be given a chance. I believe he is in a better situation than Couch, Quinn, Anderson, and the other quarterbacks that the Browns have placed their hopes with.
For now, let's just enjoy the potential that the Browns (and McCoy) have shown so far. The Browns have a bright future.
Keep Reading

Cleveland Browns: Like this team?