Cardinals vs. Packers Preseason Week 2: Big Night for Chastin West
August 20, 2011
Green Bay Packers wide receiver Chastin West ran right past his former Fresno State teammate and Arizona Cardinals cornerback Desia Dunn. He caught a Matt Flynn-thrown pass in stride and ran all the way towards his first Lambeau Leap. 
The undrafted wide receiver caught the 97-yard touchdown pass to open the fourth quarter of the Packers' second preseason game against he Arizona Cardinals. His touchdown catch proved to be the winning score in a meaningless game. But West's touchdown and breakout performance in the fourth quarter may have earned him a job. 
West has made it extremely difficult for the Packers to have to potentially cut him. If the Packers decide to keep only five wide receivers and West is cut, it is very unlikely following tonight's game that West would clear waivers and end up back on the Packers practice squad. 
West knows the system very well as he spent last season on the practice squad. He has made the most of his time in training camp so far impressing Packers coaches. 
Against the Cleveland Browns, West was out shined by other receivers trying to make the team, but his performance against the Cardinals was the best performance by a wide receiver thus far in the preseason. He finished the game with five catches for 134 yards and the score.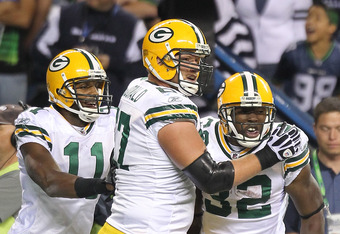 The major highlight of the game, West's long touchdown catch, was just a piece of his brilliant fourth quarter. He entered the quarter with two catches. One for one yard and the other for seven yards. In the fourth quarter, in addition to the 97-yard reception, West brought in passes of 10 yards and 19 yards.
In his postgame press conference, head coach Mike McCarthy spoke on West when asked about the camp West was having and his opinion on West's future.
"I think Chastin's having a good camp. He was in the league last year, so I wouldn't have any reason to think he wouldn't be in this year" McCarthy said. "That will definitely help him."
Whether it helps him make the Packers or another team in the NFL is unclear, but what is clear is that if West can build on this momentum, he is on his way towards making a team this season. He needs to string together more productive practices and follow up with another successful performance against the Indianapolis Colts. 
West understands that this opportunity is an audition for all 32 teams, but if he has his choice, he would love to stay in Green Bay. He responded to questions regarding his future following Friday's game.
"It's a great organization here. It's only my first organization," West stated, "but I have a lot of friends on other teams and I try to compare what they do to here and it's no question that this one of the best organizations in the league." 
West drastically improved his chances of making the team and could have a bright future if he remains with the Packers. With Jordy Nelson potentially leaving after next season and Donald Driver in his last few seasons, West could have some time to develop and become a quality football player for the...Packers.