Carolina Panthers: Winner of the QB Competition? It's a Tie
August 20, 2011
Head coach Ron Rivera hit his first speed bump tonight.
After debuting with a 20-10 win against the Giants last week, the score remained the same tonight in Miami, but the result was much different.
The first-team defense was a far cry from last week's squad that halted Eli Manning and company, while the first-team offense couldn't convert a single third down from what little action they saw.
Making matters worse was Ron Rivera saying that he would name the starting quarterback for next month's regular season opener at Arizona before next week's game at Cincinnati. With Cam Newton starting tonight, Rivera will have had a look at both him and Jimmy Clausen under center with the first team.
It remains to be seen whether a decision will actually be made next week, but let's over-speculate: from what we've seen the past two games, who won the job?
In my opinion, it's actually a three-way tie with Newton, Clausen, and the veteran Derek Anderson. 
Both Clausen and Newton showed flashes of starting potential against the Giants. Clausen came back from a pick-six (and a stadium full of boos) to lead the Panthers down the field and hit Greg Olsen in the end zone. I'll admit that part of me wanted to see Clausen completely tank, but the fact that he was able to come back and lead a scoring drive takes serious composure.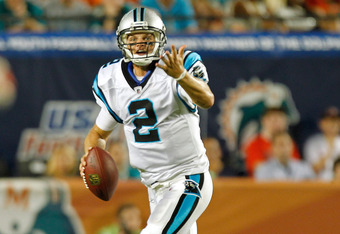 Newton didn't throw a touchdown, but looked good for a rookie quarterback with less than two weeks of practice. His deep passes to Greg Olsen and Armanti Edwards sent Panther fans everywhere running for the anointing oil. I gave Cam the edge after Game 1.
Tonight, Newton got his chance to run with the first-team and produced mixed results. His completion percentage increase from 42 percent to 50 percent, but he failed to lead a scoring drive and only completed one pass to a wide receiver (a two-yard screen to Armanti Edwards). 
He's developed a good rapport with the tight ends, but he clearly needs more reps with the first-team receivers. Newton's performance left the door open for Clausen to make the better impression, but his night was similar to Newton's: mistake-free but not enough to outright win the job.
It should also be mentioned that the team's two best wideouts (Steve Smith and David Gettis) have yet to play. Gettis is already out for the season.
At this point, choosing who starts the season opener is ideological. 
If you're of the belief that the No. 1 draft pick isn't meant to ride the bench, then Cam Newton is your guy. If you think that the starter remains the starter until his is outperformed, then say hello to Jimmy Clausen. Or if you aren't satisfied with the aforementioned choices and favor the veteran who has thrived in this offense before, then you want Derek Andersen. 
Anderson didn't get any playing time tonight, but I'd like to see him get a few snaps with the starters next week against Cincinnati.
I don't envy Ron Rivera and the Panthers' coaching staff right now. They'll sit down in the coming days and decide whether they have seen enough to name a starter or need another game or two.
The original plan was for Week 3 of the preseason to be a "mock" regular-season week, but there are still plenty of questions yet to be answered under center.