Why the New York Jets Are Inferior to the New England Patriots, Part 1
August 19, 2011
After the 2010-2011 season ended for the Patriots with bitter defeat against rival New York Jets, New England restructured their squad through the draft and free agency.
In the draft, the Patriots drafted complementary running backs Stevan Ridley (power) and Shane Vereen (quickness), and also addressed their need for depth at offensive tackle with the addition of Nate Solder.
The Patriots added mammoth defensive linemen such as Albert Haynesworth and Shaun Ellis, while bringing in proven pass rushers Andre Carter and Mark Anderson.
The Patriots' plan to add solid veterans who were at career lows in terms of value culminated with the addition of WR Chad Ochocinco.
With the somewhat controversial decisions, fans asked the inherent question: Will the Patriots have locker-room issues?
After about three weeks with their new team, guys previously deemed lazy have been praised for their work-ethic and passion. On Sunday, Brady praised Ochocinco: "...  he's really finding a role for himself. He's been practicing hard. He's very competitive."
The biggest question for the Patriots now is whether or not they'll be able to defeat the New York Jets, a team they'll inevitably face in the regular season and a potential postseason matchup.
Last year, it was the head-to-head game that decided the result of each team's season, so let's look at the head-to-headmatchups.
Position-by-position, the Jets fail to stack up. Obviously the Jets have some great talent, but what they have in talent they lack in depth.
Quarterbacks
Last season, Mark Sanchez had a passer rating of 75.3 with a completion percentage of 54.8. Those are obscenely low values for a quarterback deemed as the franchise's "savior".
Tom Brady on the other hand, was the unanimous MVP, throwing 36 touchdowns to just four interceptions. With the best touchdown to interception ratio the NFL had ever seen, Brady's efficiency was unprecedented.
However, Mark Sanchez seems to have reasonable success against New England over his past two seasons, with the obvious exception being the 45-3 shelling of New York last year. Why does Sanchez find ways to beat New England when the two teams play?
Three reasons: His wide receivers get open for him, his running backs put pressure on the Patriot front seven, and New England seems unable to generate any significant pass rush.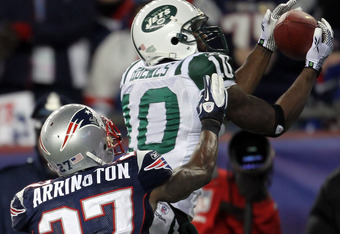 This year, the Patriots will have Leigh Bodden returning from a shoulder injury, providing New England with a significant upgrade in the defensive backfield. With a stronger, more experienced secondary, Jet receivers may find themselves struggling.
On the defensive line, with the Patriot free agent acquisitions, Sanchez will see a far more consistent and physical pass rush, while New York will find it more difficult to run it up the gut of a 4-3 defense.
Edge: Patriots. Tom Brady is elite, and Mark Sanchez will find the new-look Patriots defense far more formidable than the 2010 group.
Offensive Line:
The Jets offensive line is anchored by All-Pro center Nick Mangold, who is deservedly considered part of the NFL's elite.
D'Brickashaw Fergusen has developed into a very consistent offensive tackle, and the two set the tone for a very physical front-five.
The Patriots offensive line, however, is unbelievably versatile. Logan Mankins is the star of the group, while right tackle Sebastian Vollmer has cemented himself as a long-term offensive tackle, as he has been a rock for two seasons. Throw in the vocal center Dan Koppen and experienced left tackle Matt Light, and New England's offensive line will look to have another very successful season.
However, it's almost useless to compare two offensive lines to each other, but an offensive line's strength can vary based on defensive matchups.
For instance, a group of 320 pounders would suffer from the speedy Indianapolis defensive front, while that same group would find great success against the physical Baltimore Ravens front seven.
With that being said, it's hard to give New England an edge after the debacle they suffered in the playoffs last year. The Jets completely outmatched the Patriots offensive line, while New York's line shut down New England's front seven.
The Jets have proven that they can beat New England's offensive line, while the Pats have yet to find consistent success against New York's big men.
Edge: Jets. They have shown no signs of weakness against New England.
Running Backs:
Many fans might initially consider this an easy Jets victory, but what these fans fail to realize is the immense versatility the Patriots have in their backfield. From the extremely quick Danny Woodhead to BenJarvus Green-Ellis, arguably one of the purest downhill runners in the game, the Pats have a mix of power and speed.
Rookies Shane Vereen and Stevan Ridley will add to the versatile group, and Ridley (with the exception of his fumble against the Buccaneers) has looked extremely viable in his first two preseason appearances.
The Jets have the aging LaDainian Tomlinson, and the still unproven Shonn Greene. After seeing his numbers decline from 2006-2009, Tomlinson had a bounce-back 2010 with 914 yards and six TDs, but we've seen aging running backs have one great year before fading into obscurity (Corey Dillon).
Shonn Greene has the speed, power, and quickness to do whatever he wants with the ball. The Jets hope that he can finally become the primary back they expect he can be after in 2010, when compiled just 766 yards of rushing.
Not to be lost among the RB's is full back John Conner, aka the Terminator. The guy is a wrecking ball, and his ability to clear the path for backs is vital for the Jets' physical nature when running the ball.
Edge: Wash. The Patriots have unprecedented versatility through their running-back-by-committee approach, while the Jets feature an aging star and a young back who will look to find success.
Wide Receivers:
The Patriots have Chad Ochocinco, Wes Welker, and Deion Branch as their presumed top-three. The Jets have Santonio Holmes, Plaxico Burress, and Derrick Mason. Plaxico is still having problems with his damaged ankle, while Derrick Mason's age is enough of a factor to have significantly slowed him down.
Over the past four years, Mason has seen his reception numbers drop since 2007. After his 103 catch 2007 campaign, he totaled only 80 catches in 2008, 73 in 2009, and 61 in 2010.
Santonio Holmes is an exclamation point in a receiving group otherwise filled with question marks.
New England, on the other hand, has the best slot receiver in the game (Wes Welker) who will look to return to his 2007-2009 form, pre-ACL tear. As a third receiver, New England features an experienced veteran and extremely precise route-runner in Deion Branch.
Last year, Welker had 86 catches in just 15 games while returning from severe knee surgery.
Branch, after joining the Patriots (11 games), had 48 catches, five touchdowns and 706 yards of receiving.
Ochocinco was elite in his heydays with Cincinnati, and is a great medium-length (13-20 yards) route runner. With Tom Brady's unbelievable accuracy, especially on underneath routes, Chad will be a weapon. In terms of depth, the Patriots and Jets both have unproven back ups, and it is always dangerous to speculate on young receivers.
Edge: Patriots. Too much depth and talent to ignore, plus the addition of Ochocinco and the introduction of a viable running game will certainly add to the receivers' success.
Tight Ends:
The Patriots have an elite, young group of tight ends. Both Rob Gronkowski and Aaron Hernandez are mismatch nightmares. Gronk's power and size makes him a physical linebacker with safety speed.  While Hernandez's speed is similar to that of a wide receiver, his size is similar to that of a strong safety. Last year, the two combined for over 1,100 yards receiving, 87 receptions, and 16 touchdowns.
Rookie tight end Lee Smith is an NFL ready tight end because of his blocking ability, as he will be called upon as a sixth lineman this season.
The Jets have Dustin Keller who is no doubt a major weapon, along with second year tight end Jeff Cumberland, who still needs to make a name for himself. Keller had 55 catches for 687 yards year, but that wasn't nearly the level of production seen from Hernandez and Gronkowski.
Edge: Patriots. For a long time to come, the Patriots will have significant threats in the form of tight ends.
Okay, so after going through the offense, it's safe to say that New England's will be stronger. As a Jets fan, however, one can point at the defense and say that that is where the team's real strength is, all while being 100% correct. Part 2 will compare the two teams' defenses, and we'll see how they actually match up!
This Patriots-Jets Analysis was originally featured on New England Sports Online.
Liked this? Follow me on twitter @neso17