Future of the NFL: All Pro Under 25 Team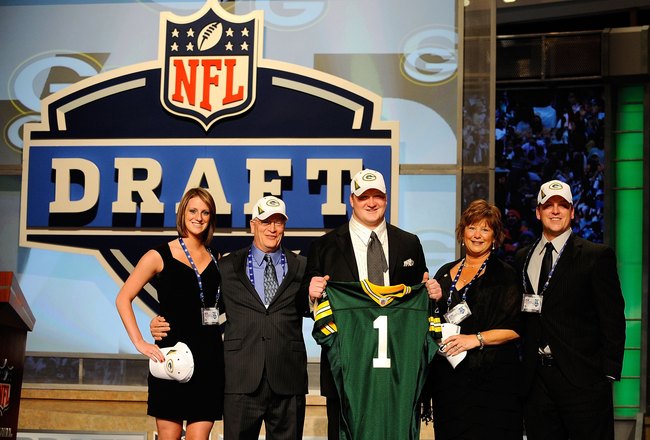 Jeff Zelevansky/Getty Images
I read an article recently about 25 players under 25 years old. I got to thinking, "What if I built an all star team of players under 25?"
So I did.
Here are my guidelines for how I picked them:
The offense would be a standard two running back, one tight end set. The defense would be a 3-4 base to showcase the linebacking talent of this age group.
That said, here is my team.
Quarterback: Sam Bradford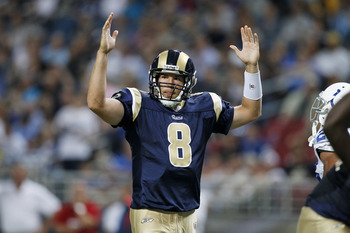 Joe Robbins/Getty Images
At age 23, Sam Bradford quickly showed how great he is going to be. He possesses prototypical size (6'4" 228) which makes him durable and without many weapons, he was able to put up over 3,500 yards and 18 touchdowns while leading the St. Louis Rams one win from a playoff berth. What's even more impressive is that he was able to turn around a franchise that was 1-15 the year before to 7-9 last year. His leadership on this team is unquestioned.
Second String: Josh Freeman. This isn't a knock on Freeman placing him in the second spot. I just like Bradfords ability to lead more. Freeman had a ridiculous season where he posted 25 touchdowns to only 6 interceptions, while leading the Tampa Bay Buccaneers to within a tie breaker of the playoffs.
Running Back: LeSean McCoy, Rashard Mendenhall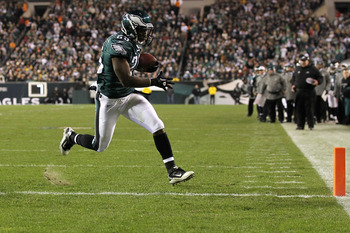 Al Bello/Getty Images
LeSean McCoy is only 22, and has the speed and agility to be a big time back in the NFL. Posting over 1,000 yards and 7 touchdowns last season, McCoy also has big time receiving ability out of the backfield, making him a dual threat much to the mold of LaDanian Tomlinson. (yes I said it)
Second String: Rashard Mendenhall, Pittsburgh Steelers. Mendenhall was a huge part of Pittsburgh's success last season. Putting up big time numbers (1,273 yards and 13 touchdowns), Mendenhall has the speed and strength needed to succeed in the NFL. A 1-2 punch of McCoy and Mendenhall would be devastating for opposing defenses.
Honorable Mention:
Wide Receiver: Mike Wallace, Hakeem Nicks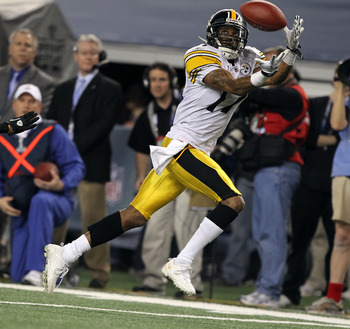 Al Bello/Getty Images
His 4.29 speed isn't the only thing he's got going for him. Mike Wallace has quickly developed into one of the most consistent and electrifying performers at his position. Any time he touches the ball it could go for a score as evidenced by his 21.0 yard per catch average last season. Being able to stretch the field but also run the slant routes over the middle is what makes Wallace this teams number one receiver.
Number Two, Hakeem Nicks, New York Giants. Many will disagree with my selection of Nicks over Desean Jackson. Jackson's size isn't ideal and he tends to be a one trick pony. As for Nicks, he and Wallace have similar stature and both have great hands to go along with speed. Both of these guys can go over the middle, or burn you long.
Honorable Mention:
Tight End: Jermichael Finley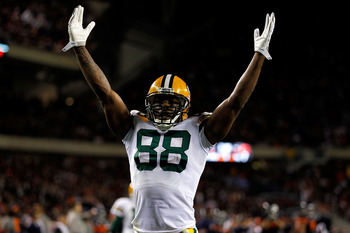 Jonathan Daniel/Getty Images
Jermichael Finley is only 24 years old and has already become one of the leagues premiere pass catching tight ends. Blessed with great size and hands, Finley can block and can catch, which in today's NFL are the blend you need to succeed.
Honorable Mention:
Left Tackle: Ryan Clady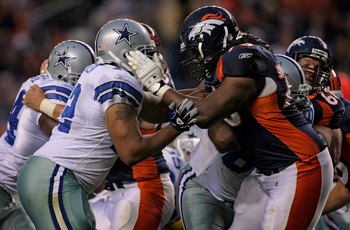 Doug Pensinger/Getty Images
At 24 years old, if Ryan Clady isn't already the best blind side protector in the NFL, he sure has the potential to be. With the uncanny blend of size, strength and quickness not usually seen in young players, Clady has proved his worth since day one.
In this offense, Bradford will not need to worry about his blindside one bit.
Left Guard: Mike Iupati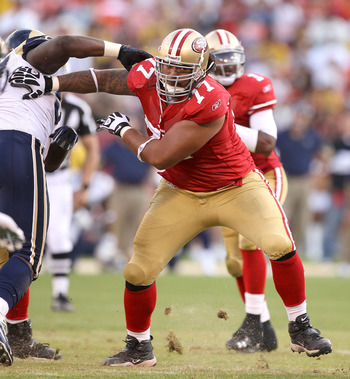 Ezra Shaw/Getty Images
The dude has farm strength. Critics questioned his lack of playing top notch talent, and Iupati responded with incredible quickness and a mauling style of play that made him the 49ers first round pick.
Center: Maurkice Pouncey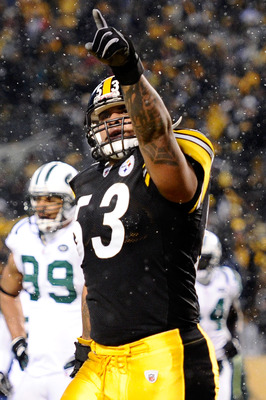 Karl Walter/Getty Images
There are certain players that step onto the football field, and you just know. You just know that their career is going to be filled with success and they have something special. When looking at Maurkice Pouncey, you just knew that he has "it". At 21 years old, Pouncey became one of the leagues premiere centers and held down a Pittsburgh Steelers offensive line that has been lackluster at best over the past few seasons.
You cant say this many times about a center, but if you get a chance to watch the Steelers, keep an eye open for Pouncey.
Right Guard: Josh Sitton
Jonathan Daniel/Getty Images
This was one of the hardest positions to pick from due to the lack of players under 25 that make an impact. Josh Sitton reminds me of Justin Strzelczyk, not just for the way he looks but by that brute strength and raw power. Give this guy a couple years and he could be elite.
Right Tackle: Jason Smith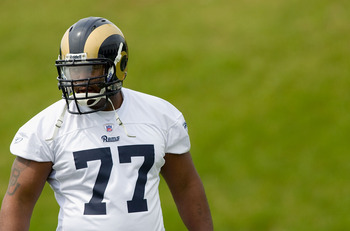 Dilip Vishwanat/Getty Images
Another tough position to have someone elite and under 25. Jason Smith was supposed to be the Rams franchise left tackle, but has lost the job. So the Rams moved him to the right side where he has shown promise. One of the most highly touted tackles in recent draft memory, Smith has the physical tools as well as the smarts to hold down either tackle position.
Right Defensive End: Charles Johnson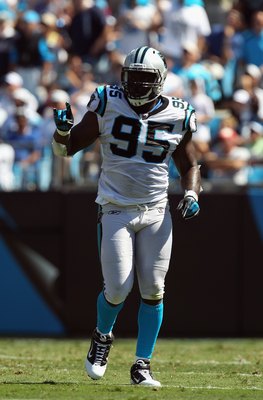 Streeter Lecka/Getty Images
This is another tough position to pick. Charles Johnson may be the only semi-elite, under 25, defensive end in the league. Mario Williams is 26. Dwight Freeney is 31. And Justin Tuck is 28. That being said, Johnson is no slouch, and he helped Panthers fans forget about Julius Peppers (ok, maybe not but it sounded good). He racked up 11.5 sacks last year on a pitiful Panthers defense. Look for Johnson to continue his attack on quarterbacks into the future.
Defensive Tackle: Ndamukong Suh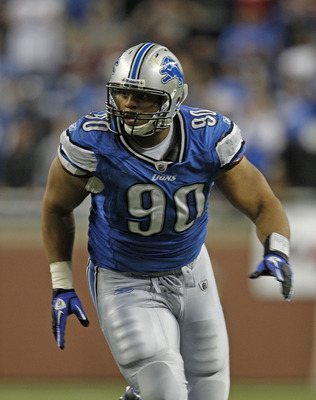 Leon Halip/Getty Images
I'm actually scared to see what this Ndamukong Suh will do once his man strength kicks in. Suh is only 24 years old and in his rookie season gained All Pro honors. His ability to literally push the pocket and take on double and sometimes triple teams is remarkable. He may be the best player on this team. Don't mistake Suh as just a pocket pusher either. He was able to accrue 10 sacks as well, making him a legitimate pass rushing threat.
Oh, and dont forget he can kick too!
Left Defensive End: Carlos Dunlap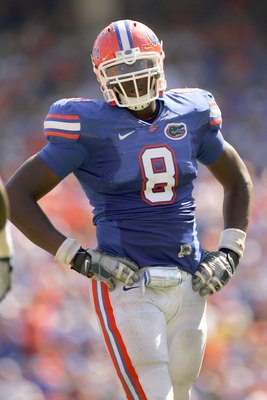 Sam Greenwood/Getty Images
A mammoth defensive end, Carlos Dunlap is the only bright spot on a lackluster Bengals team. 9.5 sacks last year as a rookie, and on a terrible team, he should definitely step up his game a little more this year and get to that next level.
Right Outside Linebacker: Clay Matthews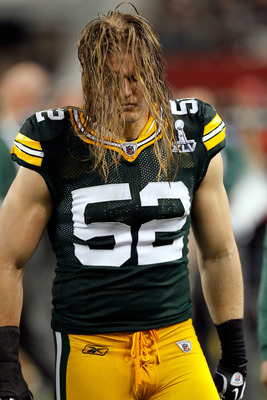 Kevin C. Cox/Getty Images
The hair says it all. Clay Matthews has super human abilities, like Samson, from his hair. Ok, not really, but honestly I don't have to speak for Matthews, his play speaks for itself.
If you disagree with this selection, you best have a darn good reason.
Right Inside Linebacker: Lawrence Timmons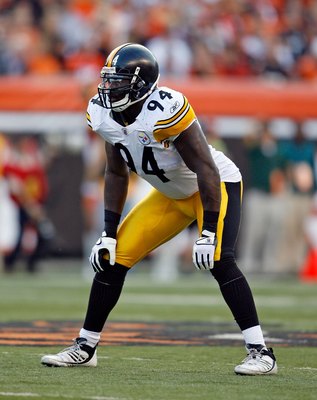 Andy Lyons/Getty Images
When your middle linebacker can run a 4.3 40-yard dash, and can lead the best defense in football in tackles, you know you have someone special.
He came on a little slow in his NFL career due to the switch he made from 4-3 outside linebacker to a 3-4 inside linebacker, but he now has shown that he can breakdown and diagnose plays as they are unfolding, and if he diagnoses incorrectly, he has the speed to make up for it.
Watch out for Timmons to have a huge year again this year.
Left Inside Linebacker: Jerod Mayo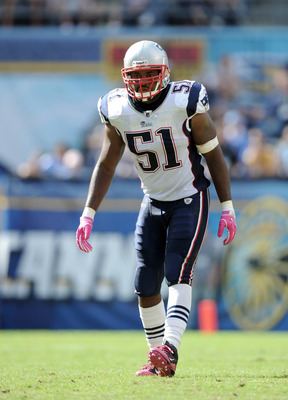 Harry How/Getty Images
Jerod Mayo has swiftly become the best inside linebacker in football. Recording over 400 tackles in three seasons, including 175 tackles last year, its easy to see that he is one of the positions bright shining stars.
The combination of Mayo and Timmons is a nightmare for opposing offenses. Speed, intelligence and pure athletic ability from the linebacker position. Don't think about anything over the middle.
Left Outside Linebacker: Brian Orakpo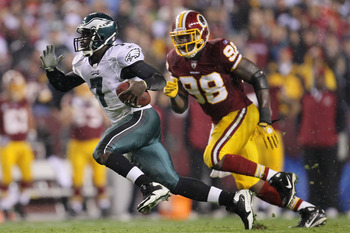 Chris McGrath/Getty Images
In just his second year, Brian Orakpo has already made to Pro Bowls. Orakpo followed his rookie season with good sophomore season. He had 8.5 sacks, 1 forced fumble, and 56 tackles. He will make his second trip to the Pro Bowl replacing Clay Matthews. Orakpo was in the top 3 in receiving holding calls, further reducing his sack total. Look for many more big years to come out of this 25 year old.
Cornerback: Devin McCourty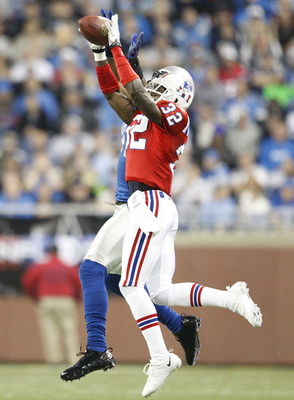 Leon Halip/Getty Images
Devin McCourty busted onto the scene in a big way. As a rookie for the New England Patriots, he racked up 82 tackles, seven interceptions, one sack, two forced fumbles and 17 passes defensed. McCourty has the tools to make plays for years to come.
Cornerback: Joe Haden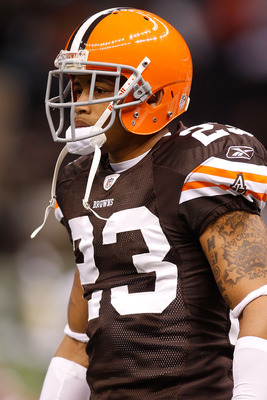 Chris Graythen/Getty Images
Joe Haden was a top 10 pick, and that means he plays on a bad team. A very aggressive corner with good instinct, Haden recorded six interceptions in his first season. Rarely did he look lost, and he will definitely progress into an elite talent over his career.
Free Safety: Jairus Byrd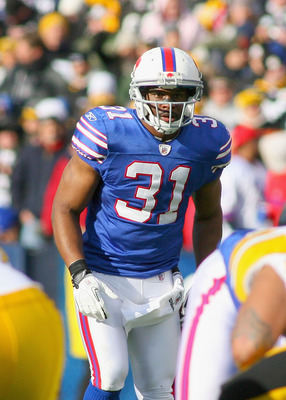 Rick Stewart/Getty Images
Jairus Byrd straight killed it in his rookie year with nine picks. Unfortunately his play dropped off in his second year. Nonetheless, he plays on a bad team and he can't be expected to do it all.
Look for Byrd to rebound this year and have another big year.
Honorable Mention: Earl Thomas, Seattle Seahawks
Strong Safety: Eric Berry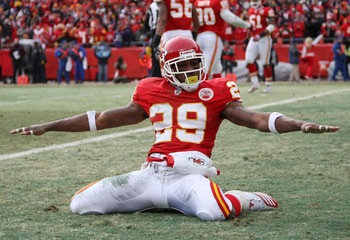 Doug Pensinger/Getty Images
One of my favorite young players, Eric Berry took the NFL by storm. A Pro Bowl appearance his first season in the league and four interceptions was only part of the impact he made.
His hard hitting style and penchant for the ball make him the ultimate safety.
The Debate: Fans Discussion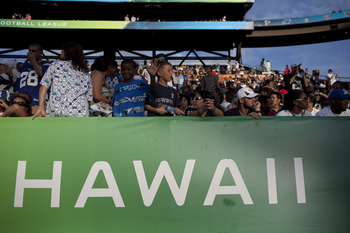 Kent Nishimura/Getty Images
Discuss! Who do you think belongs where? Are there any players I forgot? Who will be the next rising All Star?
To see more articles like this, follow me on twitter @vincenzolandino or @mysteelernation. Check out my all Steelers, all-the-time, only Steelers fans website www.mysteelernation.com
Keep Reading

Pittsburgh Steelers: Like this team?