Chicago Bears Insider: Looking at the Top Quarterbacks in Bears History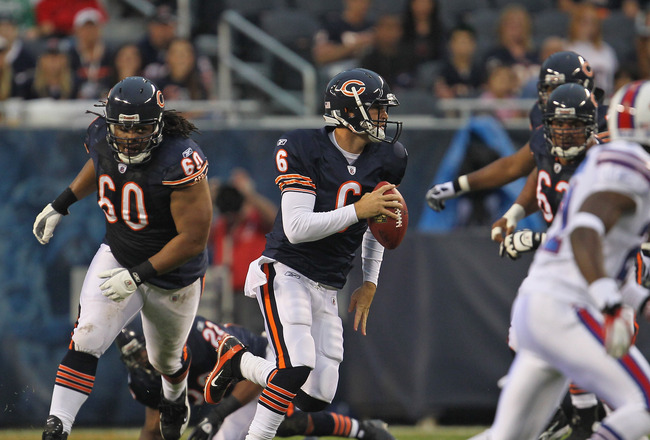 Jonathan Daniel/Getty Images
The Bears are not known as having ever been a quarterback driven team.
Their history has been centered on defense and the running game. If you have been a Bears quarterback your job has been to basically hand the ball off and not give the game away. It was just recently (with the acquisition of Jay Cutler) that the Bears went ahead and started to have the quarterback try to win games on his own.
There have been many quarterbacks in Bear's history but there are only a few that could be considered for this top ten list. So sit back and take a look at the top ten quarterbacks in Chicago Bears history.
Note: This list is in no particular order.
Erik Kramer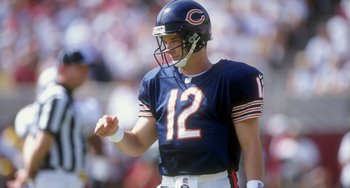 Aubrey Washington/Getty Images
Kramer came to Chicago in 1994 and for a short period of time (just five seasons) Kramer became one of the best quarterbacks in Chicago Bears history. He currently holds the record for the highest passer rating in the team's history at 80.7 and also has single season records for passing yards, attempts, touchdowns and completions.
He ended his time in Chicago after the 1997 season and after a short go around with the San Diego Chargers he retired from the NFL.
Sid Luckman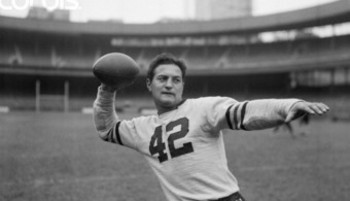 There are some Bears fans that feel that Luckman is the best quarterback in Bear's history. He played with the Bears from 1939 to 1950 and was a prize catch for then head coach George Halas back in the late 30's. Halas had to do a lot of convincing to get him to Chicago. Luckman helped the Bears perfect the T-Formation which helped lead them to success during the time that Luckman played in Chicago.
Luckman helped lead the Bears to their famed 73-0 victory over the Giants in the NFL's most lopsided victory ever. Luckman ended up passing for a total of 14,686 yards, 137 touchdowns and a 51.8 completion percentage. He has the best career rate of passes thrown for touchdowns at 7.9 percent.
Luckman, along with the Bears at that time, was a winner and could end up remaining the best quarterback in Bears history for several years to come.
Rex Grossman
Kevin C. Cox/Getty Images
I know that there are going to be many Bear's fans out there that question putting Grossman on this list. But there is no doubt that he was one of the better quarterbacks, statistically, in Chicago Bear's history. Grossman helped lead the Bears to the Super Bowl and put up some nice numbers in the process. He can't be counted out when it comes to making this list.
Grossman came to the Bears as a first-round pick back in the 2003 draft and the Bears had hopes that he could be a starter in the long run. The Bears ended up sitting him for most of his first season. He was anointed as the starter during the 2004 season, but missed the better part of it after injuring his knee. Then he missed a great part of the 2005 season after breaking his ankle during the preseason.
Although he didn't play spectacular in the Bear's 2006 season, he was effective and helped lead them to the Super Bowl. After that, it was all down hill for Grossman as he ended up losing his starting job to Kyle Orton. He was released from the team in 2008.
Jim McMahon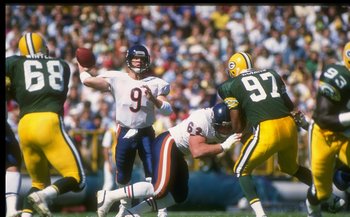 Jonathan Daniel/Getty Images
No list of Bears top quarterbacks would be complete without Jim McMahon.
McMahon came to the Bears as a first-round draft pick in the 1982 NFL draft. He struggled at first to gain the respect of his coaches and owner George Halas. The coaching staff ended up starting McMahon in his rookie season and he almost took the Bears to the playoffs.
McMahon helped guide the Bears to a Super Bowl win during the 1985-1986 season and then it seemed like it all went down hill from there. Already an injury risk, McMahon suffered from several injuries after that Super Bowl season that eventually led to his decline. The Bears coaching staff, in particular Ditka, became frustrated with him and he was traded to the San Diego Chargers in 1989. He spent time with the Chargers, the Eagles, Vikings, Cardinals, Browns and Packers.
Jim Harbaugh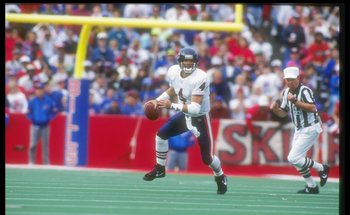 Rick Stewart/Getty Images
After McMahon, the Bears decided to go with Jim Harbaugh as their quarterback for several seasons (from 1987 to 1993). HE managed to have a career high in passing yards (3121) with the Bears during the 1991 season. Bears fans may remember Harbaugh starting his career out covering punts and kickoffs on special teams before finally getting into the starting quarterback role.
After playing with the Bears, Harbaugh played for the Colts, Ravens, Chargers, Lions and the Panthers.
He is now the head coach of the San Francisco 49ers.
Bobby Douglass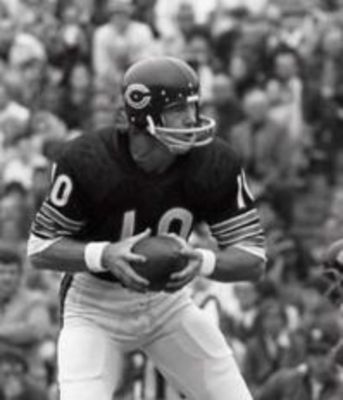 While Douglass may not have been with the Bears that long (he played in Chicago from 1969 to 1975) but he had an impact on the team while he was there. Douglass set the record for the most rushing yards by a quarterback in 1972 with 968 yards (this was in a 14 game season). That record has since been broken.
Douglass ended up playing with the San Diego Chargers, New Orleans Saints, Oakland Raiders and the Green Bay Packers.
Douglass has run into trouble with the law over the past few years but remains one of the most recognizable quarterbacks in Bears history.
Billy Wade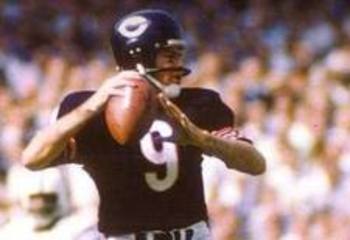 Wade played for the Bears from 1961 to 1966 after playing for the Los Angeles Rams from 1954 to 1960. During his career with Chicago, Wade was selected to the Pro Bowl in 1963 and was named an All Pro in 1962 and 1963.
Wade is known for helping the Bears get to the 1963 World Championship and win it. He may not have racked up the biggest numbers in Bears history, but he still remains a Bears fan favorite.
George Blanda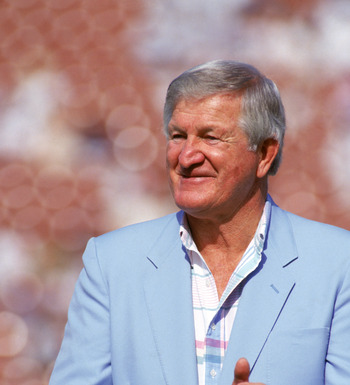 George Rose/Getty Images
Blanda was with the Bears to start his NFL career in 1949 and then, after a one year stint with the Baltimore Colts, he returned to Chicago to play with the Bears from 1950 to 1958. Blanda not only played quarterback for the Bears but he also kicked and played linebacker.
During his second stint with the Bears, Blanda became much more entrenched as the starting quarterback and that's where he made his mark.
The relationship between Blanda and owner George Halas soured and he was sent on his way to play with the Houston Oilers. Blanda also spent time with Oakland Raiders.
Blanda, a Hall of Famer, passed away last year at the age of 83.
Jack Concannon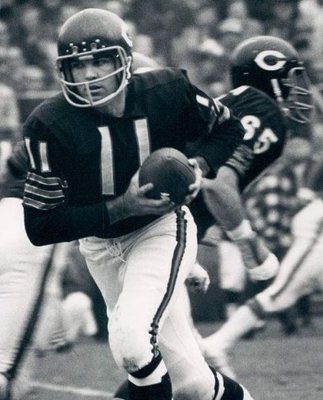 Concannon was a member of the Bears from 1967 to 1971 and although his time with the Bears was short he is often thought of as one of the better quarterbacks in Bears history. Concannon came over to Chicago following a trade with the Philadelphia Eagles which sent tight end Mike Ditka to Philadelphia.
While he was the Bears he set career highs in rushing yards and had a pretty productive passing season in 1970.
Injuries limited his effectiveness and he was let go. He stayed out of football for a little while before attempting a comeback with the Green Bay Packers in 1975.
Concannon passed away in November of 2005.
Bob Avellini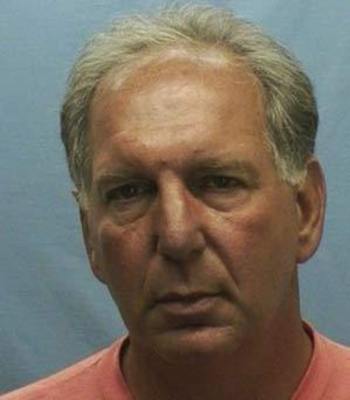 Avellini came to the Bears as a rookie in 1975 and ended up starting a few games in his first year with the Bears. He became their full time starter at the position in 1976. Avellini may not be one of the more productive starters in terms of "good numbers" as he actually had more interceptions than he did touchdowns (and despite this the Bears ended up having a better record with Avellini at the helm and then they would fall).
Avellini was an interception machine and there is no doubt about that. He was eventually replaced but ended up having to make a debut in his final season with the Bears. He was eventually let go by Chicago and then picked up by the New York Jets during the 1984 season.
Since retiring from football, Avellini has had some trouble with the law.
Keep Reading

Chicago Bears: Like this team?