4 Concerns the Denver Broncos Still Need to Address in the 2011 NFL Preseason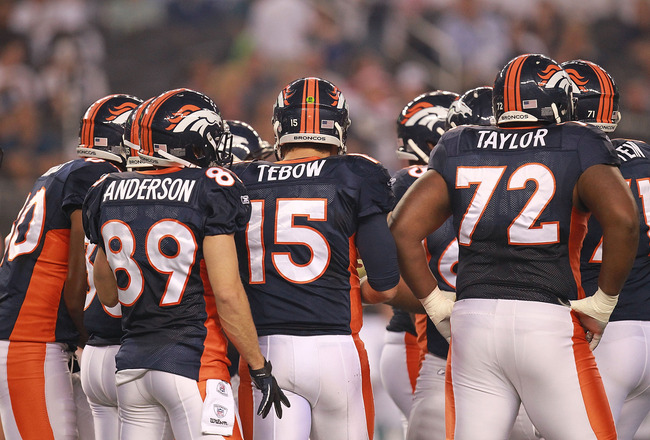 Ronald Martinez/Getty Images
The Denver Broncos are a team not exactly in disarray, but they are a very young team, they have a new coaching staff and they have a few position battles left to iron out before the season begins on September 12th against the Oakland Raiders on Monday Night Football.
Head Coach John Fox has had a plan this entire offseason and he has stuck with it up to this point. Now he has injury issues and a quarterback controversy that people simply cannot stop talking about.
The Broncos have a long road ahead of them before they begin to get back to the winning ways of the late 90s and in the mid 2000s. The question is not a matter of when, though, it is a matter of who will be with the team in the long haul and if these young players can become stars.
Broncos nation have vested a lot of time and a lot of passion into a team that simply has not been good. However, you can only take it one week at a time, and right now what needs to be focused on is the preseason and the position battles at hand.
Here are the areas of concern for the Denver Broncos as they head into their second week of the preseason.
Tight End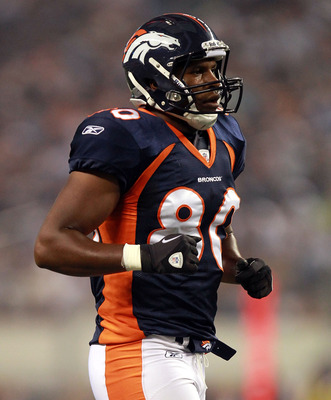 Ronald Martinez/Getty Images
The tight end position is an interesting one, especially coming into camp because it was an under the radar type battle that no one was really paying attention to. Well, now it is.
The Broncos have six tight ends on their roster: Quinn, Gronko, Thomas, Fells, Rosario and Green—two returning Broncos, two rookies and two free agents. There is no way that the Broncos are able to keep all six players, so that really leaves one to two odd men out. I cannot imagine that they would keep five tight ends.
Daniel Fells has fallen into favor with Fox, and he and Thomas have been shining in training camp. I have not heard much from the rookie Virgil Green or the free agent Dante Rosario. Meanwhile, Richard Quinn has been sidelined with an injury.
I think Fells, Gronko and Thomas will be safe, but that last spot is definitely up for grabs between three players. Fox has quite a predicament on his hands.
Defensive Tackle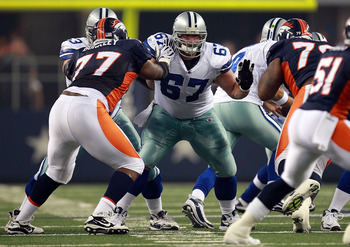 Ronald Martinez/Getty Images
The Broncos' biggest concern before the draft was defensive tackle. The Broncos biggest concern going into the offseason, when it finally began, was defensive tackle. And now, after the first week of the preseason, the Broncos have the same major concern: defensive tackle.
This past week, the Broncos lost their big defensive offseason acquisition in Ty Warren with torn triceps and have lost Marcus Thomas for a substantial amount of time with a strained pectoral. The Broncos now have to rely on Brodrick Bunkley, Kevin Vickerson and newly acquired DeMario Pressley.
Jeremy Beal and Jeremy Jarmon will definitely be subbing into the rotation of the defensive line because it is so thin, but the Broncos will have to be active on the waiver wire and be very alert when it comes time for final cuts around the league.
The Broncos will have the same issues they did last season if they cannot improve their defensive line. I hope John Fox has a backup plan because the middle of the line on the defensive side is already looking a little porous.
Rookie Busts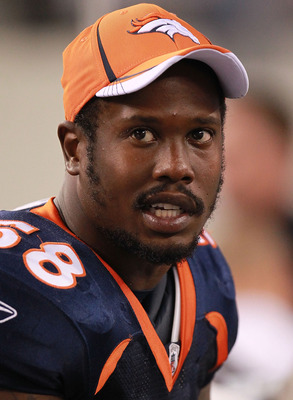 Ronald Martinez/Getty Images
Now I am not saying any of the rookies are busts or will be busts, so take it easy. However, in the past couple drafts, the Broncos have been very unsuccessful with who they have selected: Robert Ayers, Knowshon Moreno, Demaryius Thomas, etc.
Knock on wood, but the Broncos and Bronco nation are crossing their fingers that Von Miller, Rahim Moore and Orlando Franklin are the real deals like they are supposed to be this year.
Under Fox, the previous first-round draft picks are hoping to finally live up to the hype that they were supposed to play with their first few years. Fingers crossed, grab your lucky rabbit's foot.
Quarterback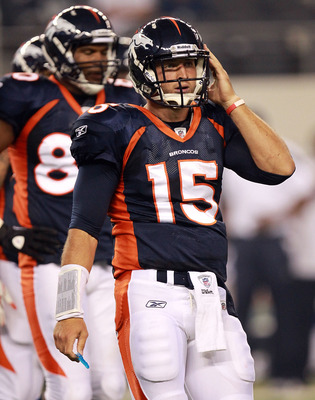 Ronald Martinez/Getty Images
I think it is pretty clear that the Broncos intend to start and play Kyle Orton, at least for the beginning of the season. Everyone can see that Tebow needs another year of learning in a new offensive system. Now, that is not a bad thing; if anything, it only helps him.
However, the area of concern is the distraction that this position is causing. It is causing players on the Broncos to feel as if they have to choose between the two, which should not be the case at all. It is OK to have competition, but when it causes a rift in the locker room, then there is a problem.
Tebow will be involved in the offense somehow, but he will not be the starter come September 12th. Unfortunately, this problem will not go away because Tebow is such a polarizing figure in the media and everybody hangs on his every breath and step.
The concern is not who will start, but the atmosphere around the two. It is almost like their is unnecessary tension between the two that should not be there. Fox needs to somehow nip this in the bud before the season so the Broncos can focus on the season.
Keep Reading

Denver Broncos: Like this team?