Arizona Cardinals Fantasy Football Preview 2011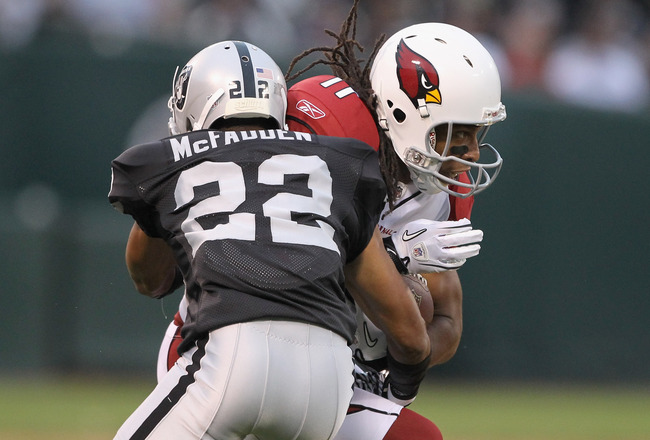 Ezra Shaw/Getty Images
Now that we are back to finally playing football, we are also back to playing fantasy football.
Heck yes.
Seriously though, this has to be one of the more exciting times for the Arizona Cardinals in terms of fantasy football.
I mean, isn't the suspense killing you?
I really want to know what this season holds with all the changes the Cardinals made in the offseason.
If you read the next few slides, I'll try to give as much insight into some key fantasy players for the Cardinals.
Who are some sleepers? Are there any busts?
Stay tuned...
1. Quarterback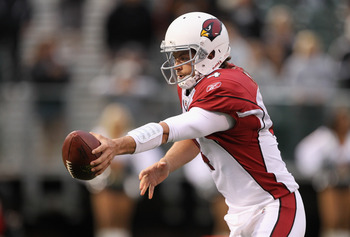 Ezra Shaw/Getty Images
No doubt about it: Kevin Kolb is a sleeper.
Mostly because we don't know what he could do.
But also because he has some legit weapons with Arizona.
Is he starter-worthy?
Maybe in a 16-team league (I have him as a backup in one actually...I'm thinking about dealing my starter so I can start him...) but not in your standard 10 or 12-team leagues.
As a backup though?
You really can't get a much better backup, other than maybe a guy like Sam Bradford or Matthew Stafford.
Arizona is still going to throw, and Kolb is a better QB than anyone the Cardinals had last year. He has Larry Fitzgerald and some other decent receivers to throw to.
And he's mobile, so he may be able to get you 200 rushing yards or so as well.
2. Running Back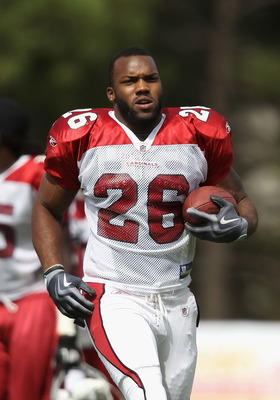 Christian Petersen/Getty Images
This is where I can't say I know anything for sure.
Is there upside here?
Yes, but I'm not sure my gut feelings are correct.
My opinion is that the Cardinals running back to own is Ryan Williams, not Beanie Wells.
I could be wrong here, because Beanie has the talent.
I just don't think he fits the Cardinals system very well, and he doesn't have great technique.
The four runs inside the goal line against the second team defense for the Raiders revealed that.
The problem is I'm not sure Ryan Williams, who I believe is the back to own, is ready either.
But I think he will be by Week 8.
And after Wells fails to live up to his expectations, I think Williams gets the bulk of the carries.
I'd say try to get Williams in a later round, like eight or nine, and ignore Wells all together.
But I could be wrong...
3. Wide Receivers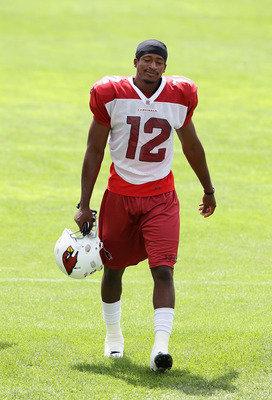 Christian Petersen/Getty Images
Larry Fitzgerald?
Yeah, I'd get him on my team if I were you.
I don't like him more than Andre Johnson, Greg Jennings or Calvin Johnson, but after that, I'm pretty excited to see what Fitz can do with an actual quarterback (I know John Skelton, you did try...it's not really your fault anyway.)
In PPR (points per reception) Leagues? I may even take him right behind Johnson, because he's going to get a ton of targets with Kolb unfamiliar with the offense and realizing he's got an All-Pro at receiver.
As far as the rest of the receivers, you could just pick one and hope they become the next Steve Breaston or maybe Anquan Boldin.
Either way, they're all last-round fliers unless you're in a deep league really.
My personal pick is Andre Roberts. He showed flashes late last year, and I think he has the speed and underneath ability to keep defenses honest and compliment Larry.
It could be Early Doucet though, who has played like an Anquan Boldin at times.
Or it could be the more experienced Chansi Stuckey.
It could be the tall, lanky Stephen Williams, should he put it together this season.
And the more confusing thing?
The Cardinals staff, specifically Whisenhunt, has said they will use various receivers as the No. 2 guy in all sorts of different packages.
Good luck everyone!
4. Tight Ends
Ezra Shaw/Getty Images
This is intriguing for some fantasy football players, mostly because Todd Heap is now a Cardinal.
Many are not optimistic about this pickup, but I like the move, because he's a big, physical target that Kolb can throw at, and I think he still has good hands.
Is he injury-prone?
Maybe. But he won't have to do as much in this offense as he did with the Ravens.
For one, they have Jeff King, who will do more blocking so Heap won't have too all the time (King has no fantasy value by the way.).
And I think he has a better surrounding case than he did in Baltimore. No Ray Rice at running back, but Rice probably stole a few catches anyway, so that helps Heap in multiple ways.
And I feel like the Cardinals have better weapons at receiver and will throw more.
So Heap could end up as a top 15 tight end.
Heck, maybe top 10.
Okay, maybe that's pushing it.
Oh, and for you dynasty leaguers, get your hands on Rob Housler in a later round. He's a big, physical freak that should be the Cardinals starting tight end in the future.
He's got the ability to play like a wide receiver, so if he can learn to block, watch out.
5. Defense/Special Teams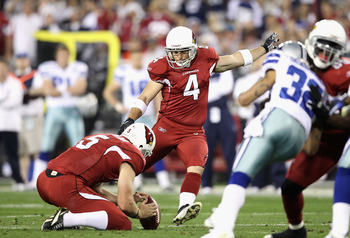 Christian Petersen/Getty Images
As far as Jay Feely goes, he is draftable, and I think the Cardinals will score.
Don't forget that game where he got 22 fantasy points last year either. He won't do it again, but you never know right?
Okay, just kidding.
As far as the Cardinals defense/special teams, they could be viewed as a sleeper.
They did finish as a top 10 unit in terms of scoring in many leagues last year, but some of that was luck with all their defensive fumble/interception returns.
That probably isn't happening again this year, so you may want to draft them as a backup if you do that sort of thing.
As far as individual players, I'd personally target guys like Calais Campbell, who could get double-digit sacks, and Darnell Dockett.
If you want a couple of sleepers, go with Stewart Bradley and Patrick Peterson.
Just don't expect them to contribute right away.
Keep Reading