Pittsburgh Steelers: Mike Tomlin Aleady a Better Head Coach Than Bill Cowher?
August 16, 2011
Jared Wickerham/Getty Images
Mike Tomlin has taken the Pittsburgh Steelers to two Super Bowls in just four seasons as a head coach, winning one. Tomlin is also the youngest head coach to win a Super Bowl, and is the youngest two reach two Super Bowls.
When Tomlin got hired as the Steelers' head coach in 2007, there was plenty of skepticism.
Some suggested that he got the job because of the "Rooney Rule," which is a rule that makes it mandatory for teams to interview minorities for vacant head coaching positions. A lot of Steelers fans were upset that local and former Steelers offensive-line coach Russ Grim didn't get the job.
Tomlin went 10-6 in his first season and won the Super Bowl in his second season. Still, a lot of people didn't give him the credit he may have deserved. A lot of people just said that he won the Super Bowl with Bill Cowher's players.
That may be true, but I think most Steelers fans can agree that Cowher had plenty of good chances to win more than one Super Bowl. The Steelers hosted five AFC championship games under Cowher. They only won one of those games. That's called underachieving. I'm a huge Cowher fan, but he had plenty of chances to win more than one Super Bowl.
Tomlin certainly inherited a talented team, but that shouldn't devalue what he's accomplished. The players really seem to love playing for Tomlin, making him a players' coach. The color of his skin and the fact that he replaced Cowher should have nothing to do with how he's judged as a coach.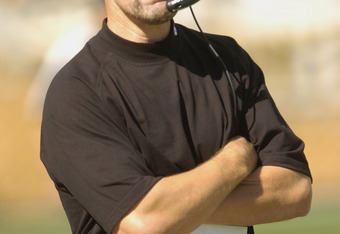 Greg Fiume/Getty Images
Cowher coached 15 years, and his record is a very impressive 149-90-1. Cowher made the playoffs in each of his first six seasons, and was 43-21 in his first four. Cowher is also 12-9 in the playoffs for his career, and was 3-4 in the playoffs in his first four seasons.
Tomlin has made the playoffs in three out of his first four seasons, with an overall record of 43-21. Tomlin is now 5-2 in the playoffs.
What I think separates Tomlin and Cowher is Tomlin's aggressiveness in the playoffs. Cowher was all about the run game, but that often hurt them in the playoffs.
The Steelers were one-dimensional under Cowher.
That's not the same with Tomlin.
Take last year's AFC championship game against the New York Jets, for example. The Steelers had the lead with over two minutes left.
Instead of just running the ball and trying to run the clock out, Tomlin and the Steelers went for the win. Ben Roethlisberger completed a 14-yard pass to Antonio Brown that sealed up the win for the Steelers.
There's no way Cowher calls a pass play there. Cowher runs the ball. Cowher plays that safe.
The only thing that can be used against Tomlin when comparing him to Cowher is the quarterback position. The Steelers did not have a quarterback anywhere near the caliber of Roethlisberger when Cowher was here. Cowher had Roethlisberger for his last three seasons. He went 15-1 in 2004, losing in the AFC championship game, and won the Super Bowl the next season.
Cowher's Steelers were held back so much because of the play of the quarterback position. In Super Bowl XXX, Neil O'Donnell threw three interceptions. Kordell Stewart threw three interceptions in both the 1997 and 2001 AFC championship games.
What if Cowher had Roethlisberger, or a quarterback close to his caliber, on those teams in the '90s? We'll never know.
I do know that Tomlin is a great coach.
In four years, he's grown so much as a coach. What he did last year was incredible. The Steelers didn't have Roethlisberger for the first four games, yet they went 3-1. Tomlin now has to be in the same conversation as Bill Belichick when talking about the best coaches in the NFL. 
Is he a better head coach than Cowher was? I say yes.
You can read this article and much more of my work at 412sportstalk.net and follow me on Twitter at twitter.com/madchad1187