Seattle Mariners: Ichiro Suzuki Under-Appreciated in America
August 15, 2011
Ronald Martinez/Getty Images
It's very difficult to slide under the radar when you're batting .327 over 11 major league seasons. Then again, it's also fairly difficult to be as irrelevant as the Seattle Mariners.
Could you imagine if Ichiro Suzuki played for a good team in a bigger market?
Think about how many runs he would score at the top of the lineup for the Red Sox.
He would be in the MVP conversation and would be absolutely electric leading off for the Yankees.
Even in places such as Los Angeles and Chicago, all sorts of fans would be wearing Ichiro jerseys and chanting MVP when he steps up to the plate.
But unfortunately, he's stuck in Seattle, where a lot of casual fans across the nation do not know what he has been doing over the past 11 years. He has hit .350 or better on four different occasions.
He ended the season with at least 200 hits for 10 consecutive seasons. Ty Cobb has never done that, nor has Pete Rose. Actually, nobody else has done it.
And he'll steal 30 or 40 bases.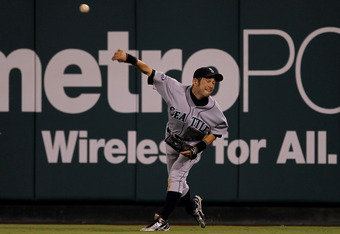 Stephen Dunn/Getty Images
His power is something that most people do not know about. He does not post eye-opening home run totals, but watching him during batting practice is unreal. He can slug with the best of them. It seems that he just chooses not to and decides to be a contact hitter. Sounds strange, but can you really doubt him?
Not to mention he is one of the best defensive players around, and 10 consecutive Gold Gloves speak for themselves. And if they don't, watch him play outfield. His range is outstanding and he has a cannon for an arm.
But if you ask the casual fan about the best players in the MLB are, Ichiro will often be forgotten.
One of the best players in his generation is often forgotten when talking about elite players. So what else does he have to do to get the credit he deserves?
Probably ask for a trade. But don't hold your breathe for that. Ichiro seems to be happy in Seattle, where he can spend his entire career with the same team.
Or maybe the Mariners can actually be relevant again within the next year or two. They certainly have the pitching potential, but their offense has been flat out atrocious. I would love to see Ichiro get the opportunity to play during a pennant race one more time. He certainly takes care of himself and is in excellent shape, but remember that he is 37 years old.
So next time you're talking about the best players in baseball and the best players of this decade, remember Ichiro. I know he plays in Seattle and you might not have ever seen him play. But he's an amazing player and deserves more fan recognition than he has been receiving.
Follow me on Twitter @JrMarkyMark