Eduardo Nunez: New York Yankees Prospect Seems Blocked at Every Turn
August 15, 2011
Al Bello/Getty Images
New York Yankee utility infielder Eduardo Nunez, a natural shortstop, represents the future. He is a five-tool player at a position that every team in baseball would like to have one but that only a handful actually do. He has demonstrated the capacity to hit in pressure situations and, quite impressive for a player with such little experience, he has a thorough command of the strike zone and a patient approach at the plate.
When Derek Jeter went down earlier this year, Nunez stepped in as the everyday shortstop and hit .339 over the course of The Captain's absence. Although he has struggled defensively, specifically with the accuracy of his throws, let us be reminded that Jeter committed 22 errors in his first full season as the Yankees SS and averaged close to 18 over his first five.
When Alex Rodriguez had surgery in early July, again the Yankees turned to Nunez to fill the void and, as might be expected, Nunez delivered once again. He has a humble way about him, is team-centric, and plays with a serious edge to his game, one that makes it known that he intends to be around for quite a long time.
Quite a resume, and quite a solid argument to support the notion that Nunez has earned a role on this Yankee team for many years to come. Here, though, is where the best laid plans of Eduardo Nunez, and perhaps even Yankees general manager Brian Cashman, have certainly gone awry.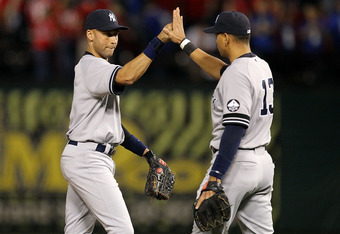 Ronald Martinez/Getty Images
You see, the Yankees infield is completely full, and for years to come no less, at the three positions that Nunez could reasonably be expected to play, short, third base and second base. Jeter succeeded in getting a third year tacked on to his new contract, meaning the Yankees and their Captain will not be parting until after the 2013 season at the earliest. Robinson Cano, with a boatload of talent and over 1,000 hits before his 29th birthday, is also not going anywhere, at least not if the Yankees have anything to say about it.
Rodriguez, of course, thanks to the combination of a well-orchestrated extortion campaign after the 2007 season and Hank Steinbrenner's incompetence, will be a Yankee through the middle of the 22nd century, unless of course he opts out of his contract again and Hank swoops in to extend him through the 23rd.
This leaves Nunez as the odd man out, of course. Contrary to popular belief, it has been quite some time since the Yankees have emptied the farm system for older players either approaching or fully entrenched in their decline, and there is no better example than Nunez of a player the Yankees would have been inclined to trade in the past even if it meant getting lesser value in the long term.
Virtually the entire starting lineup is comprised of either Yankee products or free agents, with only Granderson having been acquired via a trade that saw younger Yankee prospects going the other way. In other words, the Brian Cashman Yankees won't do what the George Steinbrenner-run Yankees would have done, namely jettison a budding star for a fading name.
Why the history lesson, you ask? If nothing else, understanding recent Yankee transactional history will give you an understanding of why the easy way out, meaning trading Nunez for somewhat decent talent in return, is not likely to happen. To prove this point, just consider that Nunez would be the starting shortstop for the Mariners today had the Yankees agreed to give him up for Cliff Lee last summer. If they didn't think parting with Nunez for Lee in return was worth the risk, then there is no chance that they will move on someone else's aging star today.
So this leaves the Yankees with quite a dilemma. The Yankees understand exactly this dilemma that they face, and it's as much a developing public relations nightmare as it is a question of fielding the best eight players. Derek Jeter, despite showing indications that his year-plus-long decline may have abated somewhat, may not be the solution at short beyond this year regardless of his contractual status. He will more than likely be the starter at short in April of 2012, of course, but will he be earning that designation in June of 2012?
As for Rodriguez, while he may ultimately be destined for the DH role, 2012 may not be the year for that, at least not on a full-time basis, and that keeps Nunez on the pine as well. Additionally, if the Yankees make a big play for a DH-type free agent next year, let's say Prince Fielder, this keeps Rodriguez on the field and Nunez on the bench. Although Nunez will only be turning 25 in June of next year, how long do you keep a talent like his locked up?
Dilip Vishwanat/Getty Images
The answer is that you don't. You either have to utilize tremendous talents whey they are ready—and make no mistake, Nunez is ready—or you find a way to bring tremendous talents back to your organization via trade. The Yankees have a number of needs to fill in the coming years, especially with an aging lineup, and so Nunez can be instrumental in making the Yankees better as the centerpiece of a trade.
A lot will depend on how the Yankees want to approach things, of course, specifically on whether they choose to go big or go home as it relates to the Fielder sweepstakes in the offseason. The Red Sox have somewhere in the range of $26 million coming off the books between Big Papi and J.D. Drew alone, so they cannot be dismissed as contenders for Fielder. If the Yankees compete for and win Fielder, however, Nunez' days as a Yankee will very likely be numbered.
Other options include approaching the soon-to-be-overplaying-their-cards Seattle, which is stubbornly holding onto King Felix despite the ability to supplement several positions with just the one trade. The Yankees, especially if they are buoyed by the addition of Fielder, could afford to lose Nunez at that point as whatever Nunez adds over Jeter offensively would be more than made up for by Fielder's presence in the lineup.
Decisions, decisions, decisions.
Regardless of how the Yankees play things, Nunez figures to be at the center of every strategic choice the franchise makes over the next season or so. If the Yankees play things right, Nunez could be a big part of another Yankee championship without even playing for the team.