Washington Redskins Beat Steelers: 5 Reasons Not to Hop on the Bandwagon Yet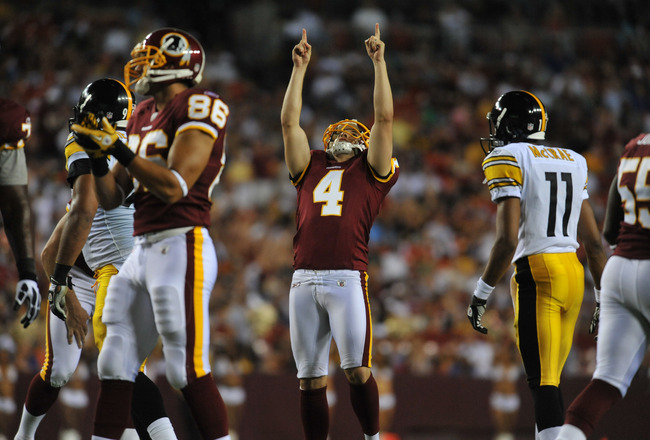 Larry French/Getty Images
Few predicted the Washington Redskins winning more than eight games in 2011. How quickly a fans spirit can change amidst a preseason victory over AFC powerhouse Pittsburgh Steelers.
The Redskins, victors of only six games a year ago, included wins over the Green Bay Packers and Chicago Bears whom faced each other in the NFC championship game.
Now launching the 2011 preseason campaign, the Redskins open up with a victory over defending AFC champion Pittsburgh Steelers.
Without a doubt, fans are getting excited, just as they did a year ago as Washington opened the preseason with a 42-17 beat down of the Buffalo Bills.
If that tells you anything, it's that preseason means nothing.
Here are the biggest reasons why you should not hop on the Redskins bandwagon just quite yet.
#5: Saftey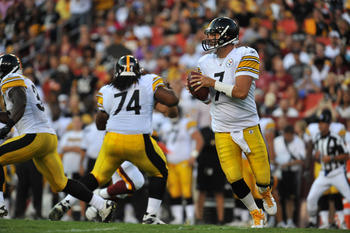 Larry French/Getty Images
Safeties Reed Doughty and Chris Horton started for Washington in place of injured O.J. Atogwe and LaRon Landry. The good news is that Atogwe would have started had this been a regular season game.
Landry's nagging Achilles issue still lingering from 2010 is cause for a great deal of concern. If Landry's condition does not improve quickly, he will be ill prepared this season. He has yet to participate in practice.
Once again, it's a bad stroke of luck for a top 10 draft pick for Washington.
With Doughty and Horton in the secondary, Pittsburgh attempted to exploit the weakness early. They were right to do so. The tandem was beaten deep several times. Fortunately, a rusty Ben Roethlisberger missed the mark.
Byron Leftwich relieved and did not fare much better. The Steelers had receivers open deep but were unable to connect. The Redskins won't be so lucky come opening day.
Of course, this is only preseason. There is plenty of improvement to be made. However, Doughty is on the field because of his tackling, and Horton is coming off limited action in 2010.
#4: Wide Receiver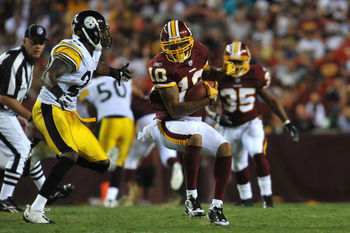 Larry French/Getty Images
After drafting busts Devin Thomas and Malcolm Kelly in 2008, the Redskins spent three 2011 draft picks on receivers. Leonard Hankerson was the third-round sleeper who many thought would vie for a starting role.
Think again.
Hankerson has dropped just about every other pass in training camp. This was the knock on him that made him drop from the first round. He's proving his critics right.
Just one catch for eight yards is all he had to show Friday at FedEx. If he hopes to have an impact in 2011, he should be much further along.
Late-round pick Aldrick Robinson had a terrible night finishing without a catch and muffing both punt return opportunities. With the position battle at wide receiver fierce, Robinson is on the outside looking in.
Don't get too excited about the production from Moss and Gaffney against the "stout" Steeler defense. The Pittsburgh starters did not show up. The Redskins starters racked up most of their receptions against the reserve unit.
I'm not saying don't be happy, just take the game for what it is.
#3 Ryan Kerrigan and Jarvis Jenkins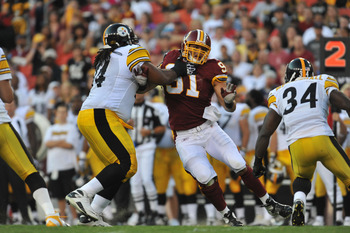 Larry French/Getty Images
First and second round draft picks Ryan Kerrigan and Jarvis Jenkins got lots of experience in their first NFL game.
Despite Joe Theismann's endless praise of Jenkins, however, he is still a rookie and made several rookie mistakes.
Both Jenkins and Kerrigan made plays but also ran themselves out of plays as well. These guys are not superstars yet. They need a full year under their belt before getting the 3-4 down.
Kerrigan and Jenkins have a lot to learn, but the ability is there. Just don't expect Clay Mathews, Jr. and Ndamakong Suh in 2011.
With limited time in training camp due to the lockout, expect more mistakes.
#2: Kicker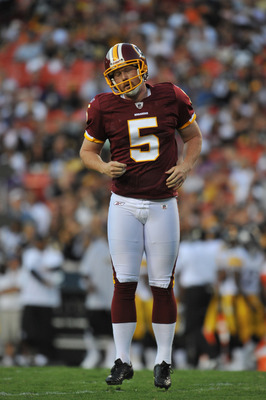 Larry French/Getty Images
To give incumbent kicker Graham Gano some competition, the Redskins brought in veteran Shayne Graham and gave him the start.
We quickly found out why the former Bengal is unemployed, missing both his field goal attempts on his way to a post-game pink slip.
Gano has a strong leg and played like the dependable kicker we need against the Steelers. He responded well, but nonetheless had the weakest field goal percentage in the NFL last season.
Gano had been better than Graham throughout training camp as well.
#1: Quarterback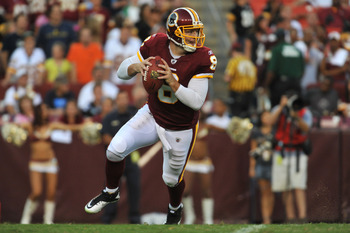 Larry French/Getty Images
Rex Grossman was sharp—almost too sharp. Having amassed over 200 yards passing while connecting on 73 percent of his throws, Grossman moved the offense with efficiency.
With numbers like that I would expect a better result than a 7-7 tie at halftime.
Factor in Grossman and the Redskins starters went up against Pittsburgh's reserve unit and it becomes even less impressive.
The good news is that at this point all you really care about is having knowledge of the plays and offense. Grossman did demonstrate a sound knowledge of the offense, which leads to an improved fine-tuned tempo.
First and foremost, take the Redskins first preseason game for what it was, a practice. It was clear Pittsburgh's starters did not come to play.
Keep Reading

Washington Redskins: Like this team?