Pittsburgh Steelers Fall to Washington Redskins 16-7 in NFL Preseason Opener
August 13, 2011
Larry French/Getty Images
The Pittsburgh Steelers opened the preseason with a 16-7 loss to the hapless Washington Redskins.  While I could sit here and breakdown every single play, one would have to think that this was the first game played after a long lockout in which rookies ate up more than three quarters of game time.  Rather than break down this game, I will point out the studs and duds of Game 1.
Steelers studs
WR Antonio Brown—four receptions, five targets, 64 yards.  Looked pretty crisp in his route running and was the brightest star on either side of the ball.
RB Isaac Redman—five carries, 42 yards (8.4 average), touchdown. Ran solid behind a second string line.  Showed good burst and the ability to find the hole, get to the second level, and in the case of his 22 yard scamper, find the end zone from outside the red zone.
QB Byron Leftwich – 6-of-10, 70 yards.  The big man looked very comfortable back there.  The offensive line gave him decent protection and he delivered some very well placed balls.  Arm looked strong and accurate.
DL Cameron Heyward and Steve McLendon.  Not overwhelming statistically—as for most 3-4 linemen—but they showed very good ability to control the gaps and push the pocket enough for the linebackers.  Look for these two to be in the defensive line rotation more often during the preseason, possibly some first-team reps.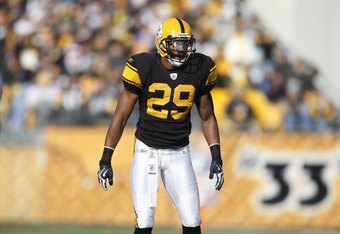 Gregory Shamus/Getty Images
DB Da'Mon Cromartie-Smith and Ryan Mundy.  Some pretty solid tackling out of these two.  Looked the least lost of the group in coverage situations.  Still not a great sample size, but they're two guys to look out for during the rest of the preseason.
Steelers duds
RB Jonathan Dwyer—five carries, seven yards.  Couldn't really get out of the backfield as his 1.4 yards-per-carry average shows.  Can't break the line of scrimmage or find the holes.  I don't see him making the team unless he really steps it up in the remaining preseason games.
WR Arnaz Battle.  Had 3 drops. Nothing more than a special teamer.  It's unfortunate that Tyler Grisham will have to compete with him for the last wide receiver spot, seeing as though they will remain solely a special teams player. With the addition of Jerrico Cotchery, Battle seems dispensable.
Offensive Line.  Not a surprise here. With the exception of Willie Colon and Keith Williams the line didn't look good, including Maurkice Pouncey.  Jonathan Scott had a tough time on the left side, especially in pass protection. Again, this is the first game so I'm going to chalk it up to lack of game time.
The next preseason game is Aug. 18 at 8 p.m. EST against the in-state rival Philadelphia Eagles.