Lee Evans to the Carolina Panthers? Don't Count It Out Just Yet
August 12, 2011
Rick Stewart/Getty Images
ESPN's Adam Schefter has reported that sources close to the Buffalo Bills and Lee Evans have indicated that Evans will no longer be a Bill after this weekend. Who are the possible suitors? 
Until Wednesday the Arizona Cardinals and Baltimore Ravens were the top two teams who were most likely to try and make a trade deal for Evans. The Ravens would have to be seen as the favorites, as they have shown they are not afraid to spend more than a lot of other teams to get the players they want.
The Philadelphia Eagles can also be thrown into that mix, as they seem to have a need for a No. 2 wideout due to the unsure nature of Steve Smith's knee injury and the possibility of it not being healed in time for the start of the regular season. Then there is Jeremy Maclin, who is still out of action due to a mystery illness with no timetable for his return.
But wait, there is also a new player in the Lee Evans sweepstakes as of Wednesday night. That would be the Carolina Panthers. It is common knowledge the Panthers have defensive line and secondary needs, but the team has options to bridge those defensive gaps. The team may well be waiting to pickup a few serviceable players off of the waiver wire while the end of preseason draws near and the cycle of cuts begin.
The Panthers seemed ready to start their preseason with the roster they had put together earlier this week, but all changed mid-week. The Panthers now have a rather large hole right in the middle of their of their offense after Wednesday night's ACL tear suffered by starter David Gettis, who will be out for the entire season.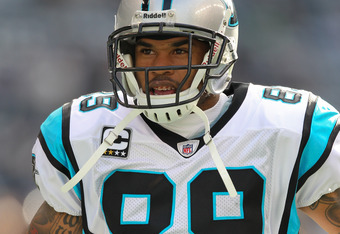 Otto Greule Jr/Getty Images
While Gettis was not what many fans may have considered a traditional No. 2 wide receiver, he was simply "the best of the rest" in the Panthers stable of young wide receivers. 
Carolina's other second-year receiver, Brandon Lafell, may have a shot at the position. However, Lafell is slower than Gettis was. Plus, Lafell has had drop issues. Worst of all, Lafell has had a "bad" training camp.  On the other hand, there is the Panthers "project player" Armanti Edwards.
Edwards has had a marked improvement over last season's training camp and is expected to be used in some three- and four-receiver sets, as well as in some capacity as a quarterback in the Wildcat formation.
However, concerning Edwards as a receiver, there is the issue that is quite bothersome, and that is that Edwards has yet to catch a pass in a regular season game.  The Panthers staff knows that the team's No. 2 receiver has got to be a credible threat to make their offense work at all and help get one of the extra rushers out of the "box."
Before Gettis tore his ACL, new Panthers coach Ron Rivera had recently added another wide receiver who he was somewhat familiar with, former San Diego Chargers wideout Legedu Naanee. While Naanee has seen action in 54 games since 2007, he has only produced 63 catches and a scant three touchdowns.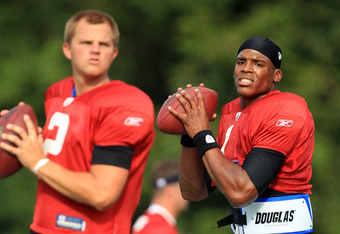 Streeter Lecka/Getty Images
Those types of numbers are indicative of a special teams player, one who is not getting much playing time at the receiver position. Even though Naanee did start nine games last season, he was only able to walk away with 23 catches and one touchdown.  Again, Naanee just does not look like a solid No. 2 option.
The Panthers have gone after just a few solid free agents outside of their own organization, and the team placed them in key positions that were critical to the success of the style of play Rivera has employed. The Panthers had signed a defensive tackle, Ron Edwards, and replaced former kicker John Kasay with Olindo Mare.
Those are not exactly big-name players, but they were actually two of the better available players at their positions during this free-agency period. Neither of those players were cheap, and the Panthers were certainly not afraid to step up, pay their very own free agents and restructure some of their key expensive veteran players contracts.
With the Panthers signing players, it would not be that far-fetched to think the Panthers would give up a coveted mid-round draft pick, possibly a few later-round draft picks or a combination of picks in order to make a run at a player, like Evans, who caught 37 balls last season.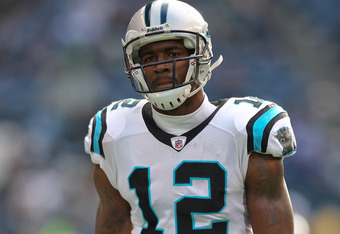 Otto Greule Jr/Getty Images
Evans has averaged 54 catches per season since 2004. He has scored 43 touchdowns and wracked up almost 6,000 receiving yards. Those numbers are actually pretty impressive considering he never had a top-15 quarterback throwing him the ball. Worse than that, he sometimes had a revolving door at the quarterback position during his young career.
With the good hands and speed Evans possesses, he is more along the lines of just what the Panthers are looking for in order to take some of the coverage heat off of star wide receiver Steve Smith.
The Panthers also desperately need as many trusted targets and excellent route runners who know how to get open so they provide easy targets for the team's young quarterbacks, Cam Newton and Jimmy Clausen, who need as many reliable targets as possible when it comes time to get rid of the football.
Would the Panthers be willing to actually pay Evans more than what the Bills are currently paying him?  Last week, ESPN's NFC South reporter Pat Yasinskas said the Panthers had unsuccessfully pursued the Redskins' top receiver, Santana Moss, who wanted to remain a Redskin.
The Redskins outbid the Panthers and wound up paying Moss $15 million for three years with a $5 million signing bonus and a total of $6 million in guarantees. Moss had 93 catches in 2010 and netted 1,115 receiving yards. The Panthers were in the bidding for Moss, and the amount they offered the 32-year-old could have been quite possibly more than enough to entice the younger Evans away from the cold confines of Buffalo.
Mum has been the word so far at the Panthers headquarters on Morehead Street and the usual sources have kept great poker faces through all of free agency and especially now.
The attempted Moss deal was done in almost total silence, and if the Panthers are after Evans, it would only come to the surface once a deal was done or if one was close to being done. Moss has wanted to stay in the DC area, but Evans has no ties to Buffalo aside from his pro career (he is from Ohio). 
It just seems like a logical deal. The 30-year-old Evans is younger than Moss and is a very quick and a real deep threat. Plus, he is a large-target wide receiver who is really capable of being a few teams' No. 1 receiver.
As far as money goes, Evans is set to make $3.27 million over the next two seasons, and he will also be due a $3 million roster bonus for the 2011 season. The Panthers have shown during this free agency period they are willing to pay for quality, and Evans is a quality guy. 
Evans has made the best of a tough situation since being drafted by the Bills. For one thing, the franchise has had spotty quarterback play in recent history, and Evans has only had one winning season since he was drafted by the team in 2004. Those are a few things that would have had many skilled starters asking for a way out.
Even though the Panthers have shown themselves to be in the midst of a "youth movement," and they have been outspoken about the desire to build the team through the draft, the Panthers still have shown, with the acquisition of defensive tackle Ron Edwards, kicker Olindo Mare and the attempted signing of Santana Moss, that getting a skilled veteran who can make a difference right out of the gate is still a viable way to place key pieces on the team's roster.