Miami Dolphins' NFL Preseason Opener: What To Watch for in Atlanta
August 11, 2011
Kevin C. Cox/Getty Images
For the average NFL fan, preseason games are stupid and pointless.
The starters play about one series and then are taken out of the game. The result of the game is meaningless.
Both are strong reasons for you not to care when the Miami Dolphins take the field on Friday night against the Atlanta Falcons.
However, for crazy fans such as myself, the preseason games are actually very interesting to watch.
For those of you who enjoy watching the position battles and getting to see the young players, here are some things to pay particular attention to on Friday at 7:30 p.m (Saturday at 1 p.m. on NFL Network for those of you not in the Miami market).
DB Jimmy Wilson
I am really excited to see what Wilson can do in live action. He has been turning a lot of heads in camp. The Dolphins seem a little unsure on where exactly to play him (he has been working at safety and cornerback), so it should be interesting to see where he plays.
Wilson is an extremely hard-hitter and those guys are always fun to watch. Then you factor in his background story (here is an excellent article on him if you have not read it), and Wilson becomes a great reason to watch on Friday.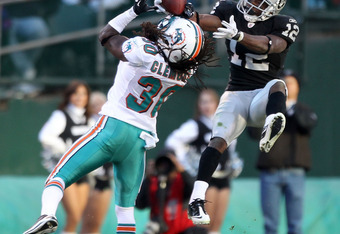 Ezra Shaw/Getty Images
The Starting Free Safety Battle
Chris Clemons and Reshad Jones are going head to head for the starting FS position opposite strong safety Yeremiah Bell.
Clemons has more experience and very rarely makes a mistake. However, much like his fellow members in the secondary, he lacks big playmaking ability.
The Dolphins need the FS to be able to come up with some INTs, much like Ed Reed does in Baltimore, which is why Jones is getting a serious look at FS.
The No. 2 WR Battle
I was pretty surprised when head coach Tony Sparano said that Davone Bess and Brian Hartline are battling for the No. 2 WR position.
Many think of Bess as just a slot guy, but he showed at the end of last season that he can play on the outside and be just as productive.
Hartline brings more straight-line speed than Bess, but he lacks the consistent hands that Bess has.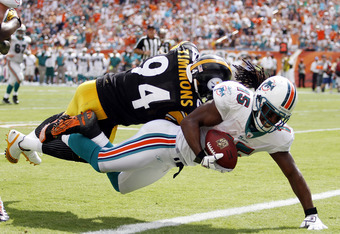 Marc Serota/Getty Images
It will be interesting to see how the Dolphins move Hartline and Bess around. 
The Rest of the Rookies
I already talked about DB Jimmy Wilson, but C Mike Pouncey, RB Daniel Thomas and WR Clyde Gates will also be making their NFL debuts.
There may not be a lot of strategy in preseason games, but the hitting is real and everyone needs their "Welcome to the NFL" moment.
It will be exciting to see just how hard Thomas runs and just how fast Gates is in live action.
It will also be interesting to see undrafted free-agent QB Pat Devlin get some real reps at QB.
Side note: I know I did not talk about the QBs but there is not much to watch there. Chad Henne is the starter. The offenses and defenses are running vanilla strategies.
If one QB struggles and one excels please do not go crazy. Preseason games really tell you nothing about a QB. There are no complex blitzes or coverage schemes for them to read.
Enjoy Friday's game, and go 'Fins!