2011 NFL Predictions: 9 Teams with Absolutely No Shot of Reaching the Playoffs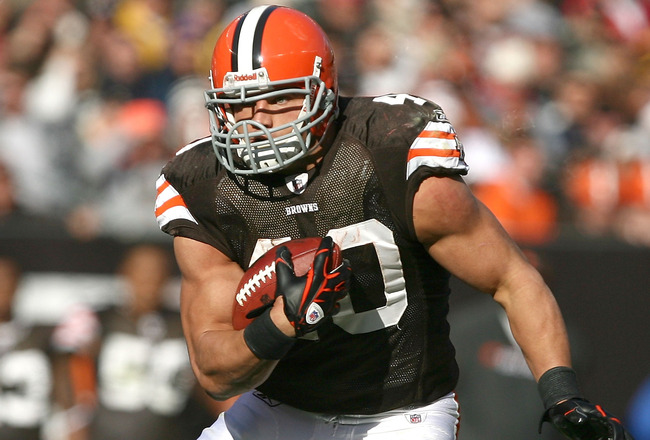 Matt Sullivan/Getty Images
The goal of every NFL team is to win the Super Bowl which means that they must first make the playoffs. Even though the season hasn't started, the following nine teams already have no chance at reaching the playoffs.
Whether the problem lies on offense or defense, each of these teams has major issues that won't be resolved during the course of the season. It will take the full 17 weeks of the regular season, and possibly a few extra years, just for them to get back into contention.
As much as I hate to write off teams this early in the year, here are nine teams (and a few extra bonus) that have absolutely no shot at reaching the 2011 playoffs.
The 0.00000001 Percent Chance Teams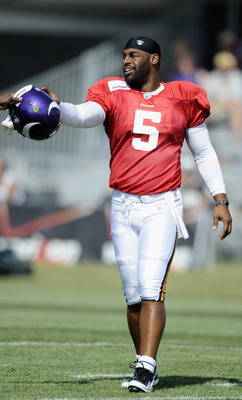 Hannah Foslien/Getty Images
We are looking at teams that have absolutely no shot, so any team with some shot, even if it is one in a million, wouldn't fully qualify them for this list.
However, I didn't think we could leave off these teams because it is very, very unlikely that they will make the playoffs.
Minnesota Vikings
They play in a very difficult conference, have a new quarterback, and have lost their best wide receiver. The only reason they can't be completely counted out is Adrian Peterson: The man is just that good.
San Francisco 49ers
It is easy to cast off San Francisco as a no-hope team this year, but if Alex Smith becomes a somewhat-competent quarterback, this team has a shot at winning the very weak NFC West.
Miami Dolphins
What do you get when you combine Chad Henne, Reggie Bush, and a poor defense? A microscopic chance at making the playoffs.
Buffalo Bills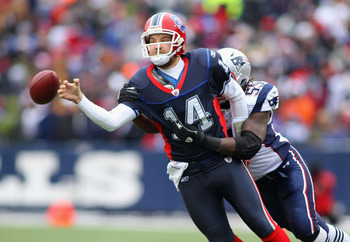 Rick Stewart/Getty Images
Next year this team might have some chance, but this year is a lost cause for the Buffalo Bills.
It isn't Buffalo's offense that is going to cause them problems. Ryan Fitzpatrick, Steve Johnson, Fred Jackson, C.J. Spiller, and Lee Evans are all quality players.
Where the Bills will struggle is on defense.
Losing Paul Posluszny is going to hurt this team even with the signing of Nick Barnett. Posluszny was the leader of the their defense and their best player. Drafting Marcell Dareus was a great decision, but he probably won't have too much of an impact his rookie season.
This team looks destined to be living in the cellar of the AFC East this year.
.
Carolina Panthers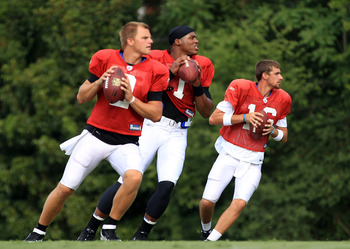 Streeter Lecka/Getty Images
When choosing a quarterback to lead your team, the names Cam Newton, Jimmy Clausen, and Tony Pike don't instill much confidence.
Carolina actually has some talent on both sides of the football. However, they will likely run into the same problem they had last year, which was poor quarterback play. Clausen clearly isn't the answer and Newton and Pike don't have the experience to really lead the Panthers.
Last year the Panthers ended up with the top pick in the NFL draft. After this year, they could find themselves in a very similar drafting position.
Cincinnati Bengals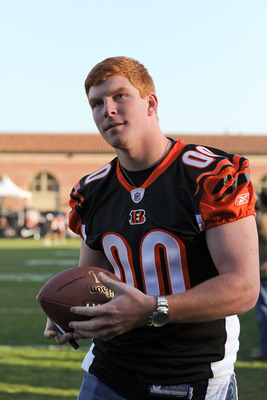 Noel Vasquez/Getty Images
The Cincinnati Bengals have had a difficult offseason.
Heck, the Bengals have had a difficult decade or two.
After Carson Palmer retired and Johnathan Joseph left for Houston, it was destined to be a rebuilding year in Cincinnati. They have some talent in A.J. Green and Andy Dalton, who should eventually become quite the duo.
But it just isn't going to happen this year.
On top of having very little talent, Cincinnati plays in a very difficult division, in which the Baltimore Ravens and Pittsburgh Steelers reign supreme.
Cleveland Browns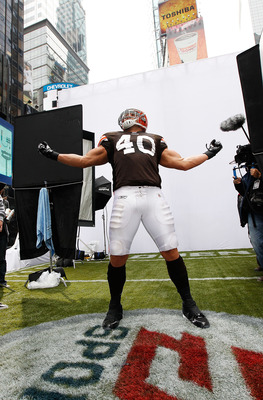 Mike Stobe/Getty Images
Cleveland almost landed in the one-in-a-million category, but then I remembered I was dealing with the Browns and that they haven't had a chance in years.
With that said, I do feel as though the tides are changing in Cleveland, and they could have a respectable team this season and a contender next year. They have talent at key positions, raked in a great draft class, and have a coach in Pat Shurmur who looks somewhat competent.
Don't worry, Browns fans, a winning season is coming.
It just won't be this season.
Denver Broncos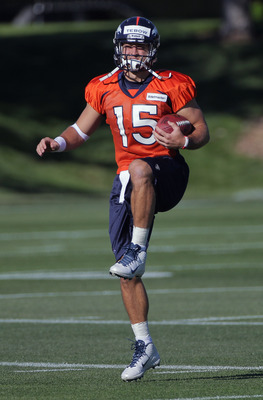 Doug Pensinger/Getty Images
If the Denver Broncos let Kyle Orton play quarterback for the entire season, they will have a very small chance at making the playoffs.
Unfortunately, that probably won't happen as the first hiccup the Broncos experience will send Orton to the bench and bring in Tim Tebow.
The problem with that line of thinking is that Tebow doesn't have the ability to be a sufficient starting quarterback in the NFL. There is no doubting his heart, but as a quarterback, you need much more than just heart.
The bright side for the Broncos is that they have some nice young pieces on defense, including Von Miller, Elvis Dumervil, and Rahim Moore.
If Denver can get consistent quarterback play for an entire season, this team could be very close to making some noise in the AFC West.
Jacksonville Jaguars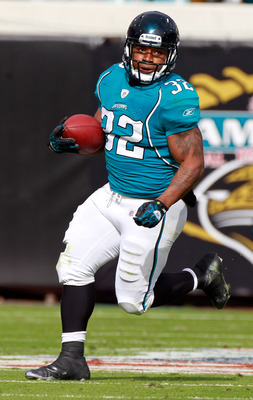 Sam Greenwood/Getty Images
It was really difficult to put Jacksonville on this list because I like their team, but my gut tells me they are going to struggle this season.
While they made some noise in the offseason with great free-agent signings, the real issue lies with David Garrard and Blaine Gabbert. First, they don't really have anyone to throw the ball to. Secondly, when Jacksonville drafted Gabbert, they basically told Garrard that his time was all but over with the Jaguars.
Usually some healthy competition is good, but when one member of the competition realizes that his ticket has already been punched, the competition can become lethal. That is exactly what is going to ruin Jacksonville's season and playoff hopes.
By the way, Maurice Jones-Drew is still really good.
Seattle Seahawks
Jonathan Ferrey/Getty Images
Losing Matt Hasselbeck to the Tennessee Titans hurt, but what hurts even more is the realization that either Charlie Whitehurst or Tarvaris Jackson is going to be starting in Seattle.
The Seahawks did a nice job at bringing in some big-name free agents. Both Sidney Rice and Zach Miller should be able to come in and produce; they are both Pro Bowl caliber players. However, their current quarterback situation will greatly dilute the statistics that they could put up.
On defense, Seattle has some nice young pieces, mainly Earl Thomas and Aaron Curry. While these two players don't make the Seahawks defense elite, defense won't be the issue this year, either.
Poor quarterback play will ruin this team's season.
Tennessee Titans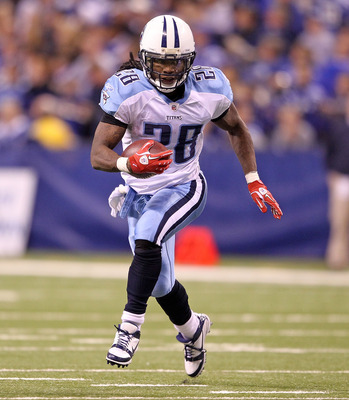 Andy Lyons/Getty Images
Even with the rumored return of Chris Johnson, this team has no shot at making the playoffs.
Their entire offseason was extremely questionable. First, they drafted Jake Locker with the eighth pick, but then brought in Matt Hasselbeck in free agency. At this point in Hasselbeck's career, he won't be leading any team to the playoffs.
The Titans also let two of their best defensive players, Jason Babin and Stephen Tulloch, leave via free agency. The Titans did bring in Barrett Ruud, but they weren't able to replace the pass-rushing ability of Babin.
This entire team looks like a mess right now, but even though they won't make the playoffs, at least we will be able to watch Johnson attempt to run for another 2,000 yards.
Washington Redskins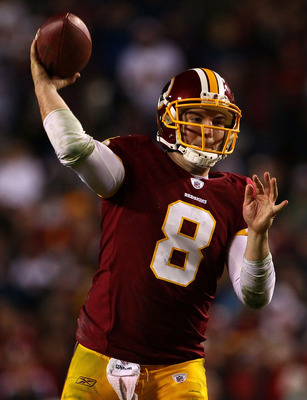 Win McNamee/Getty Images
This is my choice for the worst team in the NFL, and I have only two words to explain why: Rex Grossman.
There might not be a worse starting quarterback in the NFL than Rex Grossman. To make matters even worse for Washington is the fact that if Grossman plays poorly, they have the great John Beck to fall back on. (I kid about his greatness.)
The only real bright spots for this team are the emergence of Brian Orakpo as an elite pass rusher and the potential of Ryan Kerrigan. Other than that, this team is swimming in mediocrity.
Don't be shocked to see Washington land the first-overall pick in the 2012 NFL Draft.
Andrew Luck just quivered at that statement.
Keep Reading