Assessing How Each NFC South Team Fared in ESPN's Preseason Rankings
August 9, 2011
Streeter Lecka/Getty Images
ESPN released the first edition of their 2011 Power Rankings and the NFC South came out as the top-ranked division, despite Carolina's lousy position. Here's a breakdown of where each team ended up and whether they were given the raw end of the stick, or if expectations are too high. 
Carolina Panthers (No. 30): Too Low
Carolina came out swinging in free agency, but future hinges on Cam Newton. (Sando)
While I agree with Mike Sando's statement, the Panthers have far fewer problems than some teams ranked ahead of them. Washington, who is ranked directly ahead of the Panthers at No. 29, has no viable option at quarterback. The Broncos and Browns are also ahead of the Panthers, but talent-wise, they are worse off right now than the Panthers. 
I think that ESPN neglected to recognize the talent Carolina brought in during the offseason. By adding Jeremy Shockey, Greg Olsen and Ben Hartsock at tight end, the position is now a strength. Historically, the tight end position is one of the most important in determining the success of a rookie quarterback. 
This team should be ranked in the mid-20s. Don't be discouraged though Panthers fans, as Carolina typically finishes far from where their preseason expectations lie. 
Tampa Bay Buccaneers (No. 12): Just Right
It starts with the quarterback, and Tampa Bay has a good one in Josh Freeman. (Sando)
Tampa Bay returns with a lot of young talent in 2011. They haven't added much talent, but every season that Josh Freeman matures will be good for the Bucs.
I love what they did in the draft and I think that it's one of the most underrated aspects of the offseason. While many fans and analysts get hyped up over free agency, I think a good draft is more important to a team's success. Tampa Bay picked up a lot of help on the defensive line with Adrian Clayborn and Da'Quan Bowers. Both can make an impact immediately and we've seen the last two seasons that the team knows how to scout talent.
Atlanta Falcons (No. 6): Just Right 
Adding Ray Edwards quiets draft-day criticisms about ignoring pass rush. (Sando)
The Falcons proved they want to win now with smart moves in free agency and the draft. They moved up in the draft to take receiver Julio Jones out of Alabama and will once again have a dangerous offense with plenty of weapons.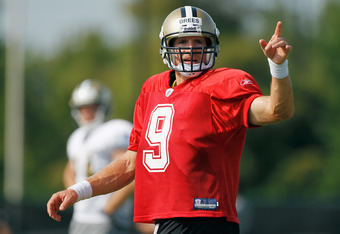 Chris Graythen/Getty Images
Defense was the bigger concern this offseason though. The Falcons struggled in the pass-rush department last season so they added Ray Edwards, who was a very effective defensive end for the Vikings in 2010. However, the team still has a weakness at safety, which hurts in a pass-strong division. 
New Orleans Saints (No. 4): Too High
Saints will find out whether Reggie Bush was an underrated contributor after all. (Sando)
Coming out of college, I was one of Reggie Bush's biggest doubters. I never believed he would be able to handle the rigors of a starting running back and he proved me right. However, his playmaking ability and versatility was a huge asset to this team. He was by far the best return man on the roster and when healthy, he was a weapon on the offense. Removing him will be a hit for this team.
Defensively, the Saints are aging fast. Numerous players have or will hit 30 years old this offseason and this was a squad that really overachieved last year. They lack a very good pass-rusher and without one, they won't get far if they do make the playoffs.