Denver Broncos: 7 Position Battles as the Broncos Prepare for Romo and the Boys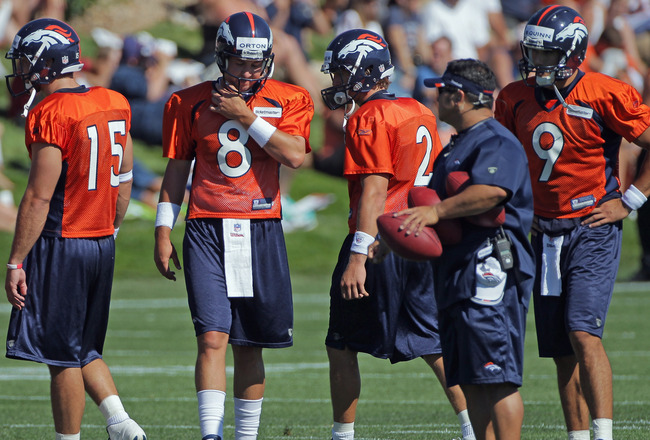 Doug Pensinger/Getty Images
The Denver Broncos first official depth chart has been released and there are only a few surprises that Broncos Nation may raise an eyebrow to. Now this is not going to be yet another Tim Tebow or Kyle Orton article, though I may touch upon it, but instead will be discussing the other position battles that head coach John Fox and the rest of the Broncos staff will have a tough time debating with.
The Broncos, as many know, had one of the worst, if not the worst, defenses in the entire National Football League last season. With the new depth chart released it highlights two rookies starting on defense (Miller, Moore) and one on the offensive side (Franklin).
The Broncos have started their preparations for their first preseason game in Dallas and are looking to improve their status as competitors in the NFL. Luckily for the Broncos, the preseason will allow for players to showcase what they can truly do (or not do) in a game.
Let the battles begin.
Wide Receivers
Justin Edmonds/Getty Images
The Broncos wide receivers position is an interesting one due to the fact that coming into the offseason the wide out spot was the most secure and stable position on the team. With the release of Jabar Gaffney and Demaryius Thomas not able to play until about midseason (at best), the Broncos have a nice little position battle on their hands.
Brandon Lloyd and Eddie Royal are the two starting wide outs and then behind them are Matt Willis and Eric Decker, and then David Anderson as the fifth wide out. Decker has made steady progress so far in camp, but Matt Willis is the true surprise shooting up on the depth chart.
For the most part that will be the opening day depth chart against Oakland, but I am curious to see the developments of Eron Riley, Britt Davis, D'Andre Goodwin and Mark Dell. Dell and Goodwin have been some surprising up and comers for th eBroncos in camp.
I think it is safe to assume the Broncos will not carry, at most, more than six receivers meaning that there is one spot for four guys. expect those receivers to get a lot of action against Dallas on Thursday.
Safeties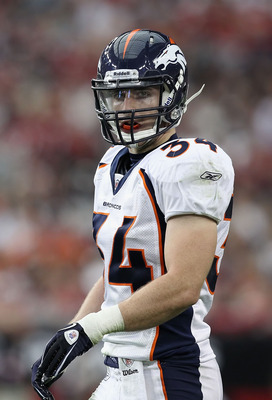 Christian Petersen/Getty Images
With the release of Renaldo Hill, and the drafting of two safeties in the most recent draft, the Broncos have quite a logjam at the position. The two listed as starters on the squad is Brian Dawkins at strong and rookie Rahim Moore, who has impressed John Fox in camp, at free.
Darcel McBath and David Bruton have been the backups here for a few years and have been looking for their shot, but it seems they are going to have to show it in the preseason. Second year man from Notre Dame, Kyle McCarthy, seems to have sparked an interest from Fox, as eh is listed right behind Dawkins on the depth chart.
McBath is listed behind Moore, for what could be a nice battle. Rookie Quinton Carter is listed as third on behind McCarthy, but expect him to see some serious time in Dallas.
On defense it is all about turnovers so expect these safeties to be hungry for the ball as well as the ballcarrier.
Defensive Tackles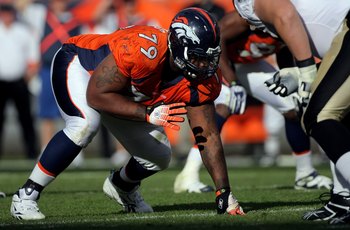 Doug Pensinger/Getty Images
One of the most interesting positions on the defensive side of the ball has to be defensive tackle, mostly due to the terrible run defense the Broncos had last season as well as the passing of Marcel Dareus, and then the slow free agency play for a defensive tackle.
The Broncos traded for Brodrick Bunkley and picked up veteran Ty Warren along with resigning Marcus Thomas. Bunkley and Kevin Vickerson are the starters, but this position is up for grabs with Warren, Thomas and Ryan McBean in the mix.
There will be a rotation, but the Broncos need to have those top two down starters that will be able to anchor the line and hold down the middle of the field. This is definitely the biggest position battle to watch on the defensive side of the ball.
Tight Ends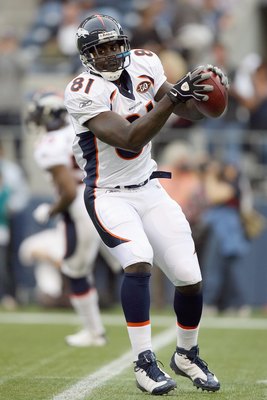 Otto Greule Jr/Getty Images
Here is a good one. Tight end. The Broncos brought in two tight ends via free agency along with another two tight ends via the draft to combine that with the two that were already on the roster.
Daniel Fells and Dante Rosario join rookies Julius Thomas and Virgil Green with the already rostered Dan Gronkowsi and Richard Quinn. The depth chart as of now is Fells, Quinn, Gronko, Rosario, Thomas, and then Green.
Expect the Broncos to cut two by the time the season starts. Fox will want to use multiple tight ends sets in his power offense which is why he has such a variety at the position. The rookies have impressed the coaches, but they are rather raw in play.
Fells is the type of tight end Fox loves and Rosario came from Fox's offense. Quinn and Gronko are going to have to work if they are going to want to keep their jobs. Keep an eye on this group in Dallas.
Running Backs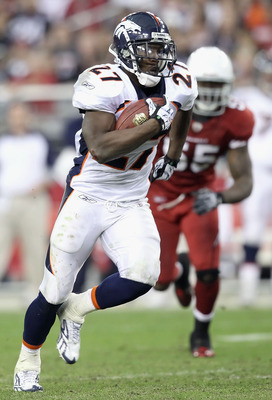 Christian Petersen/Getty Images
Get ready to run.
The Fox led Broncos will be running the ball 50% of the time while on offense this year, according to John Fox who spoke to the press after the Broncos Saturday scrimmage.
The Broncos need to run the ball if they want to successful this year. The Broncos added Willis McGahee to the backfield to go with Knowshon Moreno, LenDale White, and Lance Ball.
McGahee has not been able to fully run with the ones in training camp, but once he gets acclimated it will most likely be between him and Moreno to get the starting spot, with Moreno holding it down for now. Moreno came in thinner and quicker and hopefully it compliments the power of McGahee.
The Broncos may keep on four backs this season, but that seems like a lot for a 53 man active roster. Lance Ball did ok for the Broncos late in the season, but nothing to really hang your hat on. I am curious to see how the Broncos are able to run the ball and with what kind of rotation, if any.
Cornerbacks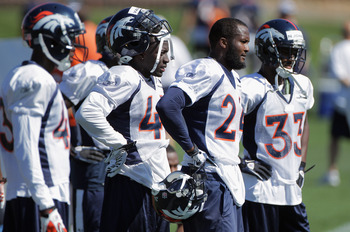 Doug Pensinger/Getty Images
Well I think we know their is no battle with Champ Bailey, but the other side may be a different story. I know the coaching staffs like Andre Goodman, but Cassius Vaughn and Nate Jones have surprised many and are the respective backups to each.
This is a big surprise after Syd'Quan Thompson made such splash in last years preseason along with stepping up last year a few times. A bigger surprise is Perrish Cox, who was the nickel cornerback and the starter opposite Champ when Goodman went down.
Cox is currently involved in legal issues where a woman was impregnated and drugged. Not good. Cox has apparently not been able to keep the backup spot and dropped to third string with Thompson.
We will see what happens in the preseason, but may not know if Cox will face prison time until around mid season.
Quarterbacks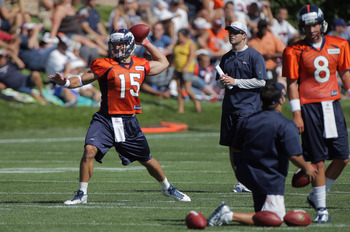 Doug Pensinger/Getty Images
Okay, okay, I said I would only touch on it, but I won't write a novel.
This is not just a matter of Orton or Tebow. This is a matter of Tebow. Tim Tebow is a gamer, simple. The things that he can do cannot be measured in practice. His ability to improvise and make plays with his legs can only be seen in a game as we saw briefly last year.
Kyle Orton has this job firmly in his hand, but if Tebow shows that his gamer play is overwhelmingly better than his practice play then the job may be handed over. However, I do not think that will happen. Tebow will get a lot of reps, but I do not think he will win the job.
That does not mean we won't see Tebow Nation on Sundays. If Fox is smart, he and Mike McCoy will find a way to make Tebow a presence and a threat to opposing defenses. Brady Quinn has made strides in camp, but I have a feeling it will be all for not unless he is near perfect and that is just for the backup role.
Cannot wait for Thursday, keep an eye out for these battles in Dallas.
Follow me on twitter: @vincesapienza
Keep Reading

Denver Broncos: Like this team?