Shannon Sharpe's Induction Speech Genuine, Deion Sanders' Fake
August 7, 2011
As a Pittsburgh Steelers fan, I was never a fan of Shannon Sharpe. His Broncos beat the Steelers in the 1997 AFC Championship Game, a game the Steelers fully could have won—and given the abysmal rush defense of the Packers, it would have been a similar outcome with Jerome Bettis in his prime running down the throat of the Packers behind an elite offensive line. 
To top it off, Sharpe joined the Baltimore Ravens and immediately won a Super Bowl. Sharpe's trash-talking in 2001 (referring then-Steelers receiver Plexico Burress as "Plexiglass" leading the Ravens-Steelers Week 14 Clash with the AFC Central title at stake) were among the very first seeds that planted what has grown into the violent and vicious rivalry between the Steelers and Ravens today.
When Sharpe got behind the microphone, I expected his induction speech to be nothing special.  I respected his game, but his outspoken nature combined with my fan bias against him led me to expect his induction speech to reflect his outspoken and often arrogant persona.
It was playing on the TV as I had to partially disassemble a Bowflex in order to move it then reassemble it, and the relatively simple process of using an Allen Wrench and a screwdriver was difficult. His story was so real. I understand going through difficulties through life—being forced to do without and the struggle to make something of yourself when people said you couldn't and when you're overshadowed by older siblings.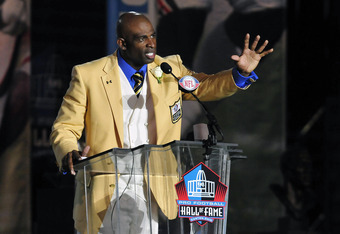 Jason Miller/Getty Images
From how he talked about the influence of his grandmother to the outstanding statement that he is the only member of the Hall of Fame in which he is the second-best player in his family, Shannon Sharpe showed that the football persona and image was not the real man—and the real man has character that I would strive to have.
As I said, there was a bias against him—as all fans possess—due to the teams he played for, but his trash talking and showmanship on the field was not over-the-top and my personal view of him has changed.
Deion Sanders, on the other hand, I found to be completely disingenuous.
It was definitely emotional, in particular with his reference to his mother being a source of inspiration, how he felt ashamed of his mother for not being as successful as that of other parents and how another teammate made remarks about his mother's lack of status. Sanders cited that as how he would drive himself to a point that his mother would never work again.
I respect that and appreciate that. In fact, Hines Ward has shared a very similar story: ashamed of a mother who sacrificed all for him but because of his half-Korean heritage and her being Korean, he was picked on at school as a boy and didn't want to be seen getting out of the car with his mom.
There was one other very noble sentiment from Sanders when he referred to personal goals having a flaw if they don't include someone else.
These statements are all so noble and humble—but with Sanders they were phony.
The man said the concept of "Primetime" was because defensive backs didn't make as much money as other positions so he needed to market himself. He said he would have played for free so long as the other guy said the same thing...ummm, is this not the same guy who in the same speech talked about how much money and prestige meant to him?
Sanders justified his flamboyance by saying people are always resistant to change and new ideas. There was nothing "new" about his self-promoting image though, and people in general are turned off by arrogance.
From the day he was drafted, interviews showed him wearing gold necklaces and jewelry (no, there were no improper benefits at FSU, maybe he just went to a tattoo parlor).
Was he still motivated by his mother when he intercepted a Jeff George pass for a TD, staring down the Falcons sideline during the return and finishing with his customary high-step? Was he motivated by his mother when he caused enough headaches for the Falcons that he left them under circumstances that to this day are not fully revealed? 
Was he motivated by his mother when, as a MLB player, hit a pop fly and instead of running to first base he started for the dugout—which Hall of Famer Carlton Fisk ripped into him for and Sanders responded, "the days of slavery are over," making a racial issue out of it rather than his refusal to hustle? Was he motivated by his mother when he was angry about being named the 34th-best player in NFL history as he thought he should have been in the top 10?
There is no question of his ability. He was probably the best cover cornerback of all time, a danger to take it to the end zone with every interception or punt return and even the occasional offensive play.
But as good as he was, he wasn't even the best cornerback of his generation—Rod Woodson was. Sanders was better in coverage, no question—especially with Woodson's tendency to bite on pump fakes—but Woodson did more to help his team win. Not many cornerbacks have the speed to bring the cornerback blitz—both Woodson and Sanders did. Woodson had 13.5 sacks, Sanders had one.
Sanders played as if he was allergic to tackling. Woodson had 1,050 tackles to Sanders 492, and forced 20 fumbles to Sanders' 10. Woodson had more interceptions, interception return yardage and interceptions returned for TDs, although Woodson did not have as good of a high step and dance, but I guess Woodson wasn't motivated by his mom then? 
I won't dispute the greatness of Deion Sanders as a player. He is a Hall of Famer and he would take the other team's No. 1 receiver all but completely out of the game. But the hypocrisy that is Deion Sanders was too over the top. The man frequently engaged in infidelity, which led to his divorce and was one of the reasons for his attempted suicide.
I personally find it commendable if he found true motivation through his mother to be a success. The problem is that using that as the reason for the "Primetime" image is a disgrace to the nobility of that.
It's a free country and you're able to be whoever you want to be, but I don't think it's too much to ask that you be genuine. Shannon Sharpe showed a side of himself last night that showed strength of character—Deion Sanders showed that there is nothing he won't go beyond to make himself look good.